Jacari McRae | November 14th, 2018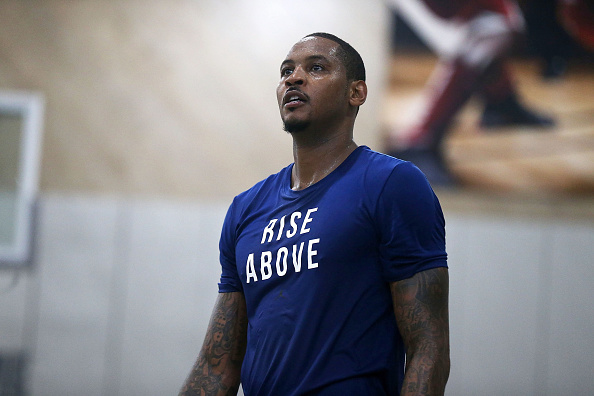 Carmelo Anthony's time with the Houston Rockets is reportedly coming to an end, and his reps are already searching for potential destinations.
ESPN's Marc Spears, who appeared on ESPN's The Jump, sees the Philadelphia 76ers and Miami Heat as two teams who could compete for Anthony's services.
"I'd keep my eye on Miami. Philly's interesting. I am hearing that not the Lakers. I think the Lakers are done."
A Familiar Story
This isn't the first time the Heat have been linked to Anthony. Back in 2014, Miami attempted to add the forward alongside its coveted Big three, but it never worked out. While Dwyane Wade and Chris Bosh remained on South Beach, LeBron James took his talents back to the Cleveland Cavaliers, and Melo re-signed with the New York Knicks. The Heat also were in the running for Anthony's services this past off-season, but he instead signed a deal with the Rockets.
There is one area where Carmelo has been elite in his career: Scoring. With over 25,000 career points, putting the ball in the hoop is what comes naturally for him. For years, his best skill has been isolating opponents and beating them off the dribble. However, this season in Houston, he is shooting just 40.5% from the field and 32.8% from behind the arc. Although Melo is not the same player he once was, he could help the Heat in spurts. His defense, on the other hand, is another story. The less said about this side of his game, the better.
Financial Benefits
Signing Anthony (likely at the $2.4 million veterans' minimum) could have positive implications outside the court for Miami. According to Sun Sentinel's Ira Winderman, the signing of Anthony to a minimum deal could work towards the Heat goal of reducing their luxury-tax bill. The Heat are currently $6.3 million above the tax line, but owe $10 million due to the multiplier on team salary above the $123.7 million tax threshold. Acquiring Anthony could potentially allow them to trade guard Wayne Ellington, who has the right to veto any deal this season.
Whether the Heat actually pursues Carmelo again remains to be seen. But like many teams, they will be monitoring the situation as he becomes available.
Questions and comments?
thescorecrowsports@gmail.com
Follow Us on Twitter @thescorecrow
Follow Us on Reddit at TheScorecrow
Follow Jacari on Twitter @JMcRae23 Main Credit Image: https://media.gettyimages.com/photos/carmelo-anthony-attends-black-ops-basketball-run-on-september-12-2018-picture-id1032320972?k=6&m=1032320972&s=594×594&w=0&h=3mDGjrZPK3dTGilxfnUZDz7Oa0AJ4RVRxHEorAwKhZg=