Mike Quintero | November 14th, 2018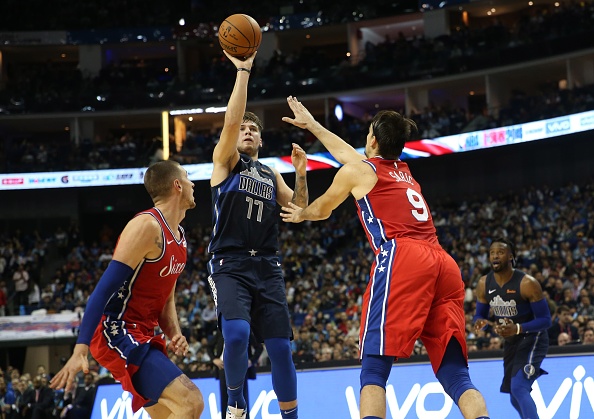 Do you remember where were you on June 21, 2018? I do. I was pinned somewhere between delirium and hilarity after hearing the Dallas Mavericks just selected Trae Young 5th overall in the NBA Draft. Initially, I questioned everything: Why would The Mavs take first round Point Guards in back-to-back drafts? Why would we waste such a valuable pick? Why am I a Dallas Mavericks fan?
Shortly after, news broke that the Atlanta Hawks agreed to trade their 3rd overall pick Luka Doncic to Dallas for Young and a 2019 1st round pick (Top 5 protected). Mavs fans were overjoyed in landing the top international prospect in the draft, and Doncic has done everything but disappoint. With court vision like Jason Kidd, basketball brains like Manu Ginobili, and natural scoring abilities, Doncic is showcasing his potential and putting the NBA on notice.
Through 13 games, the 19-year-old out from Slovenia is averaging 19.6 PTS and 4.4 AST per game, as he continues to demonstrate his versatile offensive approach. We know the kid can score, he's proven that in the EuroLeague, but what has caught my eye more than his ability to put the ball in the cup is the anticipation and basketball IQ he possesses as a teenager. In his debut, as Luka pulls off a slick behind-the-back bounce pass to DeAndre Jordan for an easy assist, a smile was glued to my face as I realized I'm witnessing the emergence of young talent which Mavericks fans haven't seen in decades.
Of course, there will be struggles. Early in this season we've seen both the positive and negative aspects of adding a piece like Doncic into the mix. Luka is used to having the ball in his hands; he is accustom to controlling the rock and orchestrating the offense in the way he sees fit. With Dennis Smith Jr. in his second year, the Mavs point guard is looking for a breakout season and, although they would never admit it, the two are fighting for touches. While it is a dream for Dallas fans to have two young and dynamic players, the reality is that both men want the ball in their hands, and the two youngsters will be competing for control throughout the year.
This is a process but, as soon as the kinks are worked out, I see this young core transforming this organization into a threat to the Western Conference. If they can continue to build chemistry and learn how to compliment each others game, Luka and DSJ have the ability to bring the Mavs back to playoff contention.
Questions and comments?
thescorecrowsports@gmail.com
Follow Us on Twitter @thescorecrow
Follow Us on Reddit at u/TheScorecrow
Follow Mike Quintero on Twitter @MikeInFortWorth Main Credit Image: Embed from Getty Images