John Lepore | November 14th, 2018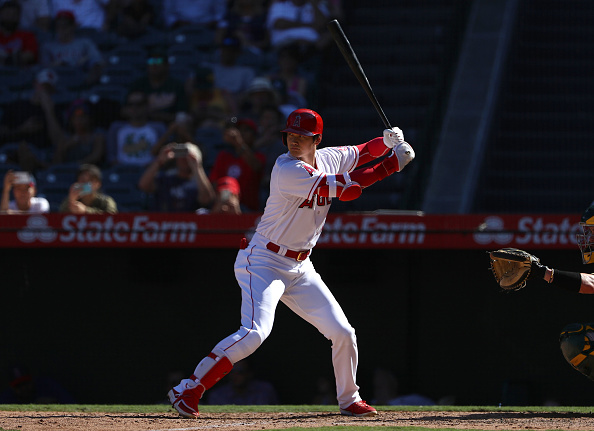 There has been a ton of discussion over the American League Rookie of the Year voting. While Shohei Ohtani won pretty easily, many fans, especially Yankee fans, are up in arms that Miguel Andujar didn't get the award. Let's take a look at the numbers and why Ohtani won.
Offense
Admittedly Ohtani did not have nearly as many plate appearances as Andujar (367-606). What he did have was efficiency. Ohtani had a .925 OPS vs. Andujar's .855. Ohtani also hit HRs and drove in runs at a higher rate with a 6% HR rate and a 16.7% RBI rate. Andujar had a 4.4% HR rate along with a 15.1% RBI rate. Ohtani also had 10 SBs to Andujar's 2.
Another aspect of offense to break down is how each player did against top competition. Against playoff teams this season Ohtani slashed .271/.345/.519 with 9 HRs and 23 RBI in 149 PAs. Andujar slashed .243/.282/.365 with 3 HRs and 9 RBI in 156 PAs.
Defense
Although Ohtani did not play the field, except when he was pitching, he was actually better off than Andujar. The Yankees' third baseman was downright atrocious in the field. He had a -25 DRS according to baseball-reference. And for fans who want to look at more traditional stats, out of the 19 third basemen in the league who played over 900 innings at third, Andujar's .948 fielding percentage was tied with Eugenio Suarez for 17th. Yankee fans will be happy to know that Rafael Devers was dead last with a .928.
Pitching
Just as Andujar played the field and Ohtani didn't really, Andujar obviously didn't pitch. The fact that Ohtani didn't outright embarrass himself like Andujar did in the field, was a positive for the Angels' star. His pitching was above average with an ERA+ of 126. To be fair he didn't do quite as well against playoff teams although it wasn't that bad. In five starts he had a 4.76 ERA, which isn't very good, but he was also 2-2 with a 28/11 K/BB rate, a .200 BAA, and a 1.19 WHIP.
Other Factors
While Ohtani did make history to a degree, the outcome of him getting injured was not totally unforeseen. When he came over from Japan, many questioned whether he could hold up through a long season. While the Angels tried to manage his usage as much as possible, the red flags about his elbow in spring training came to a head. Nevertheless, he did something that we haven't seen in nearly 100 years. Andujar had quite a season himself in historical context as he broke the Yankees rookie record for doubles set by Joe DiMaggio in 1936. He also became only the third Yankee rookie to hit 27 HRs in a season joining DiMaggio and Judge.
Many people disputing the validity of Ohtani's ROY award bring up the fact that he didn't play much. Well if we take a look at PAs that each player had an impact on we get a bit of a different view. Andujar had 606 PAs while Ohtani had 367. But Ohtani also faced 211 batters and pitched well against them. That would equal 578 PAs affected which isn't far off.
Many fans also bring up the point that Andujar's team made the playoffs while the Angels weren't playing meaningful games in September. Let's be clear. MVP is where you take a look at team accomplishment as one factor in possibly determining who wins. Cy Young and ROY have nothing to do with team records. But if we are going to bring it up, wouldn't the fact that the Yankees having a great lineup actually have helped Andujar produce the way he did? Whereas Ohtani had Trout and that's about it.
Conclusion
While Andujar had a great rookie season and undoubtedly helped the Yankees make the playoffs, the numbers just don't lie. Ohtani was a better all-around player than Andujar and even if you want to say Andujar was the better hitter, Ohtani did everything else better and deserved the award.
Questions and comments?
thescorecrowsports@gmail.com
Follow Us on Twitter @thescorecrow
Follow Us on Reddit at u/TheScorecrow
Follow John Lepore on Twitter @jball0202
Main Credit Image: Embed from Getty Images