Dale Money | November 13th, 2018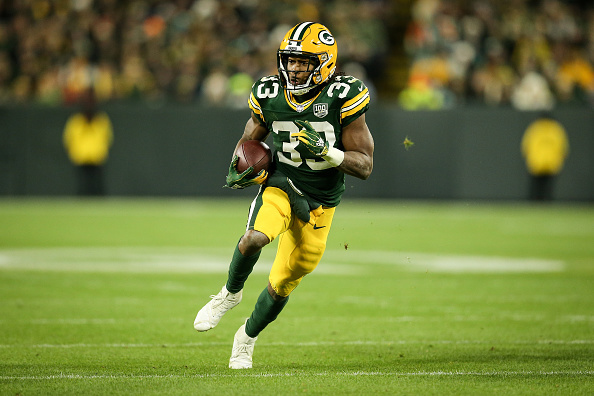 A recap of each game from the past week and a look ahead to who your team will be facing in week 11.
Washington Redskins vs Tampa Bay Buccaneers
Alex Smith threw for 178 yards and one touchdown to lead the Washington Redskins to a 16-3 victory over the Tampa Bay Buccaneers. Dustin Hopkins kicked three field goals for the Redskins, who forced four turnovers and rebounded from a pummeling at the hands of the Atlanta Falcons.
The Redskins jump to 6-3 and hold down a two-game lead over the Dallas Cowboys for the NFC East division lead. The Bucs drop to a poor 3-6 and stay firmly in the NFC South cellar. Through three quarters the game was very uneventful, with the Redskins up 6-3.
With the Redskins deep in Bucs territory looking to increase the margin, Alex Smith hit paydirt, finding receiver Josh Doctson in the back of the end zone for the games lone touchdown.
On the Buccaneers side, Ryan Fitzpatrick threw for 403 yards, but was intercepted twice and lost a fumble on a sack inside the Washington 10. Chris Goodwin had his first 100-yard receiving game this season.
Washington will next host the Houston Texans. Tampa Bay will head to out to face the struggling New York Giants.
Kansas City Chiefs vs Arizona Cardinals
Patrick Mahomes threw for 249 yards with two TD strikes to Tyreek Hill, in a 26-14 victory over the Arizona Cardinals. Mahomes got the Chiefs rolling on the first play when he connected with Hill for a 38-yard reception, only two plays later, again hooking up with Hill, for a 37-yard touchdown toss into the back of the end zone.
The Cardinals were able to put together a 75-yard drive capping it off with a 7-yard touchdown throw to David Johnson in response.
Hill had seven catches for 117 yards along with his two touchdown catches. Kareem Hunt ran for 71 yards rushing. Harrison Butker put together back-to-back field goals in the first half.
Josh Rosen had a pretty rough afternoon indeed, putting together 195 yards passing with a touchdown, two interceptions and five sacks. David Johnson ran for 98 yards with touchdowns on the ground and through the air, while Larry Fitzgerald had six catches for 50 yards.
Arizona will play host to the waffling Oakland Raiders. Kansas City will face off against the Los Angeles Rams on neutral ground at Azteca.
Indianapolis Colts vs Jacksonville Jaguars
Andrew Luck passed for 285 yards and three touchdowns, all going to tight ends, in a very tightly contested 29-26 victory over the Jacksonville Jaguars. The Colts have won three in a row and improve to 4-5.
Most of Lucks damage came in the first half, but Luck was efficient and precise for the majority of the day. Eric Ebron finished with three catches for 69 yards and 2 touchdowns through the air. Outside of a 53-yard burst by Jordan Wilkins, the Colts gained just 31 yards on 20 carries.
For the Jaguars Blake Bortles was 26 of 38 with 320 yards and two TD passes while Leonard Fournette had 53 yards rushing, 56 yards receiving and two touchdowns, to cap off his return in style. Former Colt Donte Moncrief had a nice day, adding 98 yards receiving along with a touchdown grab.
Indianapolis will head out to play division rival Tennessee. Jacksonville will host the Pittsburgh Steelers.
Tennessee Titans vs New England Patriots
Marcus Mariota converted each of the first two drives with TD passes, going 16-of-24 for 228 yards and two touchdowns leading the Titans over New England 34-10, snapping a seven-game skid against the Patriots. New England now 7-3 is no longer in control of its own destiny in regard to a first-round bye.
The Patriots are now two games back of the Chiefs, which given the Chiefs run of late, it would be a surprise if they relinquished the position. As for the Titans, move to 5-4 and are one game back of the division-leading Texans in the AFC South.
Tom Brady passed for 254 yards and no touchdowns. James Develin scored on a 1-yard touchdown run early in the second, which pulled New England within 17-10. Brady wasn't able to pull any miraculous comeback off this time, as the Titans Defense was relentless, sacking him three times on top of the numerous hits Brady took. Brian Hoyer was brought in late to finish the game off once it got too far out of reach.
Derrick Henry ran wild over a very vulnerable New England defense in the second half, picking up 58 yards and touchdowns. Corey Davis and his seven catches for 125 yards and a touchdown,
Tennessee will face the Colts at home. The Patriots will look to get their heads straight, they'll be on a bye.
Chicago Bears vs Detroit Lions
Mitchell Trubisky threw for a career-high 355 yards and three touchdowns, and the first-place Bears beat the Lions 34-22
With their third straight win, the Bears extended their lead atop the NFC North over the idle Vikings at 6-3. The Bears scored touchdowns on their first four possessions cruising to a 26-7 lead going into halftime.
Wide receivers Allen Robinson and Anthony Miller combined for 255 yards receiving and three touchdown catches. The ground game wasn't nearly as presentable, Jordan Howard lead in rushing putting in 21 yards on 11 carries.
The Lions attempted to make a comeback later in the contest. Matthew Stafford hit on a pair of passes, to Kenny Golladay and Kerryon Johnson for 5 and 13 yards respectively. However, that was basically all she wrote, as neither team was able to put up another point afterward.
Chicago will battle the Minnesota Vikings for the top spot in the division. Detroit will look to get off the snide, taking on the reeling Carolina Panthers.
Cleveland Browns vs Atlanta Falcons
Baker Mayfield threw a season-high three touchdown passes and rookie Nick Chubb streaked 92 yards for a TD as the Cleveland Browns ended a four-game losing streak with their best all-around performance in years, a stunning 28-16 win over the Falcons on Sunday.
Mayfield completed his first 13 passes and finished 17 of 20 for 216 yards. He threw a 28-yard scoring pass to Rashard Higgins, a 13-yarder to Chubb and 11-yarder to Duke Johnson. Nick Chubb was a big contributor in this win to his credit, with the Browns buried back on their own 8-yard line, Chubb was able to break off a 92-yard touchdown run, putting the Browns ahead 28-10,
Matt Ryan had a pretty solid day to be fair, passing for over 300 yards and two touchdowns. Julio Jones had 107 yards and became the fastest player to reach 10,000 yards receiving. Tevin Coleman rushed for 44 yards on 11 carries as the Falcons ground game was not able to get off the ground.
Atlanta Falcons will welcome the Dallas Cowboys. Cleveland Browns will have a week off.
New Orleans Saints vs Cincinnati Bengals
Drew Brees and the New Orleans Saints were on a rampage from the opening drive, scoring every time they got the ball except for the last one. Brees threw three touchdown passes in a blistering first half, New Orleans rolled to its eighth straight victory Sunday, 51-14 over the Cincinnati Bengals.
In the first half alone, the Saints piled up 311 yards and had 21 first downs. Alvin Kamara had 56 yards on the ground and 46 yards receiving to go with two touchdown runs.
Andy Dalton went 12 of 20 for 153 yards with two interceptions, including one that Marcus Williams returned 78 yards to set up Brees' third touchdown throw. Tyler Boyd led the Bengals in receiving with 65 yards and zero touchdowns.
Cincinnati will be in Baltimore. New Orleans will invite the Philadelphia Eagles.
Green Bay Packers vs Miami Dolphins
Aaron Rodgers and Davante Adams connected for two touchdown passes and the Green Bay Packers beat the Miami Dolphins 31-12 on Sunday, in a game the Packers most desperately needed to win in order to keep themselves in the Playoff fringe. The Packers snap the two-game losing streak, increasing their record to 4-4-1. The Dolphins drop to 5- 5.
Aaron Jones ran for career highs of 145 yards and two scores, Jones put up 54 yards of total offense on the opening drive alone, he was able to find take advantage of the gaps afforded by the Dolphins Defense.
It's taken a number of games but the Packers finally struck a very nice balance on offense with 28 pass attempts and 25 runs against the Dolphins. It remains to be seen if Mike McCarthy will implement this formula going forward.
The Dolphins did not take advantage in the red zone Sunday, with Miami scoring just six points on three trips inside Green Bay's 20. Brock Osweiler completed 23 of 37 passes for 213 yards and one pick. Running back Frank Gore rushed for 90 yards on the ground.
We'll see what McCarthy does Thursday when the Packers visit Seattle for the Thursday night game. The Dolphins will be on the bye week.
Los Angeles Rams vs Seattle Seahawks
Brandin Cooks rushed for a 9-yard touchdown with 5:49 to play on the first snap after Dante Fowler forced and recovered a fumble by Russell Wilson, and the Los Angeles Rams bounced back from their first loss of the season with a 36-31 victory over the Seattle Seahawks on Sunday. The victory was a bit bittersweet, however, as the Rams lost ultra consistent slot receiver Cooper Kupp to a non-contact injury. Sean McVay didn't sound very optimistic when asked about Cupp's injury prognosis.
Jared Goff passed for 318 yards and two touchdowns, and Todd Gurley rushed for 120 yards and a score. Goff focused on Robert Woods and Brandin Cooks a good amount in this game, hitting both receivers for a combined 17 targets.
Russell Wilson threw three touchdown passes, rushed for 92 yards and nearly rallied the Seahawks all the way back after his fumble. He hit Mike Davis for a short TD catch to cap a 90-yard drive with 1:56 to play. After the Seattle defense held, getting the Seahawks to the Los Angeles 35 before throwing four straight incompletions in the final minute.
Seattle will welcome Aaron Rodgers and the Packers on Thursday night. The Rams will be squaring off against the AFC leading Kansas City Chiefs in Mexico City on Monday Night.
Los Angeles Chargers vs Oakland Raiders
Philip Rivers took nearly 20 minutes to complete his first pass, the Los Angeles Chargers got gashed on a long fake punt and the offense put up a season-low in yards.
Despite a few hurdles along the way, the Chargers still managed to pull off another win to keep pace with the 9-1 Chiefs. The defense held Oakland out of the end zone and sacked quarterback Derek Carr four times.
Rivers overcame the slow start to throw two touchdown passes, Melvin Gordon gained 165 yards and the Chargers won their sixth straight game, 20-6 over the struggling Oakland Raiders on Sunday.
The Chargers have the Broncos on Sunday. Oakland will be facing the Cardinals in the desert.
Dallas Cowboys vs Philadelphia Eagles
Ezekiel Elliott had 151 yards rushing and his go-ahead 1-yard touchdown run in the fourth quarter helped the Dallas Cowboys beat the Philadelphia Eagles 27-20 on Sunday night. The Eagles fell to 4-5 with their third straight loss at home while the Cowboys improved to 4-5.
Carson Wentz threw a pair of TD passes to Zach Ertz. The Eagles got the ball back at their 32 with 40 seconds left driving his Club deep into Cowboys territory for one last kick at the can. Wentz completed a pass to Ertz inside the Dallas 10. Ertz lateraled to Golden Tate but he was tackled for no gain with no time left on the clock.
Elliott ran in from the 1 to give Dallas a 27-20 lead after Prescott completed passes of 24 yards to Amari Cooper and 23 yards to Allen Hurns on the drive.
The Philadelphia Eagles will be in tough, on the road against the Saints. Dallas will be going up against the Falcons in Atlanta.
New York Giants vs San Francisco 49ers
Eli Manning found a savior in secondary receiver Sterling Shepard, hitting him with a pretty 4-yard touchdown pass, putting the Giants up for good 27-23, breaking a 5-game losing streak, and improving to 2-7. The Niners fall to 2-8 on the year.
Nick Mullens tried to make the most of his 53 seconds and snatch the victory, they were able to march the ball down to the Giants 21 yard line with a second remaining, Mullens took his last-ditch shot in the end zone but was a tad bit off the mark.
The winning touchdown all stemmed from a 75-yard drive, that included two third-down penalties by the Niners and a 23-yard catch by Saquon Barkley that got the Giants into the red zone, using up just under two minutes of clock.
In a matchup that most people didn't think would amount to much, it ended up being one of the most entertaining games in week 10.
Eli Manning had a pretty decent evening, all things considered, passing for 188 yards three touchdowns and no interceptions. Odell Beckham caught two touchdown passes on 73 yards receiving.
Nick Mullens passed for 250 yards and two interceptions, along with an 11-yard touchdown score to Matt Brieda that cut the Giants lead down to 20-10 early in the 3rd quarter. George Kittle caught for 83 yards.
The 49ers will get the bye next week. The New York Giants will look to continue their winning ways against Tampa Bay.
Questions and comments?
thescorecrowsports@gmail.com
Follow Us on Twitter @thescorecrow
Follow Us on Reddit at u/TheScorecrow
Follow Dale Money on Twitter @packerd_00
Main Credit Image: Embed from Getty Images