Logan Whaley | November 11th, 2018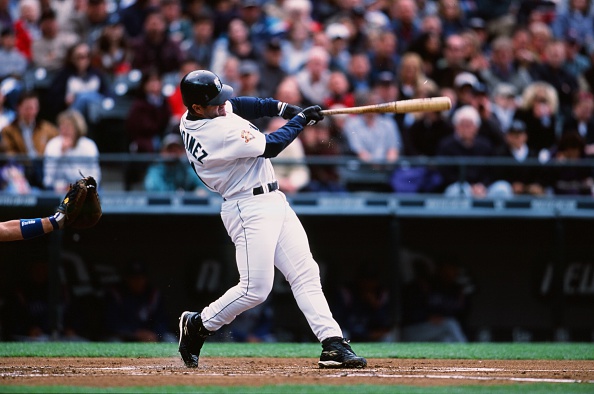 Narrowly missing out on his election to the Hall of Fame this past year, Edgar Martínez is likely the top name for the 2019 ballot for voters to consider. Is this the year he finally reaches the pinnacle of greatness?
History
Born January 2, 1963, Edgar Martínez began to love baseball at an early age. At the young age of two, after the divorce of his parents, Martínez moved to Dorado, Puerto Rico from New York City. As an 8-year-old, Martínez gained his first exposure to the beloved game, watching home country hero Roberto Clemente and the Pittsburgh Pirates win the 1971 World Series.
Growing up playing baseball in Puerto Rico, Martínez graduated high school and attended college at American College in Puerto Rico. He worked in a pharmaceutical factory at night and playing semi-pro baseball. At the age of 20, a scout by the name of Marty Martinez, working with the Seattle Mariners, came to Dorado, where he saw a young Edgar show his abilities. Marty Martinez offered him a $4,000 contract, which Edgar accepted.
New Beginnings
Martínez began his professional career in 1983, for the Low-A Bellingham Mariners. He played 32 games, slashing .173/.304/.202 with 5 RBI. It was the first taste of professional baseball for Martínez. The following season, Martínez picked up steam forcing his way to Single-A. His first full season, Martínez played in 126 games finishing with a strong line of .303/.414/.490 with 15 HR and 66 RBI.
Four short years later, Edgar Martínez landed in the Show. The first couple of major league seasons for Martínez saw many challenges. In his first three seasons combined, Martínez played just 92 total games. He continued to grind and progress. His first full season, Martínez finished strong. He played in 144 games, slashed .302/.397/.433 with 11 HR and 49 RBI. Martínez finished with an excellent .376 wOBA and 134 wRC+. He posted a 5.5 WAR.
His best season came in 1995, where he finished slashing .356/.479/.628 with a .469 wOBA and 182 wRC+. Martínez posted a 7.0 WAR. He hit 29 HR and drove 113 runs in, and struck out just 13.6% of the time. A few stats to put Edgar's career in perspective.
One of only 18 players with a slash of .300/.400/.500.
One of only 42 players with 1,200 runs, 1,200 RBI, and 1,200 walks.
Of all 63 players with 500 doubles, he has the least amount of at-bats.
Downside as a DH?
The unique Hall of Fame status of Edgar Martínez rests on the expectation that he is going in as a Designated Hitter. He does have experience with the glove, however, he did not see the field in a defensive capacity from 1998-2003.
It certainly can be an argument against his chances for baseball's most prestigious honor. However, it should certainly not deter him from entering. As has been a comparison before, another well-known name in the category of DH is longtime Red Sox hero David Ortiz.
In a piece from Danny Knobler published in January of 2017, Knobler references the comparable nature of Martínez and Ortiz. He also mentions how longtime great Frank Thomas started 340 more games as a DH than a first baseman, yet finds himself in Cooperstown as the latter. Martínez posted higher career numbers in OPS than both Ortiz and Thomas, as well as a higher WAR and OPS+ than Ortiz. History would signify this is a good enough reason as to why Martinez belongs in the Hall of Fame.
2019 or Bust
Just kidding. Well, kind of.
Martínez has now been eligible for nine years. This year marks his tenth and final time on the ballot. It is boom or bust time for him to achieve the dream. The first year Martínez found himself up for the vote, 2010, he gained a paltry 36.2% of the vote. Not bad, however, all things considered. He can still reach induction through the Veterans' Committee but would have to wait even longer.
In that period, it had not grown exponentially, until the past three years. In 2016, Martínez received 43.4 percent. The following year, 58.6 percent. This past year Martínez saw a significant leap and nearly reached the Hall as he gained 70.4 percent of the vote. For Martínez to reach the pinnacle, he needs to garner at least 75 percent. Most people expect that to be the case and for Edgar Martínez, the long-awaited dream can become a reality.
Questions and comments?
thescorecrowsports@gmail.com
Follow Us on Twitter @thescorecrow
Follow Us on Reddit at u/TheScorecrow
Follow Logan Whaley on Twitter @game7magic
Main Credit Image: Embed from Getty Images