Frank Dyevoich | November 10th, 2018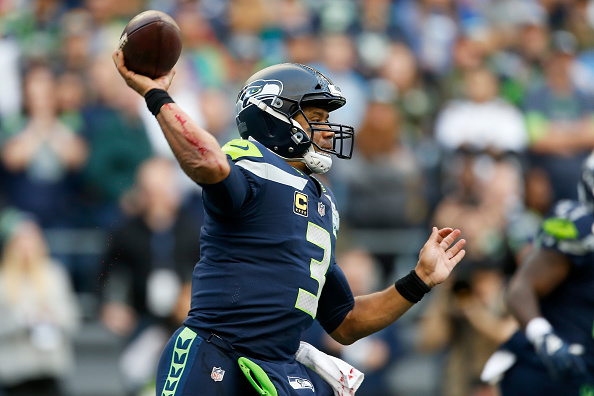 Week 10. It is only four weeks away from the fantasy playoffs and it is more important than ever to figure out the matchups we should be targeting to help us bring home that W. Do not be the person who benches the player about to go off because he had a bad game recently. Based on this week's matchups, I recommend that you start or sit the following players.
Start 'Em
Quarterbacks:
Russell Wilson vs. LAR – Wilson has been extremely efficient in his last four games, throwing for over 900 yards and 11 TDs, and finishing as a top-six fantasy QB twice. This week I fully expect Wilson's hot streak to continue as he faces the high-powered Rams in a heated divisional matchup. Wilson is a strong competitor and he will not be made a fool of no matter how large of an underdog he is. Look for him to put the team on his back and keep the Seahawks competitive in this one. Projection: 243 yards, 3 TDs, 1 INT, and 41 rush yards.
Ryan Fitzpatrick vs. WAS – Fitzpatrick has been money this season and there is no reason to think it is going to stop this week. He has played four full games this season, and in those games, he has either thrown for 400+ yards or 4 TDs or both, and he has scored at least 30 fantasy points in each game. This week he faces the Redskins who have been decimated by injuries on both sides of the ball and were just lit up for four TDs by Matt Ryan. Look for the WRs to bounce back in a huge way this week for the Bucs and Fitzpatrick will be at the forefront. Projection: 341 yards, 3 TDs, 1 INT, and 22 rush yards.
Mitchell Trubisky vs. DET – Trubisky has struggled the last two weeks against the Jets and the Bills, but that is mainly because the Bears were up big and Trubisky did not need to air it out. In the weeks prior, Trubisky had three top-five finishes and I expect him to get back to his QB1 status on Sunday. This week he faces the Lions at home, but this matchup is no pushover. The Lions just got embarrassed by the Vikings and they are looking to right the ship. Trubisky is going to have to be efficient through the air and he is always a threat to have 60+ rushing yards each week, so I like him to bounce back in a big way this week. Projection: 274 yards, 2 TDs, 1 INT, 52 rush yards and 1 TD.
Phillip Rivers vs. OAK – Rivers is quietly having an MVP-type season and it's time for fantasy owners to take notice. He is the only QB who has thrown multiple TDs in every game this season and this week he faces a defense that has completely given up. The Raiders do not seem like they have any interest in playing football, and on defense, they have allowed the last five QBs they faced to surpass 25 fantasy points, including 3rd string, undrafted, rookie QB Nick Mullens. Imagine what Rivers is going to do to this defense. Projection: 376 yards and 3 TDs.
Running Backs:
Duke Johnson vs. ATL – Cleaveland finally figured out that their offense is a different beast entirely when they get Duke Johnson involved in the passing game. Last week, he caught all nine of his targets for 78 yards and 2 TDs. This week, he faces the league's worst defense at stopping pass-catching RBs, the Falcons, who have allowed a league-high 68 receptions to RBs. New offensive coordinator Freddie Kitchens is determined to make Duke a factor in the passing game every week, and fantasy owners need to ride the production into their playoffs. Projection: 21 yards, 7 receptions for 69 yards and 1 TD.
Kenyan Drake vs. GB – Drake has been tough to rely on this season as he has been a bust just as often as he has been a solid RB2. For some reason head coach Adam Gase has decided that the team has a better chance to win if they give Frank Gore 20 carries and let him stumble his way to 50 yards. Even if that is the preferred game plan, this week the Dolphins will be forced to give Drake the ball in a road game where they are a 9.5 point underdog. In a game where they are going to be in catch-up mode from the first whistle, Drake is going to get tons of work in the passing game this week because his explosive plays are going to be the only way for the Dolphins to keep this one competitive. Projection: 62 rush yards, 6 receptions for 78 yards and 1 TD.
Aaron Jones vs. MIA – I am riding with Aaron Jones through thick and thin, and this week he should finally have the breakout we have been waiting for. He has at least 14 touches in his last two games and is averaging over 5.0 yards per carry on the season. The biggest default in his game is his pass blocking, but Pro Football Focus has reported that Jones has been the best pass blocker in Green Bay this season, and quite frankly, it's not close. After suffering two hard-fought road losses versus the Patriots and the Rams, I expect the Packers to re-establish their explosive offense and make mincemeat of the Dolphins' atrocious run defense. Jones should also have plenty of rushing opportunities to kill the clock in the second half. Projection: 110 yards, 1 TD, and 3 receptions for 26 yards.
Tevin Coleman vs. CLE – Coleman was a beast last week in a brutal matchup against the Redskins, and this week he is rewarded with the lowly Browns' run defense, who have allowed RBs to score 9 TDs in their last four games. Further, the Browns' defense is extremely banged-up, so look for Atlanta to take an early lead and lean on their RBs in this one. Ito Smith is also a worthy FLEX play this week considering the matchup. Coleman is starting to heat up, and in a contract year, he has all the motivation in the world to maximize his efforts. Projection: 73 yards, 1 TD, 5 receptions for 68 yards, and 1 TD.
Mike Davis vs. LAR – Chris Carson is not expected to play in this one which opens up the door for Davis to get another start. Last week, he rumbled for 62 yards on 15 carries, and in the receiving game, he added seven receptions for 45 yards. This week versus the Rams, the Seahawks will likely be trailing which means tons of check-downs for Davis and plenty of opportunities in the running game as well. Without Carson, Davis has finished with 17 points in PPR last week and a mammoth 28 PPR points in Week 4. If Carson sits, fire up Davis with confidence regardless of game-script. Projection: 71 yards, 1 TD, and 6 receptions for 51 yards.
Dion Lewis vs. NE – Lewis has been on fire the past two games, topping 20 PPR fantasy points in both. This week he looks to continue his hot streak against his former team. It took a while, but the Titans have finally realized that Lewis is by far their best RB. He has out-snapped and out-touched Derrick Henry in the Titans' last three games, and he had a season-high 23 touches last week. Look for Lewis to put forth his best performance of the season against his former team in the always exciting revenge game. Further, the Patriots have not exactly been good at stopping the run this year, and they have been even worse against pass-catching RBs. This should be a fun day for Lewis and the fantasy owners who start him. Projection: 56 rush yards, 7 receptions for 73 yards and 1 TD.
Wide Receivers:
Marquez Valdes-Scantling vs. MIA – MVS is going to be a weekly WR3 moving forward. Geronimo Allison has been placed on Injured Reserve so MVS is the starting WR opposite Davante Adams moving forward. In his last four games, he has either 100 yards or a TD or both, and each week he earns more trust from Aaron Rodgers. This week, he faces a Dolphins' secondary who only has one elite playmaker in Xavien Howard, and Howard will be matched up on Adams the entire game leaving MVS with single coverage on the outside. Look for MVS to keep his 100 yards or a TD streak alive this week. Projection: 93 yards and 1 TD.
Doug Baldwin vs. LAC – Baldwin has been slumping lately, but this is the perfect matchup for him to get right. The Rams, and Marcus Peters specifically, have been atrocious at defending the pass this season, so Baldwin should take advantage of a very tasty matchup. Also, he has been complaining that he wants more targets and in this league, the squeaky wheel gets the grease. The Seahawks are going to have to air it out most of this game. If they are going to compete against the Rams on the road, Baldwin is going to have to be at the forefront. Projection: 7 receptions for 82 yards and 1 TD.
Amari Cooper vs. PHI – Cooper owners were very pleased to see Dak Prescott pepper him with targets in his first game as a Cowboy. Cooper should improve on his 26% target share and see close to 90% snaps on Sunday Night, and this week he will be a focal point of the offense in a divisional matchup against the Eagles. The Cowboys are a big underdog on the road, and they could find themselves in catch-up mode in the second half. This one is set up for Cooper to see a heavy target volume and the Eagles defense is most vulnerable in the secondary, so get Cooper in your lineups once again and enjoy his resurgence back into the WR2 arena. Projection: 8 receptions for 86 yards and 1 TD.
Josh Gordon vs. TEN – I think Gordon is going to get peppered in Week 10. He saw 10 targets last week, and this week he should see a heavy dose of Malcolm Butler, who is not the shutdown corner he used to be. Further, Butler is a former Patriot so they know all of his shortcomings, and I expect Bill Belichick to try and expose Butler after all of the backlash he received for benching him in the Super Bowl. Look for Gordon to be targeted on several deep plays, and with his talent and athletic ability he can easily finish as a WR1. Projection: 7 receptions for 110 yards and 1 TD.
Anthony Miller vs. DET – Miller has led the Bears in targets and receptions the last three weeks and his strong connection with Mitch Trubisky should continue. He is an extremely explosive slot receiver and a matchup nightmare for nickel cornerbacks and linebackers. Allen Robinson is back this week, but I think that hurts Taylor Gabriel since Robinson runs most of his routes on the outside. Further, the Lions will be without Darius Slay this week which means their secondary is ripe for exposure. Projection: 5 receptions for 73 yards and 1 TD.
Tight Ends:
O.J. Howard vs. WAS – Cameron Brate who? This will be the last time Howard is in the Start Em' section because he has become a top-five must-start tight end. He is coming off of a two-TD performance last week and he will continue his hot streak against the Redskins. They have only allowed TEs to score three TDs all year, but it is about to be four, possibly five. Fitzpatrick is locked onto Howard and he is a high end TE1 moving forward. Trade for him while you still can. Projection: 6 receptions for 69 yards and 1 TD.
Jack Doyle vs. JAX – Doyle returned to action in Week 8 after missing Weeks 3-7, and he put down his best performance of the season with six receptions for 70 yards and a TD on seven targets. After a perfectly timed bye-week, Doyle looks to throw his name into the ring of top-10 TEs as he takes on the dangerous Jaguars secondary. With Jalen Ramsey set to shadow T.Y. Hilton, Andrew Luck is going to lean heavily on his TEs on Sunday. Fire up Doyle confidently in PPR leagues. Projection: 7 receptions for 66 yards and 1 TD.
Defense/Special Teams:
Los Angeles Chargers vs. OAK – After the 49ers embarrassed the Raiders on primetime last week, it is safe to say that you should be starting whichever defense faces the Raiders. This week it's the Chargers who have been coming on strong lately. This game should be a total blowout so start the Chargers defense everywhere.
New York Jets vs. BUF – Derek Anderson has been ruled out and Josh Allen is not ready to return so that means it is going to be either Nathan Peterman or Matt Barkley starting for the Bills. Whoever it is, the Jets defense is licking their chops.
Sit 'Em
Quarterbacks:
Andy Dalton vs. NO – Andy Dalton is a trap start this week. It seems like he has the juiciest matchup imaginable and he is playing at home in an afternoon game. However, plain and simple, don't do it. Dalton will be without A.J. Green for at least the next two weeks which means Tyler Boyd will see number one cornerbacks, and Dalton's second WR will either have to be John Ross or Alex Erickson. Dalton is drastically inefficient when he plays without A.J. Green, and with the running game expect to struggle against the Saints' top-five run defense, it is going to be a rough afternoon for the Red Rifle. Projection: 249 yards, 1 TD, and 2 INTs.
Alex Smith vs. TB – This is another trap start this week. The Bucs are one of the worst defenses in NFL history, however, the Redskins have no healthy players. They just lost two starting offensive linemen for the season and the Buccaneers defensive line is healthy and hungry for a win. The bottom line this week is that Alex Smith is going to face tons of pressure and he has no viable receiving weapons to throw to so he is going to disappoint fantasy owners in a plus matchup once again. Projection: 275 yards, 1 TD, 2 INTs, 1 FUM, and 37 rush yards.
Matthew Stafford vs. CHI – Last week was Stafford's first game without Golden Tate and it showed. Stafford threw for under 200 yards, and he had no passing TDs on his way to six fantasy points. Further, he was sacked 10 times last week and this week he faces the leagues toughest defense, the Bears. Stafford is going to have pressure in his face all game and he is a lock for a few turnovers, not to mention, Khalil Mack should be making his return this week. Heir on the side of caution and place the fate of your team in the hands of someone in a much better position to produce. Projection: 227 yards, 1 TD, 2 INTs, and 1 FUM.
Dak Prescott vs. PHI – Dak has been a good fantasy QB this season when he has played at home. This week, he faces the Eagles in a tough divisional matchup on the road, and the Eagles have been very stingy against opposing QBs lately. Further, the Cowboys are bottom-four in the NFL in the number of plays run per game which limits the amount of time the ball is in Dak's hands. Amari Cooper will certainly help Dak's overall passing numbers, but it will not be enough to make him a viable start this week against the Eagles coming out of their bye. Projection: 212 yards, 1 TD, 1 INT, 1 FUM, and 41 rush yards.
Running Backs:
Doug Martin vs. LAC – The Raiders have given up. Unfortunately, it comes at the expense of Doug Martin who has looked rejuvenated this season. When the Raiders are trailing it is the Jalen Richard Show and the Raiders figure to be trailing in every game this season. This week, they face their division rival Chargers, who are on a five-game win streak with their hearts set on a Super Bowl. The Raiders are going to have a difficult time scoring points this week, let alone have a decent running game. Martin is a viable drop candidate due to the game-scripts he will face this season and as such he needs to be a permanent member of your bench. Projection: 36 yards, and 2 receptions for 14 yards.
Kerryon Johnson vs. CHI – Johnson is coming off of a brutal matchup with the Vikings where he scored only six fantasy points in PPR. Unfortunately for Johnson and his fantasy owners, this week may be even tougher as he tries to find running room against the Bears who have not allowed a rushing TD yet. Further, if the Lions find themselves in catch-up mode, then you can expect a heavy dose of Theo Riddick in the passing game. There will be weeks where Johnson is a must-start, but this is not one of them. Projection: 54 yards, and 3 receptions for 21 yards.
Adrian Peterson vs. TB – AP is going to have a tough time finding running room for the rest of the season due to the season-ending injuries to both of the Redskins' offensive guards. Even in a plus matchup, AP is going to let fantasy owners down for a second week in a row. The Buccaneers were gashed on the ground last week by the Panthers, but their defensive line is finally healthy and they have a few studs who will make the Redskins' backups look silly. I would not be surprised if AP was tackled behind the line of scrimmage on half of his runs. Projection: 69 yards, and 2 receptions for 18 yards.
Carlos Hyde vs. IND – It's really unfortunate for Hyde owners, but he has gone from being a solid RB2 as the main man for the Browns to an unstartable handcuff RB with no value as long as Leonard Fournette is healthy. It is best if you can try and offer Hyde to the Fournette owner for a FLEX worthy player in return. There is a chance that Hyde has a small role considering what the Jags are paying him, but until we see it, Hyde has to stay on your bench. Projection: 24 yards.
Wide Receivers:
Tre'Quan Smith vs. CIN – Tre'Quan Smith has not been nearly as involved in this offense as we had hoped. Last week the Saints scored 45 points, including a TD to Smith, but he only had three targets in a game where Brees threw 36 passes. The fact of the matter is that it is going to be impossible to predict when Smith is going to score a TD, and with his extremely low number of targets he will be a major disappointment in the weeks that he doesn't. Going up against the Bengals, the Saints should win this one handily, which sets up for a heavy running game-script and few deep pass attempts. You can't trust Tre'Quan in this one. Projection: 2 receptions for 28 yards.
Jordy Nelson vs. LAC – After Amari Cooper was traded, Nelson seemed prime to take over as the WR1 in Oakland. However, the entire team is a disaster and when Derek Carr does complete a pass it seems it is to everyone but Nelson. Over his last three games, Jordy has a total of seven PPR points. Seven. I have dropped all my shares of Jordy Nelson and I encourage you all to do the same because your bench spots are best reserved for insurance players and high upside lottery tickets. It is a shame to see because it looked like he still had some juice left in his legs, but it is over for Jordy Nelson in 2018. Projection: 3 receptions for 22 yards.
Chris Godwin vs. WAS – After a hot start to the season, Godwin has been on a steady decline recently, averaging a pitiful 6.5 PPR points in his last two games. He has been the odd man out for the Buccaneers as Ryan Fitzpatrick has spread the ball around to everyone else, including Adam Humphries who seems to be Fitzpatrick's new favorite target not named Mike Evans. Last week told us all we need to know as the Bucs mounted a second-half comeback and Fitzpatrick threw 40 passes only three of which went to Godwin. He can't be trusted in any of your lineups leading up to the playoffs. Projection: 3 receptions for 33 yards.
Corey Davis vs. NE – Davis is a stud, the problem is that Marcus Mariota is not playing his best football right now. Last week Davis had 6 receptions for 56 yards on ten targets, but his day should have been much better as Mariota threw behind him when he was wide open for a 10-yard TD in the 4th quarter. Further, Davis has seen one of the toughest cornerback schedules of the season, having faced Xavien Howard, Jalen Ramsey, Casey Hayward, TreDavious White, and Byron Jones. This week he faces Stephon Gilmore, who just held Davante Adams to 40 yards and is rated as Pro Football Focus' number one cornerback. Next year Davis will be a popular bounce-back candidate, but this season he can't be trusted as anything more than a WR3. Projection: 5 receptions for 44 yards.
Sammy Watkins vs. AZ – Sammy is generally a safe start since he is a part of the most explosive offense in football, but this week you should steer clear. Watkins is dealing with a foot injury that kept him out of practice Wednesday and Thursday, but he returned to limited practice Friday so his odds of playing are trending up. That being said, if Watkins plays on Sunday he will be locked down by Patrick Peterson. Peterson would generally cover Tyreek Hill, but Hill will spend most of his time in the slot since Peterson does not follow WRs into the slot. That means Watkins will be the X receiver on most of Andy Reid's play designs, matching him up with Peterson. When you combine the foot injury with Patrick Peterson it adds up to a rough afternoon for Watkins. Projection: 3 receptions for 29 yards.
Tight Ends:
Jared Cook vs. LAC – Jared Cook is another casualty of the embarrassing Raiders' offense. After 5 weeks of the season, Cook was fourth in fantasy points among all TEs, but he has failed to score more than six PPR points in three of his last four games. If it wasn't enough that his offense has thrown in the towel, he faces a stout Chargers defense who have been excellent against TEs all year and held Cook to 20 yards in their first meeting. Do what is best for your fantasy team and bail on all raiders not named Jalen Richard. Projection: 3 receptions for 26 yards.
Jordan Reed vs. TB – This is an excellent matchup, but Reed has fallen flat all year. In fact, Vernon Davis has been the more productive TE lately, and he has a history with Alex Smith. Further, Reed is dealing with some nagging leg injuries so he might be playing at half-speed. Do what we should have been doing all season and bench Reed this week. Projection: 5 receptions for 31 yards.
Questions and comments?
thescorecrowsports@gmail.com
Follow Us on Twitter @thescorecrow
Follow Us on Reddit at u/TheScorecrow
Follow Frank Dyevoich on Twitter @Fantasy_Giant
Main Credit Image: Embed from Getty Images