Matt Woolsey | November 8th, 2018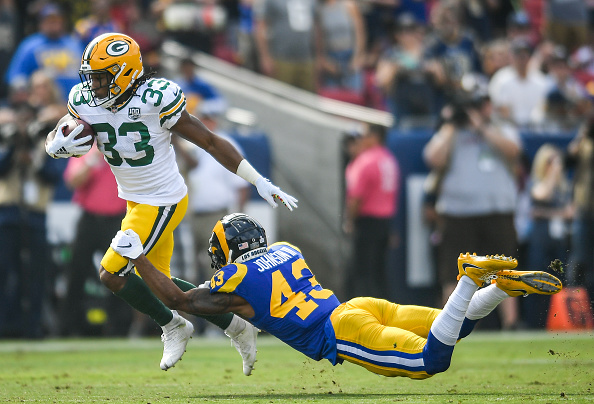 Have you ever seen Liar Liar? Remember the scene when Jim Carrey pulls his hair in the courtroom and has that ahhhhhh look on his face? That's the feeling you get every time you see Jamaal Williams carrying the ball for the Green Bay Packers. Why aren't they giving the ball to the better running back, Aaron Jones?
We knew when we drafted Jones he was going to miss the first two weeks and you probably drafted him somewhere in the ninth-round. So you didn't draft him to be more than a flex/bye-week fill-in. Of the six weeks, he has played, he has had two weeks as an RB2 and this past week, because of the fumble he ended up being an RB3. But see the upside is there if he can get more touches, why aren't they using him more?
We all thought when the Packers traded off Ty Montgomery, it was Jones time. But in the previous game against the New England Patriots, Jones only had 14 carries but he had 76 yards for a 5.42 YPC (Yards Per Carry) he also caught two passes for 10 yards. In the game against the Rams, he had 86 yards on 12 carries for 7.16 YPC.
His usage did not really change much from pre-Ty to post-Ty. In all the games before the Montgomery trade, he averaged almost nine carries, so a slight uptick, but not what we were probably expecting.
Check out this delayed handoff to Jones during the Rams game.
Imagine not feeding, Aaron Jones pic.twitter.com/QTTKYi296s

— Jake (@SeedsofJake) October 28, 2018
Jake was right, Imagine not feeding Aaron Jones. The problem is they are not feeding Aaron Jones enough.
Through the first nine weeks, if you take all the running backs with at least 55 rushing attempts this season, Jones leads the league with a 6.03 YPC, not Todd Gurley, not Alvin Kamara, not Ezekiel Elliott, but Aaron Jones. Williams also has at least 55 carries and he only has a 3.81 YPC. Come on Mike McCarthy, play Jones, he is clearly the better running back.
When the question is thrown around, who is the G.O.A.T. Aaron Rodgers' name is always thrown into the mix. But as good as Rodgers is, the Packers offense has struggled, and I think feeding Jones would help. Let him take the pressure off Rodgers and develop that running game.
During this same nine weeks of the season, the Packers are 29th in rushing attempts this season, and their struggles on offense have shown it. New England is actually third and we all know where Tom Brady stands in the G.O.A.T. conversation. If Bill Belichick isn't putting everything on Brady's shoulders, why should the Packers be any different with Aaron Rodgers?
Yes, Aaron Jones is exactly what you drafted him to be, but he could be so much more if the Packers would just unleash him. Let him produce, let him help out your offense, and for God's sake let him help out our fantasy team.
Questions and comments?
thescorecrowsports@gmail.com
Follow Us on Twitter @thescorecrow
Follow Us on Reddit at u/TheScorecrow
Follow Matt Woolsey on Twitter @AresgodFF
Main Credit Image: Embed from Getty Images