Richard Benites | October 31st, 2018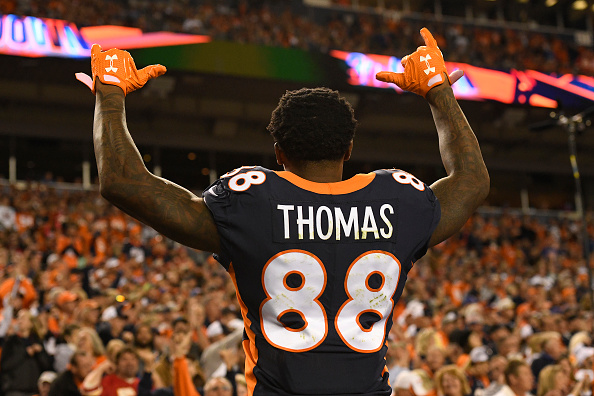 As of 4 PM ET, the NFL's trade deadline day has finally come and gone. Did your team trade for that star player you wanted, or maybe they let go of that player whose jersey you own? Whatever the case may be, we here at The Scorecrow will give you all the news and notes you need from around the league.
WR, Demaryius Thomas, to the Houston Texans
After countless injuries to their receiving corps, the Houston Texans look to bolster the offense by trading for Broncos' wideout Demaryius Thomas. Along with Thomas, Denver will be sending over a 2019 seventh-round pick in exchange for a 2019 fourth-round pick and seventh-round pick from Houston.
About to turn 31 this December, Demaryius Thomas probably wasn't in any long-term plans for the Broncos. Heck, there was even a good chance that cap space implications would've seen to Thomas getting cut next offseason. Regardless, the Broncos will have their promising rookie wideout, Courtland Sutton, filling in and it'll be exciting to see if Thomas can rejuvenate his career, alongside star receiver DeAndre Hopkins, in Houston.
WR, Golden Tate, to the Philadelphia Eagles
Fans were hoping that the Eagles would make a move this deadline day, and the wait is over as quarterback Carson Wentz gets another weapon to throw to in Lions' wideout Golden Tate. Philadelphia will be sending over a 2019 third-round pick, but they'll be getting a versatile receiver, that can move the chains, in return.
After the Eagles lost wide receivers Mike Wallace and Mack Hollins, and tight end Richard Rodgers, to IR-worthy injuries, it was clear that a move needed to be made on the offensive side of the ball; cue veteran wide receiver Golden Tate. As agile as he is, Tate offers a trustworthy pair of hands and can sometimes give that deep-ball threat. Although a third-round pick may seem too high, this is a move that can ultimately help kickstart Philadelphia's postseason efforts.
RB, Ty Montgomery, to the Baltimore Ravens
Call it coincidence or unfortunate circumstance, but Green Bay will be moving on from running back Ty Montgomery as they send him over to Baltimore. After drafting him in 2015, the Packers are trading the 4-year vet to the Ravens and will be getting a 2020 seventh-round pick in return.
In Green Bay's Week 8 matchup versus the Rams, Ty Montgomery was tasked with fielding the kickoff to set up a last-minute comeback for his side. Instead, his attempt to return the kickoff resulted in a fumble that cost the Packers a potential win. Although this may not be the sole reason as to why Montgomery was traded away to Baltimore (and at such a low asking price), Montgomery's pass-catching prowess will surely be utilized by the Ravens…maybe not so much on special teams.
DE, Dante Fowler, to the Los Angeles Rams
If you thought the Rams' defense was already loaded, well they just got better with the addition of Jaguars' defensive end Dante Fowler. In exchange for the former first-rounder, Los Angeles will be trading away a 2019 third-round pick and 2020 fifth-round pick.
It was bad enough as it is for opposing quarterbacks to be chased down by Ndamukong Suh and Aaron Donald, now Dante Fowler will be trying to get into the mix. Fowler, who played a big part in "Sacksonville" last year, is only in his third season and will complement Los Angeles' young roster nicely.
S, Ha Ha Clinton-Dix, to the Washington Redskins
The Redskins further fortify their secondary as they trade for Packers' safety Ha Ha Clinton-Dix. To get the deal done, Washington will be sending over a 2019 fourth-round pick in exchange.
The secondary has been kind of suspicious this season for the Redskins, particularly at the safety positions; that's where Ha Ha comes in. The former Pro Bowl safety is already off to a hot start this year as he has already matched his interception count from last season at 3. He should be able to slide right into a starting role in Washington and will surely provide for more turnover potential.
Questions and comments?
thescorecrowsports@gmail.com
Follow Us on Twitter @thescorecrow
Follow Us on Reddit at u/TheScorecrow
Follow Richard Benites on Twitter @RichardIBenites
Main Credit Image: Embed from Getty Images