Coach Treal | October 30th, 2018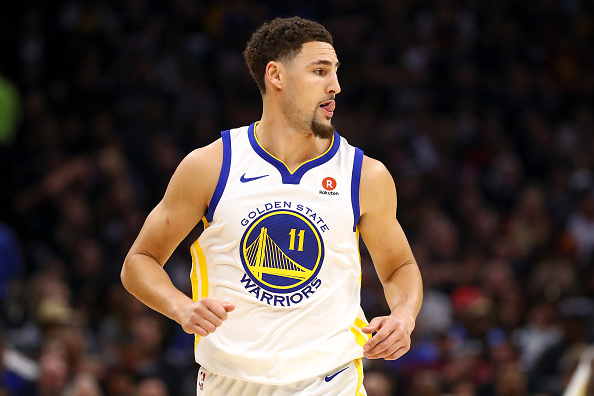 Going into Monday night's game against the Chicago Bulls, the Golden State Warriors Guard Klay Thompson was in a shooting slump to start the season. He was averaging just 15 points per game on 15 shots and had yet to reach the 20-point mark in a game so far this season, but all that changed with just one quarter played in Chicago.
A Night For the Ages
Klay finished the 1st Quarter with 22 points on 8/9 shooting and 6/7 from the three-point line. He changed his season slump in twelve minutes versus a Bulls defense who were seemingly not on the same page, allowing Klay clean look after clean look. At the half, Thompson had already connected on 10 made threes, tying the NBA record held by Chandler Parsons. The Warriors also scored 92 points in the first half, the second-most in league history. This was a game that could have been a let down for the defending champs as they were playing their third game in four nights and on a back to back after defeating the Brooklyn Nets on Sunday. Even after a mishap with Damian Jones on a DHO (Dribble Hand Off) that gave Klay a cut on his forehead that required two stitches and a new headband, nothing could slow him down on this night. He sat the entire fourth quarter and finished the game with 52 points in just 27 minutes of action, shooting on 18/29 from the field and 14/24 from three, breaking the NBA record for most triples in one game in the process.
Having watched the entire game last night it was incredible to watch not only the shooting performance that Klay displayed but how much his teammates to a man worked to make sure he got shoots and an opportunity at the record. They turned down good shots for great shots, set solid off the ball screens and made crisp passes. This team is clicking on a high level in the early days of the season and the scary part for the rest of the league is that they have another all-star waiting to join the party in DeMarcus Cousins. If he can come in and adapt to this style of team basketball, I do not see any team as constructed being able to beat the Warriors four times out of seven.
Back in Form
I was starting to worry about Klay and his shoot, but I knew it was only a matter of time before he found his touch again. However, I didn't want him to find that shooting touch versus my hometown Chicago Bulls by scoring over 50 points in just three quarters. Even before this legendary performance, Klay has already filled our memories with similar games with his lethal shooting, but this game just reconfirms what his former coach Mark Jackson and many more have said over the last few seasons; he is one of the top shooters to ever play the game. Just off that performance last night, he is back to averaging just under 20 points a night and his three-point percentage is up to 31%. What a difference three quarters can make.
Questions and comments?
thescorecrowsports@gmail.com
Follow Us on Twitter @thescorecrow
Follow Us on Reddit at TheScorecrow
Follow Coach Treal on Twitter @CoachTreal2 Main Credit Image: Embed from Getty Images