Justin Bonhard | October 29th, 2018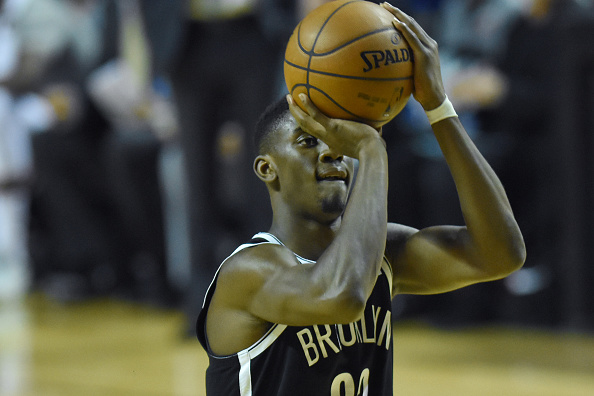 The first six games of the 2018 season are in the books, and the Brooklyn Nets have shown considerable improvement from a season ago.
Healthy D'Angelo Russell
All plays run from the point, and with D'Angelo Russell healthy and playing, those plays are run at a higher percentage.
Russell only suited up for 48 games last season, and his performance in those 48 was nothing short of remarkable. This season, he has led the charge by averaging 17 points and 6 assists per game. Russell's biggest contribution has been the leadership role.
Revolution of Caris LeVert
Caris LeVert has been the unsung hero of the first five games. Averaging 21 points per game and hauling down 5.2 rebounds a night, LeVert is doing it on all ends of the court.
The Michigan product showed his most shining moment against the New York Knicks. With 15 seconds remaining in a tie game, he took over and took advantage of the isolation by driving to the lane and make a tough lay-up.
His early and effective contribution will have to sustain for the Nets to have any chance of staying relevant. The East is wide open, with Boston not exactly finding their stride yet and Toronto's hot start eventually fizzling out.
Live and Die by the Three
The Brooklyn Nets have adopted a new and innovative dynamic, seen by other teams but not so much in Brooklyn, with the emphasis of the long ball.
Currently, the Nets take the seventh most three-pointers per game with 35 and sink them 41% of the time. That 3-point shooting percentage is good for second highest in the league.
The two catalysts for this aggressive play style is D'Angelo Russell and Joe Harris. Together they contribute 5.7 three-pointers per game, with Russell at 49% and Harris at 53% from downtown.
Living and dying by the three has been effective thus far, and kept the Nets at striking distance in close matchups.
Past Six
10/17 @Detroit, 103-100 L
10/19 NYK, 107-105 W
10/20 @Indiana, 132-112 L
10/24 @Cleveland, 102-86 W
10/26 @New Orleans, 115-117 L
10/28 Golden State, 120-114 L
Next Six
10/29 @NYK
10/31 Detroit
11/2 Houston
11/4 Philadelphia
11/6 @Phoenix
11/9 @Denver
The next six games are predominantly at home and facing off against some of the league's best, in both conferences.
After taking one at home against the cross-borough rival, Knickerbockers, they start the short but huge homestead against three playoff contenders before heading out west against Phoenix and Denver.
The Brooklyn Nets have shown pride, power, and purpose these first six matchups. As the season starts to open up and some newer and different teams are introduced, the case for possible playoff appearance can be floated around. It's too early to tell, but the principle is there for this to be a turnaround season for Brooklyn.
Questions and comments?
thescorecrowsports@gmail.com
Follow Us on Twitter @thescorecrow
Follow Us on Reddit at u/TheScorecrow
Follow Justin Bonhard on Twitter @justinbonhard
Main Credit Image: Embed from Getty Images