Brendan Abban | October 25th, 2018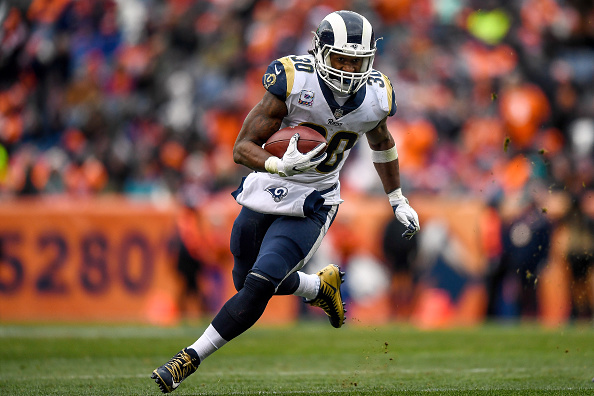 The NFL MVP award is basically a quarterback's award. Only eight running backs have won the MVP award since 1990. All the other winners were quarterbacks. Los Angeles Rams running back Todd Gurley has a unique opportunity to join that list but it will be an uphill climb.
Gurley is having the best individual season in the league right now. He has 144 carries for 686 yards, 11 touchdowns and is averaging 4.8 yards per carry per Pro Football Reference. He also has 25 receptions for 270 yards and three touchdowns. His 956 scrimmage yards and 14 total touchdowns is a league high among skilled players. He leads the league in rushing yards, touchdowns, scrimmage yards, and scoring.
He has been the engine for a Rams team that is 7-0. That is normally the number one factor when it comes to winning the MVP award. That player has to be the main cog for his team and set them apart from the pack. That is one of the reasons why quarterbacks normally win the award.
Quarterbacks drive everything on offense in most cases. They touch the ball on every possession and throw it more times than teams will run it. Especially if it is an MVP caliber quarterback in the discussion. Recently, running backs who have won the award have done historic things worthy of the trophy.
Shaun Alexander led the league in rushing yards, total touchdowns, and his Seattle Seahawks had the best record in the NFC. LaDainian Tomlinson led the league in rushing yards and set a record for total touchdowns (31). Then Adrian Peterson ran for 2,097 yards and was nine yards short of breaking Eric Dickerson's record.
.@TG3II ties the @NFL record for the most touchdowns in the first 7 games (since the merger) with this one! pic.twitter.com/TujlqYbjYQ

— Los Angeles Rams (@RamsNFL) October 21, 2018
Gurley is having a great season but he has stiff competition. Kansas City Chiefs quarterback Patrick Mahomes is setting the league on fire in his first year as a starter. He has thrown for 2,223 yards, 22 touchdowns and five interceptions on 64.9 completion percentage. His 22 passing touchdowns and 85.9 quarterback rating lead the league.
The award is Mahomes' to lose because of media narratives and his blockbuster play. However, Gurley can edge his way ahead if he maintains his level of consistency and the Rams keep winning. The Rams and Chiefs matchup in Week 11 will play an interesting role in the MVP debate. It is a matchup that many anticipate will be the game of the year.
Especially since two of the biggest stars will be on display for everyone to see. Gurley has to make his mark if he is going to be the star that shines the brightest.
Questions and comments?
thescorecrowsports@gmail.com
Follow Us on Twitter @thescorecrow
Follow Us on Reddit at u/TheScorecrow
Follow Brendan Abban on Twitter @AbbanBrendan
Main Credit Image: Embed from Getty Images