Givanni Damico | October 19th, 2018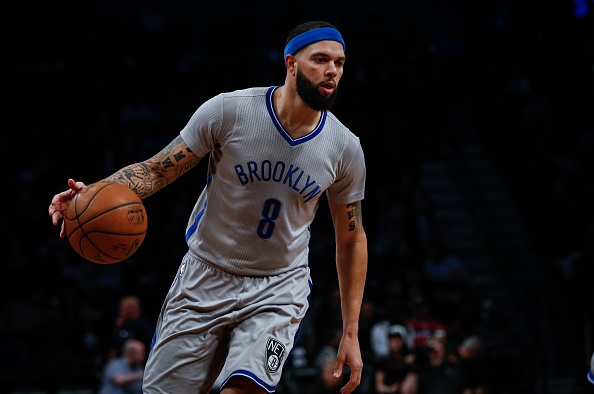 The Nets franchise has been riddled by bad moves and signings. Will they ever get better? I don't know. What I do know as that history tends to repeat itself. This team has very limited potential. Let me explain why this is the case.
Rough History of the Brooklyn (New Jersey) Nets
This team has had a history of making very poor trade offers. I'm going to go a little farther back to 2011 where we will take a look at the Brooklyn Nets trade for Deron Williams. In 2011, the Nets acquired point guard Deron Williams from the Jazz for Derrick Favors, Devin Harris, an unprotected 2011 first-round pick which ended up being Enes Kanter, and a 2013 first-round pick which turned into Gorgui Dieng. As you can see, this was very one-sided for the Jazz, although the only player they still have from that trade is Derrick Favors. Williams was a quality player for the Nets for five seasons but never brought them any success. I'm not so worried about the fact that they gave up Favors and Harris since Harris isn't good and Favors is always hurt, but those first-round picks, if executed properly, could have gotten them big players such as Kemba Walker, Klay Thompson or Kawhi Leonard in 2011. In 2013, they could have gotten a Rudy Gobert or a Tim Hardaway Jr. Obviously, some of these players weren't valued as high as they would be if they re-drafted today but they missed out on a future with this trade.
Fast forward to March 2012 when they acquired Gerald Wallace from the Portland Trailblazers for Shawne Williams, Mehmet Okur, and one "lightly protected" first round pick which ended up being All-NBA point guard Damian Lillard. This was another panic move by Billy King and the Nets. They only had Wallace for a season and a half where he only averaged 10.5 points per game. Clearly, this trade didn't age well.
Now we're in July. This trade isn't as bad as the others but Billy King panicked again just to show Deron Williams that they were committed to winning so he'd want to stay. The Nets traded a bunch of expiring contracts in Anthony Morrow, Jordan Farmar, Johan Petro, Sean Williams, and DeShawn Stevenson as well as the Houston Rockets' 2013 first rounder (became Shane Larkin), their second-round pick in 2017, and swapped first rounders in 2014 and 2015 with Atlanta. Atlanta ended up picking Kelly Oubre Jr. while Brooklyn took Chris McCullough. The Nets received Joe Johnson in return. It looks like they traded a bunch of nobodies, but talk about a panic move, trading half of your bench and a bunch of picks for an aging veteran in his last year or two of being good. Houston's first-round pick could have also turned into Rudy Gobert or Tim Hardaway Jr. for them. They also got the bad end of the deal getting Chris McCullough when they could have had Oubre who is very talented.
It's Time
The worst trade in recent NBA history was made in July of 2013 between the Nets and the Boston Celtics. The Nets decided they needed some veteran leadership after losing a tough playoff series to the Chicago Bulls during the prior season, so they went out and got some. It cost them a lot though. The Brooklyn Nets got Paul Pierce, Kevin Garnett, and Jason Terry from the Celtics. Wow if it were 2006, this would be the best trade in NBA history rather than the worst. Ok, let's get into what they gave up. They traded Gerald Wallace, Kris Humphries, Marshon Brooks, the Hawks' 2014 first-round pick (became James Young), as well as their own unprotected first round picks in 2016 and 2018, and the rights for the Celtics to swap first round picks with the Nets in 2017. Essentially, a good player, a decent player, and four first-round picks for three aging veterans who didn't help them at all. I don't think I need to go through everyone they missed out on with these picks but wow this trade aged very poorly.
Fine, I'll tell you.
They missed out on people like Gary Harris in 2014, and studs like Jaylen Brown, Jamal Murray and Malcolm Brogdon in 2016, which was a pretty weak draft class. In 2017, they missed out on Jayson Tatum, De'Aaron Fox, Dennis Smith Jr., and Josh Jackson. Finally, in 2018 they missed out on Collin Sexton, Miles Bridges, and Michael Porter Jr. plus many others.
This team could be at the top of the league right now if they kept all of their picks and made the picks good ones. Unfortunately, Billy King crippled this team into a bottom-feeder every year with nothing to show for it. Now that they finally have all of their picks back, let's hope there aren't any other terrible trades made by upper management because this team needs young, athletic players to lead this team.
Questions and comments?
thescorecrowsports@gmail.com
Follow Us on Twitter @thescorecrow
Follow Us on Reddit at u/TheScorecrow
Follow Givanni Damico on Twitter @giodamico15
Main Credit Image: Embed from Getty Images