Pranav Ramasubramanian | October 17th, 2018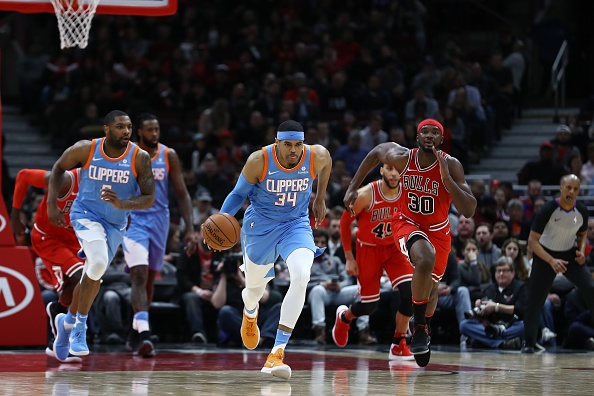 The Los Angeles Clippers finished 42-40 last year and missed the playoffs by five games. They were one of the best non-playoff teams in the league. With the moves they made, can they get back to the playoffs?
Recap of Last Season
The second basketball team in Los Angeles was always how the Los Angeles Clippers were viewed until they got Chris Paul, which put them in contention for the Western Conference crown. That ended last season as Chris Paul demanded a trade to the Houston Rockets as he was frustrated with Doc Rivers and wanted to win. The Clippers got Lou Williams, Sam Dekker, Patrick Beverley, Lou Williams, and a 2018 protected first-round pick. Lou Williams was the only real piece that made a good impact for the Clippers. Blake Griffin seemed to be the franchise cornerstone as he was signed on for a massive contract in the summer and the franchise had expressed their interest to build around him, but his injury early on made the Clippers lose patience, so after 49 games they traded him away to the Detroit Pistons for Tobias Harris, Avery Bradley, Boban Marjanovic and a first and second-round draft pick. The Clippers won this trade and were competitive all season, but because of these two big star players leaving the Clippers missed the playoffs. The Clippers played with the high energy needed, but it just seemed like the energy wasn't sustainable all season for wins that they most certainly needed.
Offense
One of the most underrated players in the NBA is Tobias Harris, who will average 23 points per game next season because of his immense skill to be a good pick-and-roll ball handler, and spot-up shooter from 3 while also using his size and strength. Expect Harris to be the best player on offense and will be a nightmare for opponents if he plays at power forward due to his versatility. Injuries are such a pain, and Danilo Gallinari experienced injuries to his hand and glutes, limiting him to 21 games. He should play well this season when paired alongside Harris as Gallinari will start off the season strong by being a three-point sniper as he will improve on his mark of 40.9%. Expect Gallinari to also average over 20 points if healthy this season. Another player that came over via trade was Avery Bradley, who only played a total of six games for the Clippers because of a sports hernia injury. Bradley will have a bounce-back year relying on his ability as an off-ball player to catch and shoot threes at a solid volume. The real challenge in an offense is having a guy that can make sharp passes after cutting to the lane and Patrick Beverley will provide this as his assist numbers will go up kicking it out to open teammates for efficient shots. Beverley will shoot from three as well occasionally so expect to see some big games from him this season. DeAndre Jordan decided to leave the Clippers for the Dallas Mavericks because the Clippers no longer wanted him, and they decided to finally trade Austin Rivers to get a serviceable replacement in Marcin Gortat, who was feuding with John Wall in Washington, but will be fine on the Clippers as he will be able to willingly set screens improving upon his screen assist number from last year, which was fourth in the league with 4.5. He can roll to the rim or take an efficient mid-range jumper and will be valuable to the pick-and-roll for the Clippers this season.
The Clippers have some decent offensive firepower with good shooting and players that can really set up the offense well for good looks, but the consistency won't be there as they will face tougher competition in the West and will really struggle early on due to a completely new rotation.
Defense
The energy and intensity for the defensive unit will be provided by Patrick Beverley as his stats won't show his impact yet again, but his ability to stay locked onto his defender and get into the opponent's head will help the Clippers win games.
Another player who can really clamp down on defense is Avery Bradley, who will use his speed to get steals and swipe the ball staying at their hips so expect to see Bradley making scrappy plays against guards at his size. Some players just need to do the right thing at the right time on defense and Danilo Gallinari does this with his length, picking up switches with solid positioning and rarely fouls so he will be a safe bet on defense this year. Some players just put too much focus on offense and don't focus too much on defense and Tobias Harris fit this bill as he lacks the speed to keep up with small players on the perimeter and isn't quite big enough to dominate on the glass. DeAndre Jordan is gone, but Marcin Gortat isn't a huge downgrade although opponents should have no fear driving to the hoop on him. Gortat will suffer because of lack of shot-blocking with age being a factor so though he may get stops occasionally, Gortat will suffer a bad year on defense. The Clippers are physical and have players who just do the basic fundamentals right and know how to defend, but they will run out of energy in a long season.
Bench
The sixth man is very valuable off the bench and Lou Williams was just that and much more as he averaged 22.6 points as a volume scorer, single-handedly leading the Clippers to a lot of wins last year. He should also improve passing the ball as the teammates around him are a little better than last year.
The Clippers had two first-round picks in the 2018 Draft thanks to Detriot and used one of them on Shai Gilgeous-Alexander, who will give the Clippers some solid defense as he has good size for a guard at 6'6 with a 7'0 wingspan. He may have issues with off-the-ball defending because guys in the NBA are just stronger than those in college. Also expect to see a fair share of offense from him as he can maneuver himself into tight spots for drives to the hoop maintaining great body control showcasing some spin moves and euro-steps. The second first-round pick the Clippers used was for Jerome Robinson, who will nail quick pull-up jumpers and won't take bad shots. He is a smart player and will be a solid team defender given some time this season so expect him to grow well and really kick Milos Tesodosic out of a role in the rotation. The spark plug off the bench is Montrezl Harrell as he brings some amazing energy and activity while he is on the floor and should really get more minutes this season. Expect him to be flying around and at least get 15 points and 7 rebounds per game. It's truly hysterical that the Clippers have the most efficient scorer on their team riding the bench in Boban Marjanovic, whose 7'3 size helps him tower over other bigs to get easy double-doubles. His defense is limited to the paint, which will not be an issue this season as Boban looks primed for a breakout year off the bench if preseason is any indication. The Clippers have an overhaul of guards and expect Lou Williams to help the second unit in sort of getting it together after the loss of Austin Rivers and being the most consistent piece while everybody else tries to find footing early on, but once they do the bench should be decent enough to help take the load off the starters.
Prediction
Health is a major issue for this team as Danilo Gallinari, Patrick Beverley, and Avery Bradley all combined to play a total of 38 games, That type of bad fortune doesn't happen often so expect the Clippers to be high-flying from day one. The rookies will be fighting for minutes, but veterans will probably start all year barring any type of amazing impact the two rookies could have. They have become the team that is kind of in the middle of really good and really bad as they have enough talent to be a decent and very competitive team this year. It really isn't a great decision to keep Doc Rivers around as he made some many questionable roster calls that have really cost the Clippers big-time. The West is packed so expect to see the Clippers on the outside of the playoff picture yet again. They should finish by just winning 35 games and getting a top-10 pick.
Questions and comments?
thescorecrowsports@gmail.com
Follow Us on Twitter @thescorecrow
Follow Us on Reddit at u/TheScorecrow
Follow Pranav on Twitter @PranavRama1
Main Credit Image: Embed from Getty Images