Coach Treal | October 17th, 2018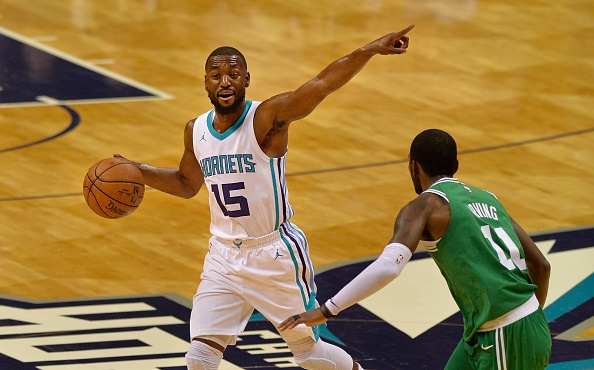 The Charlotte Hornets enter the 2018-19 season which more questions than answers this season. Will they resign star guard Kemba Walker or will new GM Mitch Kupchak and team owner, the great Michael Jordan, decide to tear down the roster and do a complete rebuild. Those are just some of the questions facing this team as they look to rebound off back-to-back 36-win seasons and missing out on the playoffs.
Recap of Last Season
As mentioned before it was a tough year for the Hornets last season and they ultimately decided to not only change players with roster moves this summer but also on the bench deciding to not bring back head coach Steve Clifford for what would have been his sixth season. Now roaming the sidelines in Charlotte is James Borrego who has been an assistant coach in the league and was the interim coach with the Magic for 30 games back in 2015. He has been with the Spurs for the last three seasons so he comes from one of the best organizations in all of sports. The Hornets will look to avoid their third straight season of not making the playoffs. They will have to find a way to win games on the road for them to find success. Last season they finished 15-26 in road games and home court wasn't much of an advantage either only finishing 21-20.
Offense
Surprisingly the Hornets didn't have an issue scoring the ball last season finishing tenth in the entire league in scoring averaging at 108 ppg. That same type of production will need to be duplicated this season and they will call on players to step up their individual games so all the scoring doesn't have to come from the backcourt. The Hornets have two players both ranking in the top twenty in assists per game last season with Kemba and Batum averaging 5.5 apg. Kemba Walker is coming off back-to-back All-Star seasons and many feel around the league he is one of the most under-appreciated players in the association. Last season saw Kemba post another terrific season with 22 ppg. He will need help for this them to be competitive and I look for two players, in particular, to make huge steps this season. Second-year guard Malik Monk is a sleeper breakout performer this season after only playing in 63 games in his rookie campaign and averaging close to 7 ppg. With the improvement he showed this summer and in the preseason, he should be ready to take the next step in his growth just as long as he remembers to not forget his jersey. It was a career season for Jeremy Lamb as he averaged double-figure scoring for the first time posting 13 ppg. He also had a career-high number in rebounds and assists while shooting 37% from the three-point line. They will need a similar improvement from him if they intend to take a leap forward and add more wins. Batum only appeared in 64 games dealing with a left elbow injury in October and never really found his groove only averaging 11 ppg. They will need Batum to return back to his old form and increase his scoring average. Cody Zeller is expected to be the starting center after only playing in 33 games last season and not having much impact on the court. Much more will be needed out of Cody this season to help deal with the loss of Dwight Howard from.
Defense
The Hornets on defense will look very different than last season as the team traded away big man Dwight Howard over the summer. They ranked 16th in defensive rating and allowed 108 ppg. Michael Kidd-Gilchrist, the former number two pick in the 2012 draft, is perhaps the teams best perimeter defender when healthy and along with the versatility of Nic Batum, they should be able to switch and cover wings and bigs this season. With most teams playing small ball with little to none post players, the Hornets should be able to see their defensive numbers improve this season. The return of former Hornet Bismack Biyombo should help with protecting the rim as he had 95 total blocks last season for the Magic. With a new coach this year, it will be interesting to watch how quickly they adapt to his style of play and how much of a learning curve they have to overcome to improve.
Bench
The Hornets bench rotation should be solid this upcoming season headed by fourth-year pro Frank Kaminsky who was solid last season averaging 11 ppg and connecting on a career-best 38% from the 3-point line. His ability to stretch the floor and knock down shots will be a huge factor for this team and will create driving lanes for his guards as well. Another huge addition to the bench this season will be a future Hall of Famer in Tony Parker. If still feels weird saying it and even more so seeing him in a jersey other than the Spurs. But I do think he will have a solid season in a reserve role and will also serve as a great locker room presence for the younger players as well. Being over a year removed from his injury he should be able to regain his effective play this season. One player to keep an eye on this year is first-round pick Miles Bridges. The 12th overall pick this summer should find a way to see minutes in his rookie campaign. His outside shooting is still a work in progress but he has NBA size at 6'7 225 pounds and off the charts athleticism which should pay huge dividends on both ends of the floor. I'm excited to see how his game translates to the pros as he could have been a one-and-done player but decided to stay in college for a second season to improve his game. Lastly, second-year reserve Dwayne Bacon will try and stick with the main club after splitting his time last season between the Hornets G-League team Greensboro Swarm.
Prediction
I don't have the Hornets ending the drought and making it back to the NBA playoffs. I can see this team taking a step back and finishing 30-52 and, depending on how they start the season, they could look to trade Kemba before the deadline and try to bring back draft picks. This will be a deep draft next summer and it would not hurt the Hornets to find their way into the lottery and draft a player from nearby Duke University who would be able to help this team both on the court and off selling tickets. The great thing about the start of any season is everyone is hopeful that they have a shot to have a successful season. In the Hornets case with a loaded draft approaching and a star player up for a big money payday, these questions and more will be answered as the Hornets tip off the season on Wednesday versus the Bucks.
Questions and comments?
thescorecrowsports@gmail.com
Follow Us on Twitter @thescorecrow
Follow Us on Reddit at TheScorecrow
Follow Coach Treal on Twitter @CoachTreal2
Main Credit Image: Embed from Getty Images