Beth Sullivan | October 16th, 2018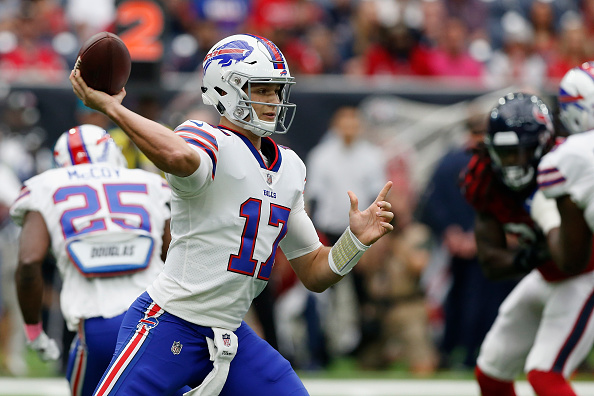 When The Buffalo Bills 1st round QB Josh Allen left Sunday's game, the fans and administration at OBJ were probably surprised to hear what the injury was. UCL – ulnar collateral ligament injuries in NFL players, especially QBs are not nearly as common as they are in baseball players. Between 2010 and 2018 only 12 total were reported and of those 12 only 1 was treated surgically.
In contrast, from 2011-2015, there were 26 UCL injuries per season reported in Major League Baseball players. Most of these were reported in pitchers because of the stress put on the pitcher's arm during the repeated overhand throwing motion needed to pitch at the speed required to succeed as an MLB pitcher. Almost all of the baseball players were treated with Tommy John surgery, which is a reconstruction procedure first performed Dr. Frank Jobe on a pitcher named Tommy John in 1974. Prior to the advent of this surgery, this injury was considered career-ending.
Most pitchers who have to have surgery, miss the entire next season because the recovery time is 12-18 months. Quarterbacks who experienced UCL injuries in the NFL only missed an average of about 4 weeks of playing time, 26.4 days to be exact. The player is able to rehab the injury by strengthing the muscles around the elbow to compensate for the deficiency in the UCL and do other non-throwing activities to stay in shape such as running and weight lifting and cardiovascular circuit training.
What is a UCL Injury
The most common UCL injury is a Sprain/Strain which is a partial or complete tear of the ligament. The UCL is the main ligament inside the elbow which stabilizes the bones in the elbow between the upper and lower arm. In football, the most common cause of injury is a traumatic injury caused when the player falls on a fully outstretched arm.
I would expect Josh to be unable to play for a few weeks and would expect him to be ready to return to the playing field after the bye week at the latest. It is conceivable he could return sooner, but playing before the elbow is fully healed could just result in more playing time lost.
Questions and comments?
thescorecrowsports@gmail.com
Follow Us on Twitter @thescorecrow
Follow Us on Reddit at u/TheScorecrow
Follow Beth Sullivan on Twitter @GAPeachPolymer
Main Credit Image: Embed from Getty Images