Pranav Ramasubramanian | October 16th, 2018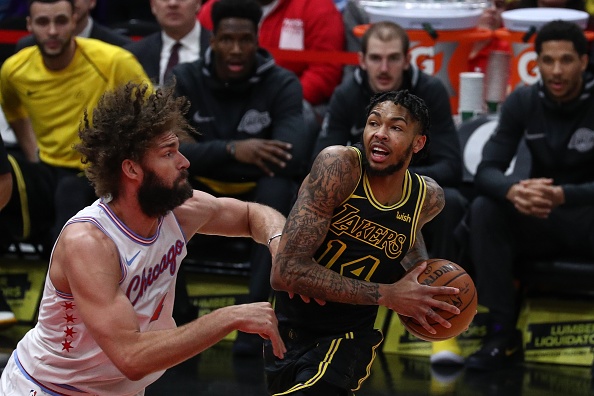 Relevancy has really been an issue for one of the most storied franchises ever in sports because the Los Angeles Lakers have failed to make the playoffs for the last five years and last season was no different. The organizational turmoil was finally over as Jeanie Buss took over and hired Magic Johnson and Rob Pelinka. Now they have LeBron. Will it be enough to get the Lakers back to being the standard?
Recap of Last Season
The Lakers made monster moves by moving D'Angelo Russell and Timofey Mozgov's huge contract to the Brooklyn Nets for a 1st round pick, who turned out to be Kyle Kuzma. He looked like a star last season leading the Lakers to some good wins against tough teams. They looked like one of the best non-playoff teams as they showed some real flashes of potential winning 35 games. Horrid free-throw shooting and Lonzo Ball sitting out 30 games due to various injuries really killed their chances of going to the playoffs. It was yet another development year for Brandon Ingram, who looked much better last year and the Lakers got rid of Larry Nance Jr. and Jordan Clarkson in a trade with the Cavaliers. While having Isaiah Thomas was fun, he was considered a rental and the Lakers wanted to clear up cap space to make a run at LeBron James in free agency so staying competitive helped.
Offense
When free agency started July 1, 2018, all eyes were on LeBron James and he announced in the afternoon that day that he was going to join the Los Angeles Lakers for four years and 154 million thanks in part to some masterful recruiting by Magic Johnson. The Lakers had just landed the No.1 player on the planet and had saved the reputation for the franchise as the Lakers yet again landed a top star on their team.
— Klutch Sports Group (@KlutchSports) July 2, 2018
LeBron James has led his teams to eight straight Finals and, although he's gone 3-5, he has given his teams a chance at an NBA title. Given what the preseason has shown, LeBron is willing to accept his role in any position, either to play center or off-ball more in a run-and-gun type offense so the Lakers can run transition well. This type of play could lead to more easy buckets utilizing the youth on the Lakers. He will be anchoring an attack on offense by passing to teammates for good looks and should maintain his 9 apg this season. Also, expect him to lead the Lakers in scoring by averaging 30 ppg and be in the running for MVP yet again.
The player who really came a long way from last season was Brandon Ingram because Ingram was very tentative. Last year after a benching and a year of experience, Ingram started playing more aggressively at the rim. He went from 9.4 ppg to 16.1 ppg and that number will continue to rise this season as Ingram gets more opportunities with smarter players around him. Ingram will improve his ability to hit jumpers more regularly as he can create space with his length so he will be a solid No.2 option for the Lakers. LeBron wanted a smart player to handle the basketball with him on the court at all times to make his job easier and so the Lakers signed Rajon Rondo in free agency for 9 million as Rondo will help control pace on offense with great court vision improving slightly to average a double-double with points and assists. His great work ethic, film study, and experience should really benefit the younger players. The lone sharpshooter in the starting lineup is Kentavious Caldwell-Pope, but with too many players with too much to prove, don't expect Caldwell-Pope to get many chances from deep. Caldwell-Pope will still average double figures as he hit from three 38.3% of the time. A big man void had to be filled for the Lakers after Brook Lopez's departure so they decided to get JaVale McGee from the Golden State Warriors. They needed someone who could come in and be a serviceable big and give good energy and McGee will provide tons of that by rolling to the rim for alley-oop dunks as the only Laker big with any type of real experience. The Lakers have a fast-paced offense and will have starting lineups mixed up all year based on who's clicking and who's not, but expect LeBron James and Rajon Rondo to keep things balanced.
Defense
The Lakers don't look great on defense yet again this season. Rondo will be their best player on defense with his 6'9 wingspan and will improve on his average of 1.1 spg last season. His ability to lock down his opponent with no airspace or freedom to get around picks because of physicality should be a huge plus for this team as they need to get tougher.
LeBron James will improve on defense as his offensive burden will go down this season. He did do some things right like limiting his opponents to a 3.5% worse average when he guarded them and he does do a better job on defense getting back in transition blocking shots and making it tougher. The primary defender for the Lakers will be Kentavious Caldwell-Pope as Pope can solidly defend the other team's best guard by using his size and strength to make opponents work for tougher shots while switching onto other players as needed and defending against the ball. Another thing that Brandom Ingram improved last season was his defense and this season he will continue to disrupt opponents with his length forcing opponents into bad shots. He will struggle to produce consistency making him a great defender at times and a good defender most of the time. The Lakers had to settle for JaVale McGee at center, but McGee is a solid defender that can protect the rim as well as rise up for blocks.
The Lakers are done getting pushed around so they went out and got tougher guys mentally and physically to push the younger guys to play better on defense. They were 21st in total defense and that can't happen again if the Lakers want to make the playoffs. Los Angeles got some seasoned veterans who don't mess around.
Bench
It's really quite surprising to see a No.2 draft pick like Lonzo Ball accept a bench role even though he may become a starter later this season. Ball should be close to averaging a triple-double yet again as, even though his offense is spotty, Ball's ability to share the ball will lead to great opportunities for his teammates. His rebounding leads to quick outlets so the offense will be much more fun with Ball on the floor.
Both of the players drafted after Lonzo Ball also showed they can be stars on this Laker team with stellar play. The Lakers chose Kyle Kuzma with the 27th pick, who will continue to improve on a great rookie season offensively as he has a lightning-quick trigger from deep, an array of spin moves, and an absurd hook shot with great spacing. He should be in the running for the sixth man of the year with tons of double-doubles helping to take some pressure off James. The Lakers traded away Tony Bradley for Josh Hart and Thomas Bryant. They let go of Thomas Bryant and they kept Hart as he will thrive this season as a superb defender. He is quick enough to defend point guards and hold his own in the post. He is very smart orchestrating the defense, yelling directions to teammates and pointing stuff out. The Lakers needed to get more physical so they went out and got Lance Stephenson and Micheal Beasley. Stephenson will add great energy disrupting opponents by never giving up on defense with occasional good spurts on offense at the same time while Beasley can guard multiple positions with good energy. The Lakers just seem to keep drafting well and it seems Rob and Magic have found a steal in Sviatoslav Mykhailiuk as he was a great three-point sniper for Kansas last season and should be able to fit in nicely in his limited minutes. Moritz Wagner was a nice pick and should get more garbage time because the Lakers want to develop Zubac and Wagner's defense isn't that good yet. The Lakers have a lot of moving pieces on the bench so they should struggle early on but will find their rhythm just in time for the Lakers to soar.
Prediction
The Lakers don't have anything set so expect to see some jumbled up lineups for the first half of the season until the Lakers know which one will work best for them.
https://twitter.com/hmfaigen/status/1042650880837906432?ref_src=twsrc%5Etfw%7Ctwcamp%5Etweetembed%7Ctwterm%5E1042653011317682176&ref_url=https%3A%2F%2Fclutchpoints.com%2Flakers-news-michael-beasley-has-impressed-luke-walton-with-his-facilitating%2F
The Lakers will hit their stride in the second half of the season and LeBron will be in full MVP form making the Lakers contenders. The Lakers should win 52 games this season giving them the No.3 seed in the West as they should easily be better than Utah and OKC. LeBron James should win MVP and the younger Lakers like Ball, Hart, Kuzma, and Ingram should really improve and take their game to the next level as they will be under LeBron's wing. The bench should be solid with crazy moments here and there with the defense improving. Even though they will sneak past the Houston Rockets, they will ultimately fall to the Golden State Warriors in six games in the Western Conference Finals simply because the Warriors added DeMarcus Cousins, which was a checkmate move. The time of the Showtime Lakers will be back with LeBron and LA will one of the most interesting teams to watch and critique this season.
Questions and comments?
thescorecrowsports@gmail.com
Follow Us on Twitter @thescorecrow
Follow Us on Reddit at u/TheScorecrow
Follow Pranav on Twitter @PranavRama1
Main Credit Image: Embed from Getty Images