Beth Sullivan | October 12th, 2018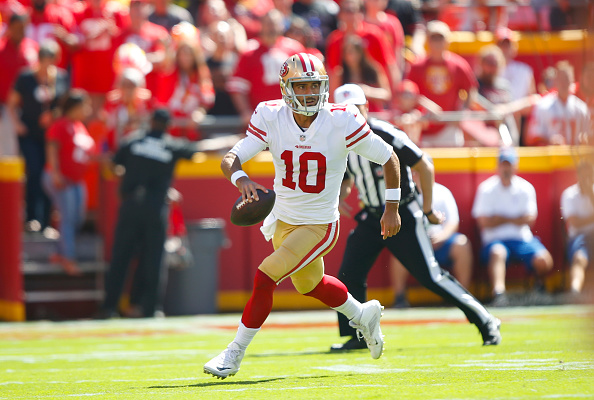 Jay Ajayi, Jerick McKinnon, Jimmy Garoppolo, Keanu Neal, Derrius Guice, William Hayes, and Jeremy Hill,  headline the list of NFL feature players who have been bitten by the ACL injury bug that has driven football fans crazy. Jay Ajayi became the 39th reported ACL injury since March 2018. Everyone is discussing the epidemic of ACL injuries but in actuality, the numbers haven't changed by a statistically significant amount since detailed injury statistics for all NFL teams started to be compiled during the 2000-2001 season. Typically every NFL team experiences 1.5 ACL injuries per NFL season each year.
More than half the ACL tears occur during the OTA and preseason period, but that does not mean that OTAs and the preseason is more dangerous, it just means that since the number of players on an NFL roster is almost double that of a regular season roster the rate of injury also increases. The data bears this out as the adjusted ACL injury rate increases to 2.86 per year with 90 players rather than 53 per team are counted in the data.
Now that the "epidemic" concept has been dispelled, let's talk about the history of ACL injuries. The first known mention of an ACL injury occurs in an ancient Greek medical text where a wrestler was described as having lost knee stability following an injury in the ring. No repair or treatment information was reported. The first repair was reported in 1895 when an open surgical repair utilizing cat guts to reattach the torn ligament was described in medical journals, and the procedure remained essentially unchanged until the 1970's.
However, because of significant risk to the patient in the forms of infection and permanent non-repairable rupture and early onset of significant osteoarthritis, many athletes chose not to have any surgical repair and elected to rehab the knee, wear a brace while playing, and exercising and save surgical repair until their playing days were over. In fact, a lot of players never advertised the injury because a history of this type of injury made management think long and hard about even giving players a chance. This explains the contention of Thurman Thomas that he played his entire career with a torn ACL.
The initial surgery had a failure rate in the 5 years following the surgery of over 60% so something had to be done. In 1991 the first ACL reconstruction utilizing a tendon graft was reported. Initially, cadaver tissue was used for this repair and then the current standard of repair which is an autograft utilizing the patellar tendon or a piece of hamstring muscle from the athlete's own body to reconstruct the ACL was started.
This type of repair was initially done as an open (large incision) but as arthroscopic surgery has come into its own, more and more ACL surgeries are being done arthroscopically. In addition to the improvement in imaging and a better understanding of the types of ACL tears that occur, better surgical procedures are being investigated in many research hospitals.
Alternatives for treatment are still needed because re-injury occurs at a greater than 30% rate in the 5-year postoperative period and early-onset osteoarthritis still occurs in over 50% of patients who have undergone an ACL repair. One of the issues with the knee ligaments in general and the ACL, in particular, is the limited blood flow to the ligament which is further disrupted by the injury itself. Limited blood flow means limited ability to get the necessary nutrients to the site of the repair thereby limiting the body's ability to adequately heal itself.
What this means is think of building a house, but because of where you live getting cement delivered for the house foundation is impossible because the terrain won't allow the cement truck to get to the foundation forms. As a result, you decided to mix the cement bag by bag in the backyard and pour the concrete yourself. Everything looks great with your house and you move in. A year or two after moving into your new house, the basement wall fails because the cement crumbled.
ACL treatment alternatives and adjuncts are at the forefront of medical research in many orthopedic teaching hospitals. Some research currently being looked at is the use of synthetic material such as mesh to provide a means to stabilize a repaired ACL internally. This research is in the early stages, however, given the recent problems with surgical mesh in other types of surgery, including the lawsuits that have been filed, more research needs to be done before this type of procedure goes into widespread use.
In addition, several studies on the use of platelet-rich plasma, stem cell therapy, and bio scaffolding are being investigated. While early results are promising, with decreased failure rates and decreased incidence of early-onset osteoarthritis being reported in medical literature, much more research is needed on the current and future methods for repairing these injuries. Given the advances in medical science, who knows, in 20 years we may see bionic football players.
ACL injuries currently take between 9-12 months to recover and return to the playing field. Most athletes report that the actual time to feel like their old self is actually almost 2 years post-injury. This discrepancy is related to the desire to get players back on the field as quickly as possible. Most players are stronger and ready to resume their playing career after two offseason cycles. The first is to go through the normal surgical and rehab period and the second is to regain strength and stability lost during the initial recovery period.
As long as athletes are getting ACL injuries, research will continue and hopefully, these type of injuries will not be the Oh My God NO!!!! type of injury they are today to players and fans.
Questions and comments?
thescorecrowsports@gmail.com
Follow Us on Twitter @thescorecrow
Follow Us on Reddit at u/TheScorecrow
Follow Beth Sullivan on Twitter @GAPeachPolymer
Main Credit Image: Embed from Getty Images