Givanni Damico | October 12th, 2018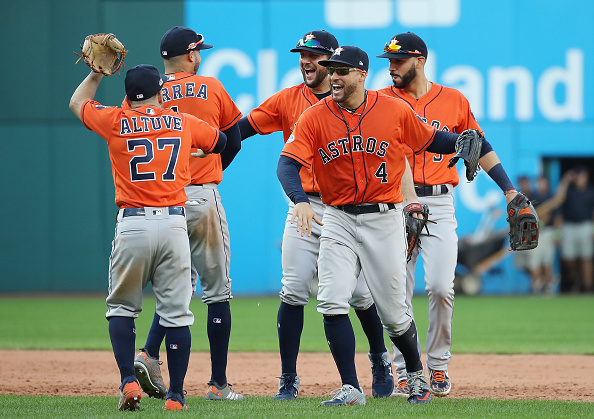 The two best teams in baseball go head-to-head in a seven-game series. If the Yankees versus the Red Sox wasn't the marquee matchup that everyone was hoping for, this is it.
ALDS Recap
The Astros made quick work of the Cleveland Indians in the ALDS, sweeping them 3-0. The Astros got to Corey Kluber in game one. They forced him out after only four and two-thirds innings with two strikeouts and giving up four runs on six hits as well as two walks which is not like Kluber. He also surrendered three long-balls to Alex Bregman, George Springer, and Jose Altuve. The Indians never really fought back after forcing Justin Verlander out after five and one-third innings. The Astros' bullpen shut down the Tribe, allowing only one hit in three and two-thirds innings pitched. Fast forward to game two where Carlos Carrasco faced off against Gerrit Cole. Carrasco gave up six hits and two runs in five and one-third innings pitched, but Gerrit Cole shut the Indians down, allowing three hits and a run over seven innings while striking out 12 batters. Well, I was wrong about Trevor Bauer being the MVP for the Indians. He ended up being the MVP for Houston, honestly. Mike Clevinger started game three and went five strong with one run allowed. Dallas Keuchel went five as well, allowing two runs. It was looking good for the Indians until Trevor Bauer entered the game. In one and a third innings pitched, Bauer got lit up for four hits and three runs, and then all hell broke loose. The final of that game would be 11-3.
The Yankees wanted Boston. They got Boston. It was a hard fought series for the Yankees (except Game 3). In game one, the Red Sox got off to an early start with a three-run bomb by J.D. Martinez off of J.A. Happ. In the third inning, the Red Sox tacked on two more runs. This made the game seem out of reach for the Yankees but they kept chipping away. In the top of the sixth, the Yankees added two runs on a single by Luke Voit, then an RBI groundout by Didi Gregorius. In the seventh, Voit grounded out and a run scored. Finally, the scoring for the Yankees ended with Aaron Judge going yard in the top of the ninth but the Bombers came up short. They left too many runners on base and overall choked that game away. They came back strong in game two, lighting up David Price and forcing him out after less than two innings. After Price went out, the Red Sox started chipping away at the lead but when Eduardo Rodriguez entered the game, the Yankees took advantage, adding three more. The final ended up being 6-2. Game three was a nightmare for the Yankees. Luis Severino's inconsistency showed as he could only go three innings, allowing six runs on seven hits. Severino struggled in the first three innings mightily. Nathan Eovaldi totally shut down the Yankees yet again, and the final was 16-1. Surprisingly, out of 18 hits, only one Red Sox player hit a home run and it was Brock Holt off of Yankees catcher Austin Romine. C.C. Sabathia couldn't do it for the Yankees in game four. He was getting hit hard from the second inning on, and only went three innings giving up three runs. Zach Britton came in next and gave up what ended up being the game-deciding home run to Red Sox catcher and Yankee killer, Christian Vazquez. Rick Porcello gave up one run in five innings and the next three guys being Matt Barnes, Ryan Brasier, and Chris Sale all shut down the Yankees. Craig Kimbrel came in for the save in the ninth and was in some trouble. He walked Aaron Judge then allowed a single to Didi Gregorius. He owned Giancarlo Stanton in the next at-bat, but then he walked Luke Voit to load the bases with one out. He then proceeded to hit Neil Walker and bring in a run. The score is 4-2 with Gary Sanchez up. Sanchez got a great pitch to hit and drove it to deep left field, 108 miles per hour off the bat, too high in the air and caught by Andrew Benintendi for a sac fly. Gleyber Torres then rolled over to third base to end the game, and the Yankees' World Series hopes.
Lineups
When is J.D. Martinez not on fire? He had a productive series against the Yankees going 5-15 (.333 for all you non-math majors) with one home run and six RBIs. Steve Pearce also performed admirably, collecting four hits in ten at-bats (.400) with four RBIs. Oh yeah and Brock Holt hit for the cycle with five RBIs in the one game he played, so I guess that's pretty impressive. Mookie Betts struggled against the Yankees, going 3-16 (.188) with two RBIs. I fully expect him to get out of this small rut against the Astros. In the last twelve at-bats for Betts against the Astros, he's piled up seven hits (.583), three of which being extra-base hits. Andrew Benintendi had a great season against Houston, going 10-30 with two home runs and four RBIs in seven games. Although the numbers don't look great for J.D. Martinez against Houston, as he went 5-23 (.217), he had some huge hits, including two home runs and a grand total of eight RBIs. Xander Bogaerts also had a fantastic season series going 12-27 (.444) with two home runs and six RBIs. Overall, most of the guys on the Sox hit fairly well against the Astros this season. Will it continue in this series?
For the Astros, George Springer had a very impressive series totaling six hits in fourteen at-bats (.429) with three home runs and three RBIs and three games. Springer struggled throughout the season, but he had it back in this series, and if he plays like this against Boston, then the Astros have a very good chance at winning the series in less than seven games. Alex Bregman was also red hot. He went 5-9 (.556) with two home runs and four RBIs as well as taking four walks. So now we're at the point where two of the Astros' core four hitters are on fire heading into this series. Carlos Correa and Jose Altuve didn't have the best series, combining to go 5-23 (.217) with two home runs and five RBIs. Correa was 1-10 (.100) but he also had a nice home run off of Brad Hand in game three, so hopefully, that means he's coming around. Altuve actually hit .308 which is good but he didn't look as sharp as he usually does. On the season, Correa was 6-26 (.231) with two home runs and four RBIs but nearly all the damage he did was when the two teams matched up in early June. Jose Altuve was 8-32 (.250) this year versus Boston but only had one home run and one RBI. George Springer hit very well against Boston, going 10-27 (.370) with two home runs and two RBIs. He was a consistent hitter against Boston which is what you have to do in this series. Get consistent hitting from your best players and don't only rely on the long ball. Alex Bregman hit .259 in 27 at-bats putting up two home runs and five RBIs. For the rest of the lineup, the stats are pretty skewed across the board. Will the big bats show up against the best team in baseball?
Starters
The Houston Astros starting pitchers are inarguably the best in baseball. Just to put it into perspective, their worst starting pitcher is former Cy Young award-winner Dallas Keuchel. He had a very inconsistent season, recording a 12-11 record with an ERA of 3.74. His WHIP wasn't very impressive at 1.314 and he gave up 211 hits which is a career high for him. He didn't have a bad season but the number one thing that you want out of a starting pitcher, especially going into the playoffs, is consistency. Charlie Morton had an extremely impressive season for H-Town, with an excellent 15-3 record and an ERA of just 3.13. His biggest issue, if you can even call it that, is that he walks three batters per nine innings which is above-average. Lance McCullers Jr. was the only other questionable starter this year for Houston. He had ten wins and six losses in 22 games started with an ERA of 3.86. His WHIP was pretty impressive at 1.169 which is the biggest difference between Keuchel and McCullers. Gerrit Cole's career was revitalized in Houston which seems to be a trend for Astros' starters. Cole went 15-5 with a 2.88 ERA and an OUTSTANDING 12.4 strikeouts per nine innings pitched. His spin rate and velocity also went up this year which allowed for more strikeouts. He also had the lowest amount of hits per nine innings of his career at 6.4. Now, let's talk about Justin Verlander. Verlander didn't get a ton of run support and he did have some outings where he could only go five innings because of pitch count which makes his record look less impressive than how he pitched. Verlander pitched to a 16-9 record with a 2.52 ERA and another stellar amount of strikeouts per nine innings with 12.2. Verlander and Cole were strikeout machines who continue to shut down the opposition. I'm excited to see how they do against this high-powered Red Sox lineup.
Now let's take a look at the Red Sox rotation. Let's take a look at David Price. Price had a record of 16-7 with a 3.58 ERA. Although he didn't pitch too well down the stretch or against the Yankees, this guy is a very reliable pitcher and you usually know what you're going to get from him. He doesn't have his Cy Young stuff anymore but he is still solid. Nathan Eovaldi joined the team halfway through the season, but we'll talk about his stats with Boston. Eovaldi was 3-3 with a 3.33 ERA in eleven starts. He was pretty average across the board during the regular season, but his velocity has shot up from 94-95 to 98-100 after his Tommy John surgery. He was unhittable against the Yankees, so it depends on which Nathan Eovaldi we see this series. He might be lights out or he might be lit up. Rick Porcello was probably the Red Sox most inconsistent pitcher this year. Porcello went 17-7 with a 4.28 ERA. He was actually good at keeping runners off base this year, recording a 1.176 WHIP which is a very underrated statistic. Finally, we'll talk about the man, the myth, the legend, Chris Sale. Chris Sale went 12-4 with a stellar 2.11 ERA. I was talking about how good Gerrit Cole and Justin Verlander's strikeout rate was, but Chris Sale struck out 13.5 batters per nine innings! Chris Sale has some of the best stuff in baseball with his commanding fastball and his nasty slider. Chris Sale vs. Justin Verlander will be a sight for those fans who love watching a good pitcher's duel.
Bullpen
The Boston Red Sox bullpen is undoubtedly their biggest weakness. They have very inconsistent pitching from people like Joe Kelly and Heath Hembree who both have ERAs over 4.00. A surprise player for the Red Sox bullpen this season was Ryan Brasier who recorded a 1.60 ERA in 34 games. Brasier isn't a big strikeout guy but he came in and got the job done almost every time in the regular season. Against the Yankees, he struggled with control and that is usually not an issue for him. He only walked 1.9 batters per nine innings in the regular season. Matt Barnes and Hector Velazquez pitched admirably this year. Matt Barnes had a 6-4 record with a 3.65 ERA and also struck out 14 batters per nine innings. He had some issues with the long ball as well as control, though. Hector Velazquez had a 7-2 record with a 3.18 ERA. Velazquez is a guy that pitches to contact, which shows in his hits per nine being over ten. He also only struck out 5.6 batters per nine innings. I don't know if I'd trust someone like this in a big spot with men on base because of these tendencies. Craig Kimbrel was the best part of the Red Sox bullpen, recording a 2.74 ERA and 42 saves. He had a strikeout rate of 13.9 batters per nine innings which is impressive but also pretty normal for today's closers.
The Astros' bullpen was definitely better than the Red Sox this year. Their ERA leader was Collin McHugh with a 1.99 ERA, also recording six wins in relief. McHugh only allowed 5.6 hits per nine innings as well as striking out nearly 12 batters per nine. He is a crucial piece to this bullpen. Brad Peacock had the highest strikeout rate out of the pen this year, striking out over 13 batters per nine innings but new addition Ryan Pressly was close. Pressly pitched outstandingly with a 0.77 ERA with Houston, but he didn't qualify for ERA leader (to my standards). They also acquired Roberto Osuna who came in and became the closer. Osuna had 12 saves and a 1.99 ERA. Hector Rondon, Joe Smith, and Will Harris were all pretty average, with ERAs in the mid 3.00s. None of them were really better than the other.
X-Factor
I have two X-Factors for this series. One of them is Carlos Correa. Correa had an injury-riddled season where he didn't perform well when he was healthy either. He did well against the Red Sox in June but in September, he struggled. Houston will need to see the Carlos Correa of last season come out in this series. The Astros need big hits from him and big plays in the field. If Carlos Correa is hot, the whole team will be. My second X- Factor is Dallas Keuchel. I am pretty certain that Verlander, Cole, and Morton will go out and do their jobs. Now, this isn't a guarantee of course, but I think if Keuchel pitches a good game when he's slated to start and picks up the win, then the Astros will win this series.
MVP and Prediction
My prediction for this series is that the Houston Astros will win this series in a well-fought, seven-game series. I was going back and forth between six and seven but I know better than to underestimate the Boston Red Sox. I also know better than to underestimate Houston and their pitching ability. If I could give a collective MVP award, it would be to the Houston Astros' starting pitchers but I will zero in on Gerrit Cole. Gerrit Cole will be the MVP of the game or two that he pitches. He will be lights out. It's semi-rare for a pitcher to win a series MVP award because they don't appear in every game, so if it's a bat, I'm taking George Springer as my MVP. George Springer has played very well against Boston this season and he played well against Cleveland in the ALDS. All he needs to do is stay hot and continue hitting the Red Sox lefty pitchers, which is who he is best against. This could be the series of the year for all sports.
Questions and comments?
thescorecrowsports@gmail.com
Follow Us on Twitter @thescorecrow
Follow Us on Reddit at u/TheScorecrow
Follow Givanni Damico on Twitter @giodamico15
Main Credit Image: Embed from Getty Images