Liam Romero | October 11th, 2018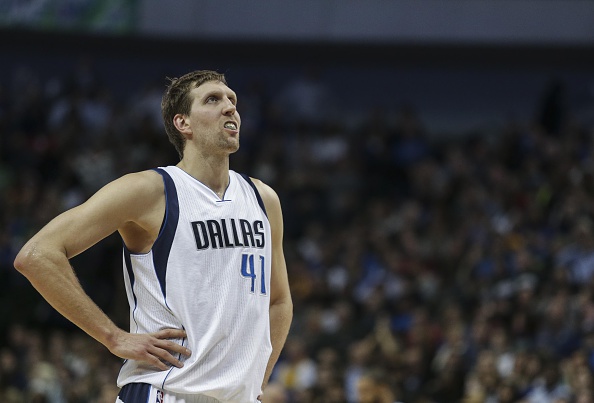 The Dallas Mavericks have dropped to a below average team since their championship victory in 2011. Their once star players have either left or gotten too old and it's obvious that the Mavericks need a new, younger core to their team. Through seasons of tanking, the Mavericks now have a bright future. Will the Mavericks take advantage of their new assets? Can Dallas compete in an extremely competitive Western Conference this season?
Recap of Last Season
Last season, the Mavericks finished with a record of 24-58. This record ranked them 13th in the Western Conference. They consistently ranked at the bottom of the league in almost every statistical category.
The team was led in scoring and assists by Harrison Barnes, with 18 ppg and 6.1 rpg along with J.J. Barea leading the team in assists with 6.3 apg. The Mavericks had below average starters with an aging team last season. Their star in Dirk Nowitzki cannot carry the team like he used to and nobody has picked up the weight since. Like other teams in the Southwest Division, the Mavericks ranked low for offensive pace, at 17th with a rating of 95.6, trailing behind teams like the Warriors and the Celtics. Though their record and statistics are subpar, they still have great fan interest, ranking eighth in fan attendance.
The Dallas Mavericks have had season after season of tanking and at the moment, it looks like it has paid off. With the acquisitions of Dennis Smith Jr, DeAndre Jordan, and Luka Doncic, the Mavericks have a bright future ahead of them.
Offense
The Mavericks are definitely looking bright this coming season. Dallas' biggest acquisitions so far have been DeAndre Jordan as well as their 2018 draft pick, Luka Doncic. Doncic has been looking very promising so far in the Summer League as well as the NBA preseason. He's widely regarded as the favorite for the Rookie of the Year this coming season. DeAndre Jordan, on the other hand, has widely been remembered for his high-flying dunks during his time with the Clippers. Last season Jordan averaged 12 ppg and an astonishing 15 rpg.
With DeAndre Jordan and Luka Doncic partnering up with the Mavericks already solid, young starters in Harrison Barnes, Wesley Matthews, and Dennis Smith Jr, Dallas has a starting lineup that will take the Mavs' offense to the top. The projected starting five combines for 62 ppg excluding Doncic who hasn't played in an NBA game yet. The Mavericks statistics cannot even be compared to those of last year as they've had such an exceptional offseason.
The Dallas Mavericks are looking to blindside the NBA this next season. Dallas' front office has done a great job of bringing in starter-level talent, especially with the trade they used to get the pick they chose Doncic with. NBA fans have been underestimating the Mavericks, but with a young core and great supporting cast, the Lone Star State could be seeing a team that can compete with the best in the Western Conference.
Defense
Like the Mavericks' offense, their defense is looking promising as well. Last season, Dallas ranked seventeenth in the league with a defensive rating of 109.5. This was prior to obtaining DeAndre Jordan and Luka Doncic.
They acquired a much younger, athletic team thus making them more viable to defend faster teams. Dennis Smith Jr. and Dorian Finney-Smith bring their athleticism to the backcourt, combining for almost 3 spg and 2 bpg. Wesley Matthews returned this season after leading the team last season in steals with 1.2spg. The Mavericks could possibly double their block output in their frontcourt since they picked up DeAndre Jordan, coupled with Salah Mejri who led the team in blocks lasts season with 1.1 bpg.
The Mavs' biggest assets going into next season defensively are their rebounding ability as well as their defensive rating itself. Last season, the Mavericks had an average defense despite their mediocre team, but with the previously mentioned team additions, their defense will most certainly grow. Dallas has a great frontcourt and backcourt defensively and can expect a fast-paced and agile setup. They're now athletic and I believe are capable of defending some of the best teams in the league.
Bench
The Mavericks supporting cast is looking great this year. They have a second string of previously starting-level talent. Their second string will be led by J.J Barea who led the team in assists last season with 6.2 apg as well as Dirk Nowitzki who is backing up Harrison Barnes. Together the second string combined for 43 ppg last season.
Along with its reliable second rotation, the Mavericks also have good players coming from deeper in the bench. These players include previously mentioned Salah Mejri, and rookies Jalen Brunson, Ray Spalding, and Kostas Antetokounmpo. To have this many rookies and young talent on the bench is important to develop future star players under the wings of elite veterans such as Dirk Nowitzki. Nowitzki has been in the league as long as some of these rookies have been alive, so the advice and knowledge he can give the younger players is priceless.
Prediction
My prediction for the 2018-2019 Dallas Mavericks is that they'll do so much better than they did last year. This past season was among the worst in franchise history, so I believe many NBA fans are underestimating them. If they don't choose to tank, which I don't think they will, the Mavericks are more than capable of making the playoffs in the Western Conference. This season will be the first of many great seasons if the Mavericks' front office can build around their young core. The Mavericks will take the Western Conference by surprise, they may not beat teams like the Warriors, Rockets, or Lakers, but they'll certainly be a team to beat in the coming seasons.
Questions and comments?
thescorecrowsports@gmail.com
Follow Us on Twitter @thescorecrow
Follow Us on Reddit at u/TheScorecrow
Follow Liam Romero on Twitter @LiamRomero9
Main Credit Image: Embed from Getty Images