Brian DeWester | October 11th, 2018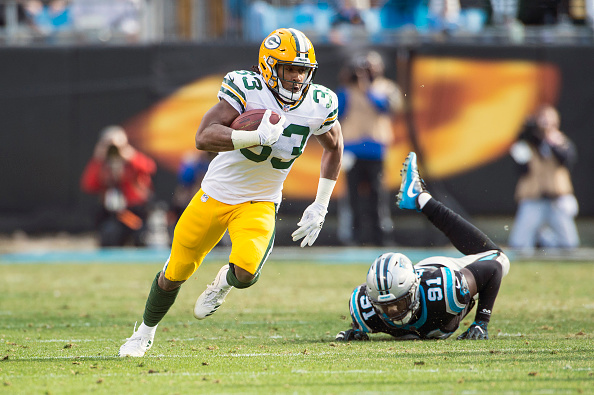 The art of trading in fantasy football isn't simple. Yet, as the waiver wire thins out, trading becomes nearly the only way to turn things around. The trouble with trading is two-fold. First, you have to identify the targets that you want to acquire and the ones you want to trade away. Looking at current usage, their upcoming strength of schedule and their potential upside can all help you with this process. However, the second step involves negotiation. One of the more frustrating parts is that everything could seemingly line up for your offer, and yet all your work can be undone with a simple "no." While this article can't really help you with the latter of those two problems, it can definitely help you identify some potential targets.
What I'm Buying
Here is a review of players that have been featured here in past weeks:
George Kittle – The 49ers offense has really taken a hit with a number of injuries. While Kittle was a full buy at the start of the season, I would be more hesitant to trade for him at this point. While his athleticism has created some big plays these past two weeks, you're still relying on C.J. Beathard to get him the ball with great regularity. The good news, if you're looking for good news, is that Kittle is one of the primary receiving options, which means he shouldn't be hurting for targets.
Corey Davis – In short, Davis remains a buy. He's seeing a decent amount of targets per game, and he is the primary passing option in his offense.
Kenyan Drake – Drake moved from a buy to a hesitant buy to the Jim Cramer special: don't buy. Simply put, if you own Drake, you're holding onto him because you really can't sell him for much at this point. Same goes for Chris Hogan, who is borderline droppable right now.
Kerryon Johnson – Johnson remains a buy due to his ability and his efficiency so far this year. However, there are two causes for concern: his recent injury and the coachspeak regarding his current workload.
Jordan Howard – Things were looking great for buying purposes, and then the Tampa Bay game happened. While it's easy to say that one game doesn't make a trend, which could certainly be the case here, but Tarik Cohen's production in that game merits more touches going forward.
Odell Beckham Jr. & Keenan Allen – Both continue to be buys. Although, Beckham's most recent game has likely raised his price quite a bit.
Sony Michel – Michel remains a buy despite his rising cost. While he'll certainly have some duds down the road, these past two weeks have indicated the type of production he's capable of.
James White
The touchdowns are likely going to come back down to Earth at some point. There is simply no way he can sustain this current pace of a touchdown a game. On the plus side though, James White has seen 55% of the snaps these past two weeks, according to airyards.com. In these past two games, White has seen 23 targets, which not only leads the team but also ranks as the seventh highest of any position during that stretch. In short, James White has the receiving role in the backfield on lockdown right now. Buy with the understanding that while the touchdowns will regress, his receiving role creates a reliable floor, especially in PPR leagues.
Aaron Jones
If the fantasy football community got its way, Aaron Jones would already be an established bell-cow back for the Packers. Since that's not the case, this suggestion is more speculative than anything else. Now, the bell-cow treatment may never come, but what we do know is that Jones bests Jamaal Williams in yards per touch (6.7 to 4.0), yards created per carry (1.14 to .92), and fantasy points per opportunity (.99 to .47). In other words, Jones has been the more efficient back. But Mike McCarthy is his coach. The same Mike McCarthy who seems married to the idea of a three-headed committee.
Buying Jones means you're buying into the potential upside that may not happen this season. Which is code for "don't overpay for him." You want an upside guy like Jones on your bench because he has RB1 upside. But you're also buying knowing that McCarthy probably carries an action figure of Williams around to block out all the negativity and logic.
David Njoku
Yes, the current tight end landscape is one Jamie Kennedy short of a Mask sequel. However, there is light in all this darkness. Ever since Baker Mayfield started in Week 4, David Njoku has the fifth most targets at his position (18) and the eighth most air yards (138). And yet he is 17th in scoring in half PPR leagues, which means there currently is a buying opportunity. If you're hurting at TE, make Njoku your top trade target.
What I'm Selling
Here is a review of players that have graced this list in past weeks:
Derrick Henry – Yup, still selling. Although, Henry is likely on your waiver wire at this point.
Alex Collins – Collins is still a sell candidate due to his fumbling issues, limited snaps (27 out of 87 snaps in Week 5), and Javorius Allen's goal line usage.
Adrian Peterson – Peterson remains a sell candidate due to the fact that he can't be trusted in all matchups (read: games with predictable negative game scripts), and his current shoulder injury certainly doesn't help things.
Carlos Hyde – His limited role as a receiver gives him less upside than his fantasy point totals would indicate. While he should see a decent volume of carries going forward, and likely some scoring opportunities, I would still sell Hyde to get dual threat RB with higher upside (e.g. Joe Mixon).
Kareem Hunt – There were two reasons that Hunt graced this list two weeks ago. First, He hasn't been targeted much this season. In his first three games, he only saw three targets. In his last two games, he's been targeted six times. It's an improvement, and certainly closer to his average from last year (3.9 targets per game). Second, he is evading fewer tackles this season. After averaging 8.6 evaded tackles per game, he evaded five tackles in his first three games and 10 tackles in his last two. Again, things are improving, but not quite where they were last season. I'm still trading Hunt in a package deal for a better RB, but otherwise, I'm holding onto him.
Russell Wilson
Last season Russell Wilson had the sixth most passing attempts (34.6 per game), and he averaged 5.9 carries a game for 36.6 rushing yards. This season Wilson is averaging 28.4 pass attempts, 2.2 carries, and 8.4 rushing yards per game. This stark difference, ladies and gentlemen, is brought to you by Brian Schottenheimer. A coordinator that has already expressed his preference to run the ball even when the defense expects them to run it. A coordinator that takes control of an offense with a talent like Wilson and decides that the best way to win is to continually take the ball out of the hands of that difference-making QB.
While the upcoming strength of schedule points to some potential hope that things could turn around, I wouldn't buy into Wilson because of the prospects of that hope.
Calvin Ridley
Calvin Ridley's pace of six touchdowns in three games was unsustainable. Although, people weren't picking up Ridley because they believed it would; they were picking him up because he's a part of a passing attack that many fantasy owners want a piece of. The downside here is that Ridley has seen fewer targets and less receiving yards than Mohamed Sanu these past two games. On the plus side, Ridley has seen more red zone targets over that same sample size. In other words, there are reasons to worry and be hopeful about his future value this year.
Ridley doesn't make this because he's considered a must sell. He makes this list because you may be able to pull in a more reliable asset for the rest of the season. In other words, sell high. If you can't get someone to bite, Ridley still makes for an upside WR3 in most formats.
Questions and comments?
thescorecrowsports@gmail.com
Follow Us on Twitter @thescorecrow
Follow Us on Reddit at u/TheScorecrow
Follow Brian DeWester on Twitter @BrIreland
Main Credit Image: Embed from Getty Images