Kit Shepard | October 6th, 2018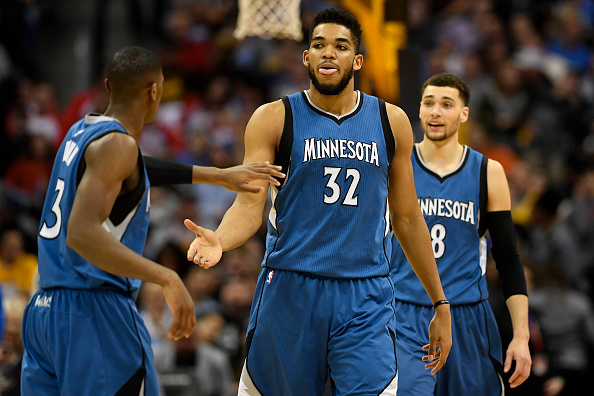 After making their long-awaited return to the playoffs last year, can the Timberwolves overcome off-court chaos to reach the postseason again?
Recap of Last Season
After trading for all-star wing Jimmy Butler in the 2017 offseason the Timberwolves, who already boasted some of the NBA's best young talent in Karl-Anthony Towns and Andrew Wiggins, were expected to make the playoffs after a 13-season absence. However, just as it looked like they would be in the hunt for homecourt advantage in the first round of the playoffs, a knee injury to Butler in the first game following the all-star break stalled Minnesota's campaign. They ultimately clinched their place in the postseason with a heart-stopping overtime win against the Denver Nuggets in game 82, in what was a winner-takes-all matchup for the eighth seed. The euphoria of breaking their playoff drought was short-lived though, as the top-seeded Houston Rockets handled the Timberwolves with relative ease, defeating them in five games in their first-round series.
In the offseason, they re-signed Derrick Rose and picked up free agent Anthony Tolliver after Nemanja Bjelica left them for the Sacramento Kings. In early September, Luol Deng was acquired after months in the NBA wilderness, with the 33-year-old joining Rose, Butler, and Taj Gibson on the list of players who have followed Head Coach Tom Thibodeau to Minnesota after he led them when with the Chicago Bulls.
Chemistry Issues
Yet despite the reuniting of old team-mates, chemistry is set to be a serious issue in Minnesota, as the offseason has been rife with rumors of internal unrest, especially between the Wolves' big three. Butler has the option to become a free agent at the end of this season but refused to discuss an extension this summer. Consequently, Towns' future in Minnesota is unclear also, as the big man, who is a restricted free agent after this campaign, will not negotiate his own new contract until the situation with Butler is resolved. This uncertainty comes amid claims that Butler, 29, is unimpressed with his younger colleagues lack of commitment, with Towns being singled out for his relaxed attitude. With his player option looming, it seems unlikely that Butler will be a Timberwolves player this time next season. And if he shows no intention of re-signing, there is every likelihood that Minnesota executes a midseason trade to get something in return for their outgoing star.
Offense
Assuming Butler stays put, for the time being, the Timberwolves have enough offensive firepower to compete with the league's best, but whether they can play effectively together is a different question, with further chemistry concerns set to hamper them. Wiggins, after penning a $150m deal just under twelve months ago, is seemingly unwilling to play second fiddle to Towns and Butler. The Canadian's usage rate, field goals attempted, and points per game all dropped substantially last season, and he often cut a frustrated figure on the court, taking low-percentage shots as his desire to be the focal point got the better of him. If Wiggins cannot accept his pace in the Wolves' pecking order, then their chances of keeping Butler past this season are very slim.
It is little surprise that Towns and Butler do spearhead the offense. Entering his fourth NBA season, Towns is the prototypical modern-day big man. Mobile and skillful, he runs the floor, has a variety of post moves including an impressive jump-hook, hit from the mid-range with a solid face-up game, or even unleash shots from behind the arc. The statistics emphasize his special talent; he led players to average over 20 points in field goal percentage last season, and his three-point percentage (42.9%) was the highest of any center who attempted over 250 triples.
As for Butler, his offensive game is similar to that of Wiggins, perhaps explaining their chemistry issues. Nevertheless, he is a strong driver to the basket who can also knock down turnaround jumpers consistently and will be entrusted with the ball in the clutch. But with his player option looming, his focus may be beyond the coming season in Minnesota.
Running the point for the Wolves is Jeff Teague, who is a solid playmaker according to supporters, but no better than average in the opinion of cynics. And the starting 5 is completed by Gibson, who will do much of the dirty, unnoticed work on offense.
Thibodeau runs a relatively slow offense (they ranked 22nd in pace last season) to maximize efficiency (they had the fourth-highest field goal percentage and were second in turnovers). Equally, this approach limits open looks on the perimeter, as Minnesota ranked dead last in threes made. With the value of the three-point shot always increasing in the NBA, this is an area where they must improve.
Defense
The other end of the floor is an issue for the Timberwolves on more than one level. In the simplest terms, they were the ninth-worst defense in the league last time out; way below average for a playoff team. Moreover, the Butler-Wiggins feud is a product of the former's frustration at the latter's effort on the defensive end. Last season, Wiggins gave up the fourth-most fast break points of any player across the NBA, suggesting that Butler might have a point.
Butler is an elite defender and clearly expects his team-mates to match his intensity and ability without the ball. He is coming off an All-Defense Second Team selection, cementing his status as one of the NBA's best two-way players. Gibson's presence will also be crucial, as the ten-year veteran will guard multiple positions, scrap for every possession and keep the younger members of the team on their toes.
Towns, while not at Butler's level, has high defensive potential with his athletic build. Despite this, his reputation as a defender is poor, as he appears to lack the intangibles in this part of the game. He often loses concentration or is simply not tenacious enough, an issue that was amplified during the aforementioned Rockets series, where he was passive and somewhat overwhelmed. Wolves fans will be hoping that this was a case of first-night nerves for Towns in his playoff debut, but he does perhaps lack something mentally.
If Minnesota want to improve and keep Butler beyond this year, then solving the defensive flaws of their young stars is a necessity.
Bench
The Timberwolves depth is another area which they would surely like to strengthen. Their bench lacks dependable, reliable players who can chip in on a regular basis, and there is no better example of this than the notoriously-injury prone Rose, who played just 25 games last season. Likewise Deng, despite bringing much needed three-and-D qualities, is coming off a year where he played just one game, and whether he can rediscover the form that made him an all-star remains to be seen. Elsewhere, the contributions of Tolliver, Gorgui Dieng, Tyus Jones, and rookie Josh Okogie will be minimal.
This lack of depth is part of the reason why the line-up of Teague, Butler, Wiggins, Gibson, and Towns played more than any other last season. Thibodeau rarely staggers the minutes of his stars (which also does not help the Butler-Wiggins problem), and this heavy workload is far from ideal for them. A more conservative approach would possibly prevent injuries like the one to Butler, as well as allow the Wolves' best players to be fresh and raring to go come playoff time, even if their bench is weak.
The final wrinkle in Minnesota's roster as a whole is the growing number of former Bulls. While many perceive this as merely an amusing novelty, the Wolves must monitor its impact. They are not exactly the most harmonious team in the league, thus there is the serious possibility of a season-derailing civil war between Thibodeau's long-time Chicago allies (including Butler) and the rest (including Wiggins and Towns).
Prediction
With LeBron James putting the Los Angeles Lakers back on the map, and the Nuggets hell-bent banishing the demons of that 82nd game in Minnesota, it is likely that at least one, if not two of last season's Western playoff teams will drop into the lottery. And there is every chance that the Timberwolves will be one of them.
Since Butler could be out of town before the trade deadline, it is difficult to predict exactly how many games the Timberwolves will ultimately win. Yet even without the turbulence behind the scenes, the defensive concerns and over-reliance on the starting 5 mean that it will be a challenging season in Minnesota.
But when you consider the distinct lack of team spirit amongst the Wolves top players, the upcoming year could turn into a nightmare. They will win between 41-44 games at most, but that number will decrease if Butler cannot co-operate with his youthful team-mates and forces a trade. Minnesota's young talent once indicated that they would have Championship pedigree in the future. Now, it appears to be what will tear the Timberwolves apart.
Questions and comments?
thescorecrowsports@gmail.com
Follow Us on Twitter @thescorecrow
Follow Us on Reddit at u/TheScorecrow
Follow Kit Shepard on Twitter @KitShepard
Main Credit Image: Embed from Getty Images