Jamie Gatlin | October 5th, 2018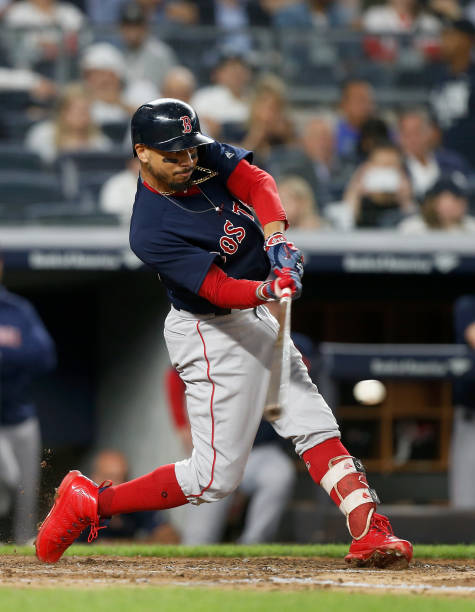 The Boston Red Sox will host their rivals the New York Yankees at 7:30 PM ET on Friday. This will be another October classic for these division foes. It is one of the most intense rivalries in baseball and they will meet in the postseason for the first time since 2004.
A Rivalry Renewed
Head To Head This Season
In recent years the rivalry between these two teams has cooled down. It peaked in 2004 during a historic ALCS and this season it has picked again up. These rivals met 19 times this season with the Red Sox winning the season series 10-9. They had many memorable moments along the way including an all-out brawl in a 10-7 Yankee victory on April 11th. The crucial moment for these two, however, came in early August. The Sox swept the Yankees in a three-game series to give them a substantial lead in the division. Since then the Yankees have won 5 of the last nine games between these two teams.
| | | |
| --- | --- | --- |
| Boston Red Sox | Tale Of The Tape | New York Yankees |
| 208 (9th) | Home runs | ✔️267 (1st) |
| ✔️876 (1st) | Runs | 851 (2nd) |
| ✔️125/31 (3rd) | Stolen Bases/CS | 63/21 (25th) |
| ✔️.792 (1st) | OPS | .781 (2nd) |
| ✔️3.75 (8th) | ERA | 3.78 (10th) |
| 1558  (4th) | Strikeouts | ✔️1634 (2nd) |
| 1.25 (9th) | WHIP | ✔️1.24  (T-6th) |
| ✔️176 (10th) | Home Runs Allowed | 177 (11th) |
| ✔️77 (7th) | Errors | 94 (15th) |
(MLB Rank)
Trades And Acquisitions
Both of these teams were busy leading up to the trade deadline. The Red Sox acquired three players including Steve Pearce and Nate Eovaldi who have excelled against the Yankees in their career. Of Pearce's 11 home runs this season five have come against New York.  The Red Sox did not make any flashy moves but focused on improving their depth. Additionally, the Yankees added J.A. Happ, Zach Britton, and Lance Lynn.  They were able to improve their pitching staff without giving up any major pieces. They will be counted on in this series against a very dangerous lineup.
Key Players
Two key players to watch for the Red Sox will be David Price and Andrew Benintendi. Price will get the start in game two with a chip on his shoulder. Depending on how Sale pitches, he could put the Yankees on the brink of elimination or prevent the Red Sox from the same fate. The Red Sox will need a dominant postseason start which is something Price has been unable to do in his career. On offense, the Yankees will focus on containing Mookie Betts and J.D. Martinez. This will give Benintendi a chance to shine. He is one of the Red Sox best hitters and has done particularly well against New York in his career. For the Yankees, Giancarlo Stanton and Aaron Judge will be key. Judge has excelled against Boston this season hitting .346 with five home runs.  If they can terrorize Red Sox starters then that will put more pressure on a Red Sox bullpen that has struggled.
Game One Pitching Matchup
For the Red Sox, it comes as no surprise that Chris Sale will start game one. In two starts against New York this season he ha an ERA of 0.69 with 19 strikeouts. In those two starts, the Yankees have batted .188 against the Red Sox ace. He has not just been dominant against the Yankees but the whole league overall. In 26 starts he had an ERA of 2.11, the lowest of his career. He will be followed by David Price in game two and Rick Porcello in game three.
The Yankees will counter with their deadline acquisition J.A. Happ. In four appearances against Boston this season he has an ERA of 1.99.  Happ was dominant in September recording an ERA of 1.86 in five starts. He will most likely be followed by Masahiro Tanaka in game two. CC Sabathia could get that start in game three or it could fall to Luis Severino. In the wildcard game against Oakland Severino was dominate. Of these four Happ is the only starter with an ERA under 3.50 against Boston this season.
Prediction
If this series is anything like the regular season between these two then It will be a classic. The Red Sox lineup is a nightmare matchup containing two MVP candidates. Their shaky bullpen will have to step up after struggling mightily in the second half. They will have to contain a potent lineup that includes Giancarlo Stanton, Aaron Judge, and young star Miguel Andujar. They have excellent depth giving them different possibilities for any matchup. The Red Sox will come out on top but it will not be an easy sweep. Expect this series to go four or five games with many moments to remember.
Questions and comments?
thescorecrowsports@gmail.com
Follow Us on Twitter @thescorecrow
Follow Us on Reddit at u/TheScorecrow
Follow Jamie Gatlin On Twitter @JamieGatlin1217
Main Credit Image: "Embed from Getty Images