Liam Romero | October 4th, 2018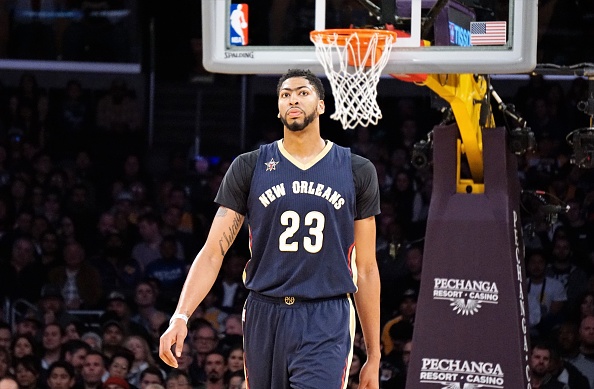 This past offseason was more disappointing than it was a success to the Big Easy. Losing DeMarcus Cousins to the Warriors, and Rajon Rondo to the Lakers, the Pelicans lost two key components to their teams that had decent success in the 2017-2018 season. Can the Pelicans recover from such a blow to their roster, or will New Orleans have another season of tanking and lost potential?
Recap of Last Season
The New Orleans Pelicans finished sixth in the Western Conference last year with an overall record of 48-34. Though they lost two of their starters in the offseason, they did acquire point guard, Elfrid Payton, and forward, Julius Randle, bringing more versatility and depth to their roster. The Pelicans were led in statistics by Anthony Davis who carried the team in points, rebounds, and blocks with 20.5 ppg, 9 rpg, and 1.8 bpg. The leaders in steals and assists were DeMarcus Cousins and Rajon Rondo. With them gone, there are big shoes to fill with Julius Randle and Elfrid Payton. Last season, Payton averaged 12.7 ppg, 6.2 apg, and  1.2 spg and can possibly boost those stats more when he's paired with Davis and Randle rather than the team he had in Orlando. Last season, Randle averaged 16 ppg and 8 rpg. The Pelicans relied heavily on the duo of Anthony Davis and DeMarcus Cousins to rank third in the league in scoring, with a huge 113 ppg. Though having this immense offense, they ranked second to last in Oppg letting opposing teams score on average 110 ppg. Despite having two giants in Cousins and Davis, the Pelican's defense was very inefficient. The team started falling apart in January after DeMarcus Cousins went out with a torn Achilles' Tendon. With Cousins' departure to Golden State, the Pelicans have had a longer time to develop without him. Hopefully, Julius Randle can make up for his absence at the forward.
Offense
Simply put, New Orleans is set to be one of the best offenses in the league this coming season. Similar to past seasons, the Pelicans' offense will run through Anthony Davis as he will lead the team in scoring. Despite previous doubt, the Pelicans shot surprisingly well from three last season, ranking among the best in a sharpshooting Western Conference. They also ranked first in points in the paint per game, third in fastbreak points, and third in assists per game. New Orleans runs either a five out motion offense where they isolate Anthony Davis, or they run a face-up through Davis where he powers to the basket. This offense ran very efficiently after Cousins went out, and the Pelicans clinched a playoff spot. That being said, with the new additions of a youthful point guard and athletic forward in Payton and Randle, the offense could be run a lot faster with better options on the perimeter. The two combined for 28 ppg last season. With the departure of Rondo, the Pelicans now have an even better shooting backcourt and can spread the floor more easily now since he couldn't shoot and would often clog the lane. With said changes, the Pelicans could see an increase in three-point percentage as well as offensive efficiency. The team never had a difficult time scoring last year even without Cousins, and now with more youthful and versatile additions to the starting lineup, the Pelicans will rank among the most efficient offenses in the league. With Anthony Davis surround by better supporting teammates and talent, the Pelicans are poised to wreak havoc in the Western Conference.
Defense
Despite a very talented offense, the Pelicans ranked the opposite in defense last season. As previously mentioned, the Pelicans were ranked at the bottom in opposing points allowed per game. Even with Anthony Davis and DeMarcus Cousins blocking out the basket, it was the weak backcourt of Rajon Rondo and Jrue Holiday who permitted so many points from outside of the paint. They ranked third in the league in blocks per game, and second in defensive rebounds, but with Cousins gone it's safe to say these statistics won't translate to this season. In virtually every other defensive category, the Pelicans ranked at the bottom and opposing teams would often have some of their best offensive performances against them. The Western Conference is dominated by shooters so having a big and slow frontcourt hurt the Pelicans. The pressure will be on Elfrid Payton to perform better defensively and the weight of the defensive backcourt will be put on Jrue Holiday as it was last season. The Pelicans will also feel the loss of DeMarcus Cousins as Julius Randle didn't record close to the same defensive stats as he did, recording less than a block and a steal per game last season. The Pelicans' weakest spot is their defense, but if developed and coupled with their elite offense, New Orleans could be a serious threat in the Western Conference. If they can't grow on their defense though, they will find themselves pummeled by fast-paced, and superstar offenses just as they were in the first round of the playoffs. With the players they have now though, things aren't looking bright for New Orleans defensively.
Bench
The 2018 New Orleans Pelicans' bench is looking reliable. With new additions including Jahlil Okafor and Nikola Mirotic coupled with Solomon Hill, Ian Clark, Cheick Diallo, and E'Twaun Moore, the Pelicans have a strong supporting cast coming off the bench. Those six players alone combined for over 40 ppg last season. The Pelicans have a strong and abundant frontcourt to back up Davis and Randle in Okafor, Mirotic, Diallo, and Moore who all combine for 3 blocks and 3 steals per game. Ian Clark could also see good minutes for Elfrid Payton. Unlike other teams in their conference, this season the Pelicans can definitely look to utilize their bench more as they have former starters from other teams. Hopefully, with as good of a backcourt they have on the bench, the Pelicans can see an increase in defensive efficiency through them. They don't have many guards coming, but with the youth they have in the starting lineup, the Pelicans won't suffer for it. Overall, the Pelicans have a fruitful bench this season and will definitely rank high in efficiency.
Prediction
Given the Pelicans' promising offense this season, reliable bench players, and superstar Anthony Davis, I believe it's safe to say that New Orleans will have a very strong team this season, one of the best in the Western Conference. I believe they'll rank second in the Southwest Division behind Houston, and can make a playoff run. They will most likely not beat godly teams such as the Lakers and Warriors, but the Pelicans will definitely be a force to be reckoned with in the 2018-2019 NBA season. If their core players can stay healthy, New Orleans should be able to stand their ground. Their offensive statistics will grow, but there are still many concerns about how their defense will pan out. Overall, I predict the Pelicans will finish with similar numbers as they did last year with a 48-34 record.
Questions and comments?
thescorecrowsports@gmail.com
Follow Us on Twitter @thescorecrow
Follow Us on Reddit at u/TheScorecrow
Follow Liam Romero on Twitter @LiamRomero9
Main Credit Image: Embed from Getty Images