Kit Shepard | October 3rd, 2018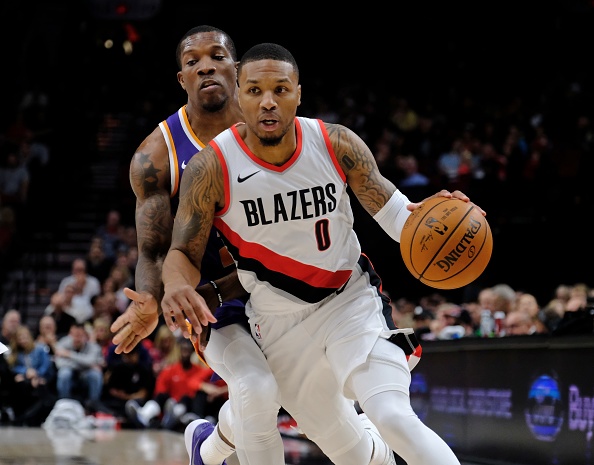 The Portland Trail Blazers possess one of the best backcourts in the NBA but after a catastrophic ending last year, will it be enough to prevent a season of regression?
Recap of Last Season
It is difficult to gauge how good the Blazers were last season. At the turn of the year, their record was 18-17 and they looked set to do battle for one of the last playoff spots out West. But once 2018 arrived, they could not be stopped. Led by sharpshooting guards Damian Lillard and CJ McCollum, the Blazers subsequently won 30 of their next 42 games, a run that was highlighted by a 12-game win-streak, ultimately finishing with a 49-33 record and the third seed.
Portland was so impressive in the second half of the campaign that some began to consider them as a dark-horse Finals candidate, even in the West. However, they were brought back down to Earth emphatically by Anthony Davis and the sixth-seeded New Orleans Pelicans, who swept the Blazers in the first round. With the benefit of hindsight, it became clear that this Portland team was not as good as the regular season suggested. They finished a mere three games ahead of the lottery and out of the teams that won between 46-49 games, they were the only one that did not have to overcome a major injury to a crucial player.
The brutal reality check that was the Pelicans series stimulated a little shake-up in the offseason that followed. The Blazers' starters were held on to, but a few significant bench players left Portland in free agency. These included point guard Shabazz Napier, power forward Ed Davis, and shooting guard Pat Connaughton, who all played significant minutes against the Pelicans. Restricted free agent Jusuf Nurkic was re-signed, and the Blazers also picked up guards Nik Stauskas, Seth Curry, and Gary Payton II, clearly hoping that the latter two share the talent of their more famous family members.
Offense
Lillard and McCollum are set to be the focal point for the Blazers' with the ball in their hands again, as they continue to establish themselves as one of the best guard pairings in the league. Lillard runs the point and with his impressive three-point ability is ideal for the contemporary NBA. Only James Harden made more pull-up triples than the 28-year-old last season, indicating that Portland possesses an elite shooter. But Lillard is far from a one-trick pony. He is an explosive driver, has a reputation for thriving in the clutch and, in an underappreciated part of his game, is an excellent facilitator who averaged over six assists last year on his way to an All-NBA First Team selection.
As for McCollum, he too is a constant threat from deep. While he is not at the level of the league's top shooters and is less adept at firing off the dribble than his backcourt partner, he averaged well over two threes a night last season at just under 40%, numbers that are more than respectable for a second option. And like Lillard, he can score inside by creating space for himself with dazzling speed and strong handles.
It is beyond this duo where the problems lie in Portland. The Blazers require a third scorer to be a true contender but currently, they do not have one. Nurkic is a solid player who could perhaps score 15 points per game this season, but he seldom dominates on the offensive end in the way his team would like.
The same can be said of many others on the Portland roster, including forwards Evan Turner, Al-Farouq Aminu, and Maurice Harkless. None of them are offensive liabilities but, at the same time, none of them will ever turn a game on its head. In the era of the superteam, having only two true offensive threats is not enough to even get close to the summit in the NBA.
The Blazers' reliance on their two stars is reflected in their assists total last campaign, which was the lowest in the league by a distance. The lack of depth in offensive firepower limits coach Terry Stotts' options on this end of the floor, and often forces Portland to simply hope that Lillard and McCollum can get the job done.
Defense
The Trail Blazers have reasons to be optimistic about their play without the ball. After finishing 21st in defensive rating in the 2016-17 season, they rose to eighth in this category last year. However, their roster is curiously not loaded with players renowned for their capabilities in this facet of the game.
Nevertheless, Portland's defense is evidently much improved. They tend to be relatively passive, ranking near the bottom in steals per game, but fourth in opposing field goal percentage. This allows Lillard and McCollum, who are not exactly lockdown defenders, to avoid getting caught out.
And although the rest of the Blazer squad is bereft of a truly great defender, they have multiple pieces who can more than hold their own. Nurkic is a good rim protector who is coming off a season where he blocked more shots per game than Draymond Green, Marc Gasol, and Serge Ibaka. Moreover, Harkless, Aminu, and Turner can all protect the perimeter.
The primary defensive concern for Portland is that two of their best defenders last season, Davis and Napier, are now on new teams. Nevertheless, the players that remain are more than enough for them to continue improving on this side of the ball.
Bench
The Blazers will have plenty of new faces coming off the bench this season. Seth Curry, with his playmaking skills and three-point prowess, is in the mold of his brother. However, after missing the entirety of last season through injury, being the primary backup point guard will be a challenge.
Other key players on the Portland bench will be Stauskas, a nice shooter but a possible defensive liability, Meyers Leonard, who played just two games last year and sophomore big Zach Collins, who Blazers fans will be hoping develops further after an uneventful rookie season. The second unit will be led by Harkless or Turner, with the pair set to contest for a starting spot.
Just as on defense, the biggest negative for the Blazer bench is possibly the offseason departures, as Connaughton and Davis were part of the lineup with the highest offensive rating in the league last season.
Prediction
Portland will certainly still be recovering from the emphatic Pelicans defeat as they enter this season, and they will have to get it out of their system quickly if they want to remain a playoff team. Outside Lillard and McCollum, their offensive options are minimal, even if their backcourt is extremely talented. Moreover, while they have developed their defense, it is not quite good enough for them to have major success.
Consequently, considering the immense depth of the Western Conference, the loss of key bench players, and the fact that their good fortune from the previous season is unlikely to repeat itself, the Trail Blazers will only win between 42-45 games this time around. Considering 47 wins was required for a spot in the postseason last year, Portland looks like they could be returning to the lottery.
Questions and comments?
thescorecrowsports@gmail.com
Follow Us on Twitter @thescorecrow
Follow Us on Reddit at u/TheScorecrow
Follow Kit Shepard on Twitter @KitShepard
Main Credit Image: Embed from Getty Images