Coach Treal | October 3rd, 2018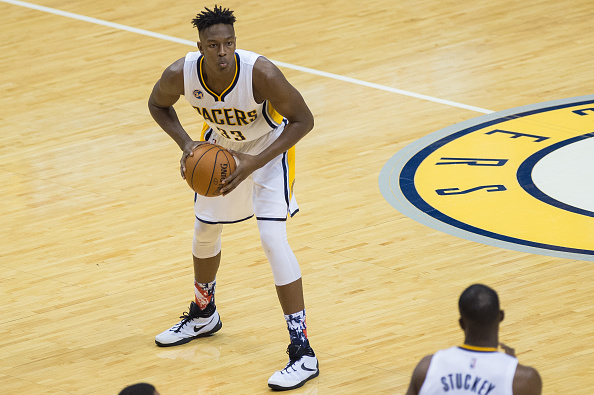 No one could have imagined this team going on to win 48 games and finish fifth in the Eastern Conference last year. In the playoffs, they went all the way to a game seven with the eventual East champion Cavaliers. This team has a lot to build on going into this upcoming season.
Recap of Last Season
What a difference a season makes for the Indiana Pacers. Going into last season no one had them picked to make the playoffs let alone win more than 20 games at the most. The legend Larry Bird stepped down from his role with the team and was replaced by Kevin Pritchard. They had just traded away perennial all-star Paul George to the OKC Thunder in exchange for Victor Oladipo and Domantas Sabonis and that is when things changed for head coach Nate McMillan and the team. The leader of the team without question is Oladipo who turned in an incredible season last year. We saw Victor turn into a star right before our eyes, he was voted an all-star for the first time, won the most improved player award, lead the league in steals, and was one of just four players (Anthony Davis, Joel Embiid, Jimmy Butler) to be named to both the All-NBA Team and the All-NBA Defensive team. It was a special season for Victor to say the least and he feels he can only get better from here. But he didn't lead this team to the playoffs alone, he had help along the way.
Offense
The Pacers were a very solid offensive team last season averaging 105 ppg ranking them at 15th in the entire league. This is a big year coming up for former lottery pick Myles Turner who used this offseason to transform his body and make sure he is in the best shape of his career. Turner looks to increase his numbers coming off last season where he averaged close to 13 ppg and 6 rpg. He connected on 56 three-pointers last season, the highest of his three-year career. I would like to see him continue to mix his game up and add more low post touches along with his three-point shooting. Speaking of three-point shooting on this Pacers team, Bojan Bogdanovic gave them a great weapon in that department connecting on 40% of his shots en route to averaging a career-high 14 ppg in 80 games. Along with the play of Darren Collison, who was a steady hand at the point guard position to go with swiss army player Thaddeus Young, the starting lineup had a great blend of players and skill sets. Young was a key for the Pacers on the backboards as he ranked fourteenth in the league with 184 offensive rebounds. The straw who stirred the drink for the Pacers was the aforementioned Oladipo who averaged career highs in points, rebounds, and assists averaging 23 ppg, 5 rpg & 4 apg. The Pacers offense is very well-balanced. A stat that showed that was Offensive win shares. The one player who finished top twenty in the NBA in that category was Darren Collison at number 20.
Defense
The main calling card game in and game out for the Pacers was them taking pride in defending every night. This team had a 108 defensive rating coming in at 13th overall in the entire league. This is the one area where they excelled as a team. With Victor leading the league in steals and Myles being a solid rim protector averaging close to 2 blocks per game, they have a well-balanced attack on the defensive end of the court. Turner is the archer for this team as he finished seventh in the league for overall blocks with 118 on the season. On top of Victor leading the league in steals per game and leading the league in total steals with 177, they also had Thaddeus rank seventh in the league with 135 steals. Not to mention, Collison is regarded as a terrific on the ball and team defender in his own right. But it wasn't all great as Victor also was a top ten player in the league in turnovers at ninth with 219. He should bring that number down this year. There is no reason to believe this Pacers team will not become a top ten defense overall in the entire league.
Bench
The Pacers made some very solid additions to bolster their bench this offseason, and that will be one of the keys to help lead them back to the playoffs. The big addition to the team was Tyreke Evans who signed a 1-year deal worth $12 million dollars. This was a very fair deal for both sides and allows both of them some flexibility going into the summer of 2019. Evans in 52 games last season for the Memphis Grizzlies showed the promise from his rookie season that led to him winning Rookie of the Year by averaging 19 points, 5 rebounds and 5 assists per game. Another signing that shocked some people was the team signing former lottery pick Doug McDermott to a 3-year deal worth $22 million. This will be his fifth team since being drafted in 2014. He came into the league with a storied college career and was viewed as a great shooter. Another player who should have a huge impact off the bench is 3rd-year player Domantas Sabonis. After coming over from the Thunder in the Paul George trade he made huge strides from his rookie season. He gave a great contribution coming off the bench averaging 11 ppg and 7 rpg. He has yet to display the same skill set so far in the Association so hopefully, he can find a role as another shooter for the team. The Pacers also signed veteran big man Kyle O'Quinn who should be a great locker room presence and insurance big in case of foul trouble or injury. Backup guard Cory Joseph will be back for the team as he played in all 82 games last season and was a solid bench contributor. Something to watch this season is the improvement of second-year forward TJ Leaf and first-round pick in guard Aaron Holiday.
Prediction
If Oladipo can improve on these numbers he will go from the most improved player award to being in the talks for the MVP. He will have the weight of this team on his shoulders and will not have the option of sneaking up on anybody this season. It will be interesting to see how he adapts to being the main guy on every team's scouting report. I believe Victor and this Pacers team is up for the challenge and will set out to prove that last season's success was not a flash in the pan. With the experience this team gained last season, they will use that as a springboard to finish high in the eastern conference standings and find their way into the 2nd round of the playoffs. I see a huge improvement for the Pacers this season in the wide-open eastern conference and I believe the free agent signings of both Tyreke and Doug will continue to push this forward and back into the playoffs.
Questions and comments?
thescorecrowsports@gmail.com
Follow Us on Twitter @thescorecrow
Follow Us on Reddit at TheScorecrow
Follow Coach Treal on Twitter @CoachTreal2
Main Credit Image: Embed from Getty Images