Frank Dyevoich | October 2nd, 2018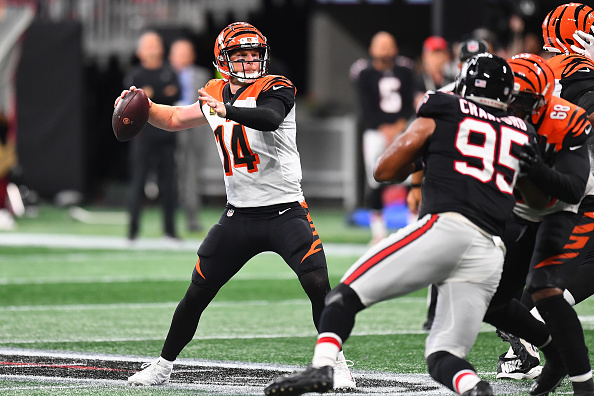 We have made it through a quarter of the fantasy season, and there is plenty that we have learned since Week 1. That being said, there are still plenty of available players that are going to contribute to your championship-winning squad this year. There are even running backs to be had this late in the game. So pay attention and grab these guys while you still can. The following adds are based on a $100 Free Agent Acquisition Budget (FAAB).
Quarterbacks:
Andy Dalton (CIN) – Dalton has been a huge surprise so far this season, topping 30 fantasy points in two of his four games. This week he gets the Dolphins in a tough matchup. However, after that, he gets the Steelers (2nd best for opposing QBs), Chiefs (6th best), Buccaneers (1st), and then the Saints (3rd best) after their week 9 bye. If your desperate for a QB grab him now. He is worth $5-9 FAAB.
Jameis Winston (TB) – It only took one half of bad football for Jameis Winston to get his job back from Ryan Fitzpatrick. The magic is over and it's time for the young stud to take over. Winston was on pace for 4,900 yards last year so with the weapons he has around him, he is a must-add for those looking for QB help. He just might be a season-saver so I would jump on him a week early since he has a bye this week. He is worth $13-17 FAAB.
Marcus Mariota (TEN) – I seem to remember Mariota not having feeling in his fingers. Well, apparently that was a mirage because last week he came in and went 13 for 15, and this week he shredded the Eagles en route to a game-winning TD drive in overtime and a prolific fantasy day. He is clicking with Corey Davis who has shown he can certainly be an elite wide receiver. He is worth $13-17 FAAB.
Derek Carr (OAK) – The Raiders finally lit it up offensively and Carr was the clear beneficiary, finishing with over 400 yards and 4 TDs. Martavis was heavily involved this week and if that continues, then the entire offense will be more effective since they have weapons on all levels that opposing defenses need to worry about. This will still be an up-and-down offense, but Carr should be a more than adequate fill-in should you find yourself in a QB jam. He is worth $8-12 FAAB.
Running Backs:
Tarik Cohen (CHI) – Cohen had a miserable first three games this year, but in week four he went absolutely ballistic. There is no question that he will be a bigger part of the game plan moving forward, he is far too explosive not to be. He is an immediate add in all leagues, and in PPR he is a weekly FLEX play. He is worth $12-17 FAAB in PPR.
Javorius Allen (BAL) – Change the record am I right? Alex Collins was on track to prove me wrong, but then he fumbled and all of my predictions came to fruition in one fell swoop. He was immediately benched and he will be hard pressed to get any red zone carries for the rest of the season. Allen is the clear red zone/goal line back, and with his role in the receiving game, he is the Ravens back to own. He is worth $10-15 FAAB.
Bilal Powell (NYJ) – Powell is clearly the better running back in this backfield and it's not even close. He is explosive and an excellent receiver, and if the Jets would open their eyes and realize that he needs more touches, he could be a second-half savior. It started this week as he had twice the amount of touches as Isaiah Crowell. He has not broken out yet, so grab him now while he is still cheap. He is worth $5-7 FAAB.
T.J Yeldon (JAX) – Grab him immediately if he is somehow not owned in your leagues. Leonard Fournette re-aggravated his hamstring and his return is unknown. In his absence, Yeldon is the man in that backfield and will be a must-start every week. Personally, I am starting him until Fournette plays a full game, even over Fournette in his first game back. He is worth $17-25 FAAB. Fournette owners should spend $30-45 FAAB.
Ronald Jones II (TB) – This is his backfield unless he makes a colossal mistake in the coming weeks. He was activated for the first time this season, and he got more touches then Peyton Barber who has been abysmal thus far. Jones is far too talented not to make an impact on this team moving forward and he needs to be owned in all leagues due to his potential upside in this offense. He is worth $7-10 FAAB.
Nick Chubb (CLE) – On only 3 carries, Chubb ran for 105 yards and 2 TDs. The important thing to note is that it was not simply two runs where there was a gaping hole in the line and he went untouched. These were hard-fought and impressive runs. His second TD is worth a look as he hit the second level of the defense and cut on a dime to juke the defender on route to his second TD of the day. He absolutely needs more touches in this offense. Carlos Hyde owners should pay $10-15 FAAB. Otherwise, he is worth $5-8 FAAB and makes for one of the best bench stashes at this point in the season.
Nyheim Hines (IND) – The Colts' running game is ineffective and boring to watch. Enter Nyheim Hines. He is a prolific pass catcher, and he was the fastest player at this year's rookie combine so he has the speed to hit paydirt anytime he touches the ball. Andrew Luck is targeting Hines in the passing game with regularity and that gameplan seems to be working. He is a must-add in PPR leagues as he should garner a floor of 7 targets a week. He is worth $12-17 FAAB.
Wide Receivers:
Antonio Callaway (CLE) – This week was a rough one for Callaway, but that just means he will be cheaper. He was still second in targets with nine, so as long as the opportunity doesn't wane, Callaway will be a second-half surprise. Get him on your team while he is still available. He is worth $6-9 FAAB.
D.J. Moore (CAR) – This guy is far too talented to remain an afterthought in this offense. I expect that he will be gradually worked into the game plan coming out of the bye week, and if used properly, Moore can be a second-half breakout receiver. Think about what Calvin Ridley is doing and that is what Moore is capable of. He is an excellent bench stash for the weeks to come. He is worth $2 FAAB.
Dede Westbrook (JAX) – This week, Westbrook showed that he can be the possession receiver that this team desperately needs. He is not a game breaker, but he is excellent at running crisp routes and gaining separation. Leonard Fournette is likely to miss several more weeks so we may see a heavier passing game script for this team in the near future which should help all of the receivers. He will be a weekly FLEX in PPR leagues and can be a serviceable WR3 during the upcoming bye weeks. He is worth $7-11 FAAB.
Donte Moncrief (JAX) – See Dede Westbrook. This is the same scenario as Westbrook, but Moncrief is more of a TD dependent red-zone weapon. He has less value in PPR but he is still worth a speculative add. He is worth $2-4 FAAB.
Taylor Gabriel (CHI) – I have touted his separation skills and this week he cashed in with 7 receptions for 107 yards and two TDs. It was a stellar performance and something he will surely build off of. While Anthony Miller is out with a shoulder dislocation, Gabriel is the WR2 for this team. I would start him every week until Miller returns, maybe even thereafter. He is worth $10-13 FAAB.
Christian Kirk (ARZ) – Sunday was not a fantastic outing for Kirk and Josh Rosen, but there were some positive signs for this team moving forward. David Johnson was more involved and that should open up the receiving game in the future. With the second most targets on the team, Kirk is a deep sleeper, but he should only be started in the direst of circumstances. He is worth $1-3 FAAB.
Taywan Taylor (TEN) – Taylor needs to be picked up in all leagues due to the release of Rishard Matthews. He has stepped into the WR2 role for this team, and on his first day as a starter, he laid down 7 receptions for 77 yards. He was tied for second on his team with nine targets, and if that volume continues he will win some fantasy owners a few weeks due to his breakaway speed. He is worth $7-11 FAAB.
Martavis Bryant (OAK) – Talent has never been the issue with Bryant, it was always the passion and off the field concerns that worried teams. Now with the Raiders, Bryant appears to have a fresh start, and it does not seem like a suspension is coming as we all feared. This week he was very involved in the offense, and if he and Derek Carr can get on the same page there are going to be a bunch of explosive plays in Bryant's future. He is not worth any FAAB.
Keke Coutee (HOU) – I was a huge fan of Coutee coming into the season, but he was buried on the depth chart. Now that Will Fuller might miss some time, it is Coutee's time to shine. He stepped in on Sunday and looked fantastic on route to a team-high 11 receptions on a team-high 15 targets. He was explosive and physical and he gives this team the talented slot receiver that they have been missing. I expect Coutee to be heavily involved moving forward, even when Fuller returns. He is worth $7-11 FAAB.
Marques Valdes-Scantling (GB) – This one simply a matter of not knowing the status on Randall Cobb and Geronimo Allison. If they both sit, Valdes-Scantling will get the start opposite Davante Adams and be worth a start in most leagues. He is not worth any FAAB as he is worthless if the other receivers play.
Chester Rogers (IND) – Rogers came out of nowhere to tie Nyheim Hines for most targets this week with 11. He looked excellent running routes and Andrew Luck has complete confidence in him. Hamstrings are tricky so there is no telling how long T.Y. Hilton will be out for which makes Rogers a must-add in most leagues. If he is able to steal the WR2 job away from Ryan Grant, Rogers could be in for a huge season. He is worth $1-3 FAAB.
Tight Ends:
Vance McDonald (PIT) – He is finally healthy and Ben Roethlisberger loves to look his way. He caught all five of his targets and he has definitely earned more work moving forward, especially in the red zone. He is worth $6-9 FAAB.
Cameron Brate (TB) – He is on bye this week so you might be able to steal him for nothing, but Brate is a must-add moving forward. O.J. Howard was on the verge of a breakout, but he has a sprained MCL and will miss the next 2-4 weeks. This means that while Jameis Winston is getting acclimated with his receivers during the bye week, it will be Brate operating as the TE1. It looks like we have to wait another year for Howard to dominate the TE landscape. He is worth $8-11 FAAB.
Hayden Hurst (BAL) – Do not spend a ton of FAAB on Hurst as he is coming off of a broken foot. Foot injuries during the season are scary and could be re-aggravated due to the slightest touch in the wrong spot (ie. Greg Olsen). However, he is definitely worth an add considering how much volume the TE position gets with Joe Flacco and how terrible the TE position is in fantasy this year. He is worth $2-5 FAAB.
Defense/Special Teams:
Tennessee Titans – This week they get the Bills. Start em' and do not look back.
Denver Broncos – The Broncos are an excellent defense to plug and play on any given week. However, they were likely dropped due to their matchup with Patrick Mahomes this past week. This upcoming week they get the Jets. Fire em' up!.
Carolina Panthers – The Panthers are another defense that is likely available in your leagues since they had a bye last week. Pick them up and start them against the anemic Giants offense.
Questions and comments?
thescorecrowsports@gmail.com
Follow Us on Twitter @thescorecrow
Follow Us on Reddit at u/TheScorecrow
Follow Frank Dyevoich on Twitter @Fantasy_Giant
Main Credit Image: Embed from Getty Images