Mike Quintero | September 30th, 2018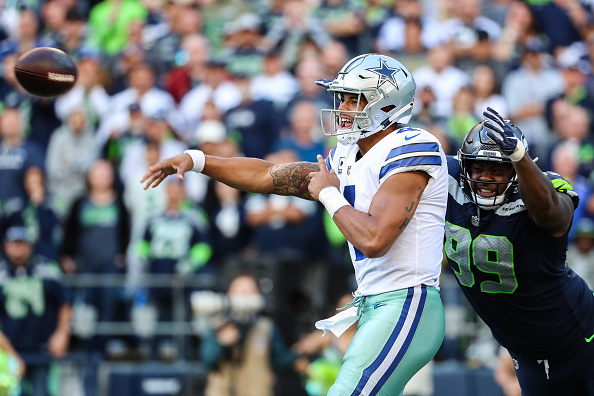 The Cowboys' offense has not looked good through three weeks of the season. Losing Dez Bryant and Jason Witten hurt and the O-line is banged up, but there may be an underlying issue with America's Team that no one is addressing.
This new season has been a roller coaster ride for Dallas Cowboys' fans. The only win the 'Boys have secured has been sandwiched in between two dreadful losses where the stagnant Cowboys offense seemed to be no match against their opponent. From an outside perspective it seems that if their opponent has even decent production when the ball is in their hands, Dallas will be an easy team to overpower, as they use such a predictable and unimaginative offensive game plan.
The Cowboys rank at the bottom of the league in multiple offensive categories, including 30th in total offense (277 yards per game), 31st in total passing (145 yards per game), 30th in TDs (4) and 30th in scoring (13.7 points per game). With numbers like these, there's no argument that the criticism the franchise has been facing through three weeks is undoubtedly justified. 
Offensive Coordinator Scott Linehan spoke to the press recently, stating "We're obviously searching for some things that will help us". What I can't comprehend is why it takes until week 4 for an OC in THE NFL to realize it's time to shake things up, given the history of his game plan not working at all. It shouldn't take pressure from fans and the media to incite change in the calling of plays on the offensive side of the ball. 
If you recall last season, Dallas fans and media were crying to get Dez Bryant more targets as he was beginning to become a non-factor in the games he was getting paid graciously to play in. The next week after an outburst from all of Dallas, The Cowboys targeted Dez over twice as much, resulting in more production from Bryant and happier fans in the metroplex. Fast forward to this season, Dak and the offense have been struggling immensely, and criticism of America's Team is quick to hit local media outlets. Questions begin to emerge, like "Where is this offense?", "Why does Dak never throw the long ball?" and, "How on earth can BLAKE BORTLES average more rushing yards than Dak Prescott?" 
From this, we learn that the Cowboys organization is sensitive to the opinions of outsiders, and their game plan can be easily molded by the thoughts and comments of fans and media personalities. The very next week Dallas jumps out of the gate, launching a long ball to Tavon Austin for a TD, setting the tone for a game that Dak Prescott would also have a career high in rushing yards. 
This begs the question; Can this Dallas offense be creative on its own? I've never seen a team in the league so easily influenced by their audience. Today should be a bounce-back week for the Cowboys, and they're a 3-point favorite to beat the Lions in the 1pm ET slot.
Questions and comments?
thescorecrowsports@gmail.com
Follow Us on Twitter @thescorecrow
Follow Us on Reddit at u/TheScorecrow
Follow Mike Quintero on Twitter @MikeInFortWorth
Main Credit Image: Embed from Getty Images