Frank Dyevoich | September 30th, 2018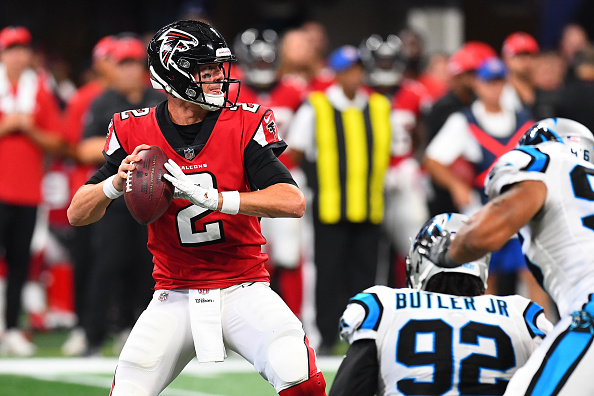 We spend a lot of time analyzing players and matchups so that we can gain an advantage over our opponents. We try to figure out why things happened the way that they did and what we can learn from it to help us in the future. We dig deeper so that we can pinpoint matchups to target and start players that we might not be starting every week. I am not going to tell you to start Patrick Mahomes and Drew Brees, or Odell Beckham Jr. and Michael Thomas. That is a waste of both my time and yours. So let's shy away from the obvious and figure out who needs to be in your lineups this week.
Start Em'
Quarterbacks:
Matt Ryan vs. CIN – Matty Ice is coming off of a monster 5 TD performance and now he gets the Bengals at home. Julio Jones has had two down weeks so he is due for a great game, and the explosive rookie Calvin Ridley gives Matty Ice another prolific playmaker. With endless weapons and a chip on his shoulder this year, Ryan will be a great start most weeks. Projection: 342 yards and 3 TDs.
Eli Manning vs. NO – Last week the Giants finally benched Ereck Flowers and it immediately paid off. Eli had time in the pocket and was able to make precise throws. He went 25 for 29 for 297 and TDs. The important stat? No interceptions. Eli has the weapons to finally make a splash atop the QB ranks this year and what better matchup to explode than a home game against the Saints. Projection: 375 yards and 3 TDs. (don't be shocked if he throws four).
Joe Flacco vs. PIT – Flacco has been a very pleasant surprise this year and he should continue his fantasy success against the Steelers on Sunday Night. This is a heated rivalry and always makes for an entertaining game, and with the Steelers' secondary tied for most passing TDs allowed, Flacco should have a top 10 performance. Projection: 315 yards and 3 TDs.
Case Keenum vs. KC – The Chiefs are also allowing the most passing TDs this year, and it does not appear to be getting any better. Eric Berry will miss another game and the Broncos figure to be trailing so this sets up for a nice game for Keenum and his receivers. Projection: 297 yards and 3 TDs.
Andy Dalton vs. ATL – Andy Dalton should have another fantastic performance this week going up against the injured Falcons defense. They lost their middle linebacker and both starting safeties and last week Drew Brees absolutely shredded them. I expect the highest scoring game of the week in this matchup and Dalton with go blow for blow with Matt Ryan. Projection: 354 yards and 3 TDs.
Running Backs:
Giovani Bernard vs. ATL – This is the juiciest matchup of the week. Joe Mixon is out again which means Gio will get as many touches as he can handle. Also, the Falcons are the worst team when it comes to defending pass-catching running backs, and Gio is an elite pass catcher. This is a matchup made in heaven. Projection: 96 yards, 1 TD, 6 receptions for 53 yards and 1 TD.
Sony Michel vs. MIA – The smoke is cleared and just as we suspected, the reigns of this backfield have been given to Sony Michel. Rex Burkhead is on injured reserve and James White is a one-trick pony as the team's receiving back, so Sony will get the rock on early downs and at the goal line. He is also the best pass blocker and a very good receiver out of the backfield, so he adds a dimension to this running game that they have not had in a while, unpredictability. Projection: 104 yards and 1 TD, 3 receptions for 22 yards.
Kerryon Johnson vs. DAL – It has finally happened, the Lions had a running back rush for 100 yards in a game for the first time since 2014. Kerryon is an excellent between-the-tackles runner, has impressive agility for his size, and is a very good receiver out of the backfield. This week he should see at least 15-18 touches and Dallas is without their best defensive player Sean Lee. This could be the breakout week we have all been waiting for. Projection: 103 yards, 1 TD, 4 receptions for 38 yards.
Chris Carson vs. AZ – The Seahawks made a statement last week when they gave Carson 32 carries. He is the clear bell-cow in this offense and he looks good doing it. This week they get the porous Cardinals' defense that has been very generous to opposing running backs. Projection: 93 yards, 1 TD, 4 receptions for 23 yards.
Aaron Jones vs. BUF – All this talk about a committee is just coach speak in my opinion. If you use your eyes you can see that Aaron Jones gives this offense an explosive runner that they have been desperate for. He averaged over 7 yards per carry last week and Aaron Rodgers loves him. This week he gets to have his coming-out party against the Bills. Projection: 87 yards and 1 TD.
Carlos Hyde vs. OAK – The Baker Mayfield era is here and this team could not be more hyped about it. Hyde looks like a rejuvenated player and with Mayfield under center, they are going to lean on the read-option in the run game. This week they get the 0-3 Raiders who have not put up a defensive fight against any opponent so far. This could be the beginning of a top-10 campaign from Hyde this year. Projection: 112 yards, 1 TD, 3 receptions for 26 yards.
Wide Receivers:
Sterling Shepard vs. NO – Shepard burst onto the scene last week when he torched the Texans' secondary to the tune of 6 receptions for 80 yards and 1 TD. This week he gets the atrocious Saints' secondary whose only star will be locked onto Odell Beckham Jr. all game. Shepard will see more targets with the absence of Evan Engram, and those targets will be against P.J. Williams and Ken Crawley, a duo that Calvin Ridley lit up for 3 TDs last week. Fire up Shepard in all formats. Projection: 8 receptions for 115 yards and 1 TD.
Tyler Boyd vs. ATL – Boyd is on fire and there does not appear to be an end in sight. He is the clear number two option in the passing game and Andy Dalton grows more confidence in him every week. This week he takes on the banged-up Falcons' secondary and he should reward fantasy owners once again. Projection: 6 receptions for 88 yards and 1 TD.
Chris Godwin vs. CHI – Godwin was Ryan Fitzpatrick's favorite target last week. He scored a TD, but what the box score does not show is that he should have had two more. Inexplicably, Godwin simply dropped two other TD passes that he catches 99% of the time. If Fitzmagic starts to favor Godwin, he is going to be a weekly WR3. Projection: 6 receptions for 80 yards and 1 TD.
Kenny Golladay vs. DAL – Golladay should eat in this game as Marvin Jones will be locked down by Byron Jones and Golden Tate will be covered by the impressive slot corner Anthony Brown. Not to mention that Tate popped up on the injury report at the end of the week. Golladay will be a favorite target for Matthew Stafford on Sunday and he will find the end zone once again. Projection: 8 receptions for 111 yards and 1 TD.
Geronimo Allison vs. BUF – Allison is the wide receiver opposite Davante Adams in two wide receiver sets, and Randall Cobb is questionable with a hamstring injury. Aaron Rodgers needs to get this team on the right track and it starts this week against the Bills. With Adams being covered by TreDavious White, Rodgers should look to Allison early and often. Projection: 6 receptions for 82 yards and 1 TD.
John Brown vs. PIT – The Steelers have a pitiful secondary and John Brown will roast them at least three times this game, and Joe Flacco should be able to connect on one or two of them, giving him an excellent chance at scoring a TD this week. Michael Crabtree is the reliable possession receiver, but Smokey Brown is the playmaker. I expect a few explosive plays in this heated rivalry. Projection: 5 receptions for 81 yards and 1 TD.
Tight Ends:
Eric Ebron vs. HOU – Ebron will be the man once again as Jack Doyle is expected to miss a second consecutive week. Last week Ebron disappointed against the tough Eagles' defense, but he did receive 11 targets and was wide open in the end zone but Andrew Luck missed him. If they connected it would have been three straight weeks with a TD for Ebron. The Texans are not the stout defense in the secondary so Ebron should pay off this week. Projection: 6 receptions for 63 yards and 1 TD.
David Njoku vs. OAK – Njoku has been a huge disappointment thus far, but the blame is entirely on Tyrod Taylor. He was rarely targeted by Taylor who would make his first two reads and then take off. Now with Baker at the helm, Njoku will finally get his. Baker connected with Njoku on two passes for over 30 yards when he entered the game last week, more yards than Njoku has had all season. I would target Njoku as a buy low tight end, even after he goes off this week. Projection: 7 receptions for 61 yards and 1 TD.
Defense/Special Teams:
Green Bay Packers vs. BUF – No team will underestimate the Bills again after they decimated the 17-point favorite Vikings. The Packers are looking to right the ship and they will do just that this week when they take on the Bills at home. Josh Allen is going to have a rough outing in this one and the Packers defense will benefit greatly.
Cleveland Brows vs. OAK – This is not your average underperforming Cleveland Browns team. They have playmakers on all levels of the defense and this week they get the Raiders. Myles Garrett will be in Derek Carr's face all game and they should be able to force a few turnovers. Fire up the Browns this week and you won't regret it.
Sit Em'
Quarterbacks:
Carson Wentz vs. TEN – Wentz still has some rust to shake off and he will be without Alshon Jeffery once again. The running game is not effective so it has been difficult to set up the explosive pass plays that he was known for last season. Further, the Titans have quietly been one of the better defenses this year. They are stout against the run and their secondary has been excellent safe for a blown coverage in week 1. Projection: 240 yards, 1 TD, 1 INT
Andrew Luck vs. HOU – Something is not quite right with Andrew Luck's arm. His velocity is down and last week the Colts brought in Jacoby Brissett to launch a 55-yard hail mary. He looks good in the pocket and has made all the throws, but he has not attempted a pass over 31 yards this year. He is known to be a gunslinger and until we see signs of the old Andrew Luck, you can't feel comfortable starting him. Projection: 251 Yards 2 TDs, 2 INTs
Ryan Fitzpatrick vs. CHI – The Bears are destroying all of the quarterbacks they face and this week should be no different. It is hard to bench Fitzpatrick since he has thrown for over 400 yards in every game this year, but Jameis Winston is waiting in the wings and a few disastrous drives could find him in the game sooner rather than later. There is too much at stake and too many concerns to feel safe starting Fitzpatrick this week. Projection: 320 yards, 2 TDs, 2 INTs, 1 FUM.
Running Backs:
Isaiah Crowell vs. JAX – Crowell is not a very talented running back. He scored twice last week, but he still barely reached 30 yards. This week he takes on the stout Jacksonville defense and TDs will be hard to come by. Look elsewhere for your RB2/FLEX spot this week. Projection: 28 yards and 2 receptions for 14 yards.
Eagles' RBs vs. TEN – Jay Ajayi has a fracture in his back, Corey Clement was underwhelming, and Wendell Smallwood will not see enough touches to be relevant. This backfield is not only a mess, but it has also been extremely inefficient thus far. It is in your best interest to sit them all if Ajayi plays. If he sits, then Clement and Smallwood become decent FLEX options with limited upside. Projection: Who knows?
Colts' RBs vs. HOU – See Eagles' RBs. Jordan Wilkins, Nyeim Hines, Christine Michael and recently called up Jeremy McNichols. Not only are they all the farthest thing from exciting, but the Colts' running game has never been efficient and it is not going to start now. Projection: Who knows?
LeSean McCoy vs. GB – Shady is determined to play in this game. However, he is not fully healthy and the Bills' offensive line is a disaster. The Packers are not going to underestimate the Bills so it is going to be tough sledding for their offense. Shady is also at risk of not playing the entire game if he takes the wrong hit to his ribs. A wise man told me to tell you to sit Shady this week. Projection: 52 yards, 4 receptions for 31 yards and 1 FUM.
Alex Collins vs. PIT – This game is going to be won or lost through the air. The Steelers are at home so they should have no problem putting up points, which means the Ravens are going to have to air it out in order to compete. This game is shaping up to be a let down for both backfields. Projection: 48 yards, 2 receptions for 22 yards and 1 FUM.
Wide Receivers:
Quincy Enunwa vs. JAX – It has not been easy for Sam Darnold in his rookie year and unfortunately for him and the Jets, the Jaguars are next on the list. Whether it's Jalen Ramsey or A.J. Bouye, Enunwa is going to have a frustrating performance. He should still be peppered with targets, I just don't expect much production.  Projection: 5 receptions for 51 yards.
Chris Hogan vs. MIA – There is one more week before Julian Edelman comes back and this team can fire on all cylinders. However, this week Hogan is still their number one wide receiver which means he should be locked down by Xavien Howard. He will be used in the slot in attempts to get him away from Howard, but this game is shaping up to be a heavy game script for the running game. Projection: 4 receptions for 53 yards.
Amari Cooper vs. CLE – Cooper has been unimpressive once again and he is making those of us who drafted him seriously regret it. Last week he looked like he stopped trying midway through the game and it is becoming more clear that he might just be a decent WR2 for an NFL team, but he does not have what it takes to be the primary weapon on offense. This week he gets the standout rookie corner Denzel Ward and it will be another rough outing for Amari. It's time to stop hanging with Mr. Cooper.
Nelson Agholor vs. TEN – I don't know why, but Carson Wentz did not target Agholor very often. He was averaging around 10 targets with Nick Foles and that dropped to five with Wentz. Further, the Titans have a sneaky good defense and have been a stingy matchup for wide receivers. Projection: 4 receptions for 47 yards.
Doug Baldwin vs. AZ – This simply comes down to the fact that Baldwin has run six routes all season. I need to see how he looks before I can feel comfortable starting him. There is a good chance that he is on limited snaps and a re-aggravation of the knee injury is not out of the question. It is best to be cautious and let him prove to us that he needs to be started. Projection: 5 receptions for 41 yards.
Tight Ends:
Will Dissly vs. AZ – The Cardinals have struggled against the run this year and Doug Baldwin makes his return so Dissly could find himself on the outside looking in when it comes to targets this week. It's tough to recommend sitting any tight ends because the position is a disaster, but you should be able to find a safer option. Projection: 3 receptions for 22 yards.
Vance McDonald vs BAL – Last week McDonald laid down the "Stiff Arm Heard Round the World" and immediately opened the eyes of fantasy owners. However, the week before it was Jesse James that went off, and more importantly, Big Ben does not heavily rely on his tight ends from week to week. Until we see his role grow and Big Ben gains more confidence in him, it is wise to leave him on your bench. Projection: 3 receptions for 31 yards.
Defense/Special Teams:
Baltimore Ravens vs. PIT – Sometimes this rivalry is a low scoring slug-fest fought in the trenches, but more recently they have been high offensive shootouts. Big Ben is at home so you know he is going to put on a show. The safe move is to roll with another defense this week.
Denver Broncos vs. KC – The Chiefs cannot be stopped, and this week will be no different. They have so many weapons that it does not matter which players the defense takes away because Patrick Mahomes will find the open man. What's worse is that Mahomes has not thrown an interception yet, so turnovers will not be easy to come by. Look elsewhere this week, especially if your defensive scoring provides for negative points.
Questions and comments?
thescorecrowsports@gmail.com
Follow Us on Twitter @thescorecrow
Follow Us on Reddit at u/TheScorecrow
Follow Frank Dyevoich on Twitter @Fantasy_Giant
Main Credit Image: Embed from Getty Images