Hunter Neel | September 26th, 2018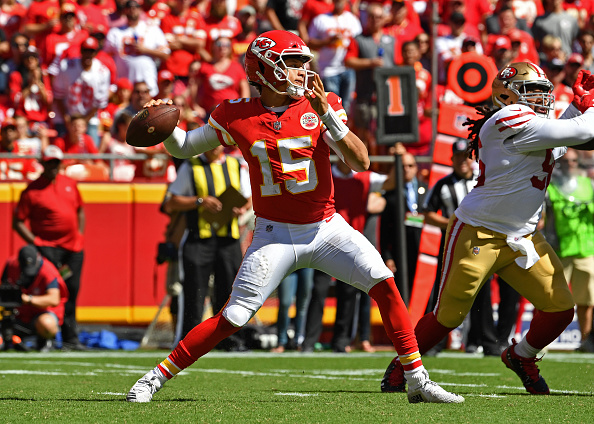 After sitting all of last year Kansas City Chiefs quarterback Patrick Mahomes has officially gotten his time to shine and that's exactly what he did. Through the first three weeks of the NFL season, Mahomes has thrown for 896 yards and 13 touchdowns while managing to throw zero interceptions in the process.
Mahomes was drafted tenth overall by the Kansas City Chiefs and couldn't have landed in a better spot. He was drafted into a situation where there was already an entrenched starter and Mahomes didn't have to be thrown to the wolves early on. This couldn't have been better for him as well.
Coming out of college Mahomes was labeled as a gunslinging quarterback who had excellent arm strength. Not only could he whip the ball 80 yards down the field, but he could do it with great velocity and throw from a variety of different launch points. When watching him all of this is very clear, but the thing that impresses me the most is his pocket presence. While at Texas Tech, Mahomes had the tendency to leave the pocket prematurely. He was also quite inconsistent. This led to many talent evaluators questioning how quickly he could make the jump and how successful it would be.
Of course, a key part to his development had to do with Chiefs head coach Andy Reid. Ried made sure that Mahomes was in the perfect system that was tailored to his strengths. He gave Mahomes the playmakers to match his strengths and allowed him to bring the offense to a new level. Mahomes' ability to make plays happened out of structure and he has the right people around him to get the job done. While he may not be able to continue the pace he is on, it is evident that Mahomes is one of the best young quarterbacks in the league. It is safe to say the quarterback position in the NFL is bright and Mahomes has the chance to lead the pack.
Questions and comments?
thescorecrowsports@gmail.com
Follow Us on Twitter @thescorecrow
Follow Us on Reddit at u/TheScorecrow
Follow Hunter Neel on Twitter @Hunterneel_
Main Credit Image: Embed from Getty Images