Matt Woolsey | September 21st, 2018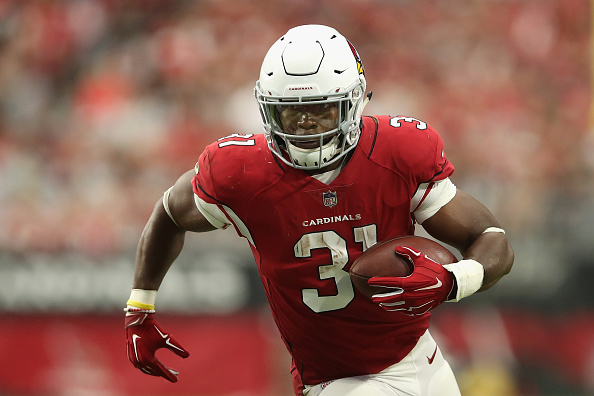 As I scroll through Twitter I have seen so many polls on do I trade David Johnson, do I trade Kareem Hunt. If you drafted either one of them this season, you may be on full tilt right now. Not only are we entering Week 3 of the regular season and Patrick Mahomes seems like he would rather push the ball downfield than check down to his running back but the Cardinals offense is complete trash. So where are you on Hunt and Johnson?
In 2016 Johnson had 2,118 total yards, 80 receptions, and 20 touchdowns. Owners were licking their chops drafting him number one overall last year only to be disappointed when he went down with an injury Week 1. Now as we enter this year Johnson was a top-four pick in fantasy drafts and has not shown up as even a first, second, third, or even a fourth-round pick.
In Week 1 Johnson was on 68% of snaps and in Week 2, he was in 78% of snaps. But in Week 1 he only had nine rushing attempts and five receptions on nine passing targets. 67 total yards and a touchdown, just picture🤮. And if you thought Week 1 was bad, just look at Week 2.
In week 2 Johnson only had 48 yards, no touchdowns, and touched the ball only 14 times. So what exactly happened in Week 2 for the Arizona Cardinals? I heard a stat and had to check it out for myself. According to Pro-Football-Reference, the Cardinals only had one play on the other side of the 50-yard line with 6 seconds left to go in the game. It doesn't matter how many times Johnson is on the field if the team cannot cross the 50-yard line. How much longer can you count on him and the Arizona offense?
Over the past two weeks Kareem Hunt has averaged 70% of the offensive snaps and yet, he's not really producing the way you had hoped. The Chiefs' offense has over 800 yards and ten touchdowns. They have yet to record a rushing touchdown and Hunt only has 129 scrimmage yards and one touchdown. Say what?
Last season, Hunt had 63 targets in the passing game, so far, only two. He has one target, per game. Mahomes isn't interested in checking down to the running back and the Chiefs' offense seems to be better off because of it.
Opportunity is everything in fantasy football and you would expect a running back that is on the field for 70% of the time would have plenty of opportunities. But he has averaged less than 18 touches a game and I'm not sure when it's going to change. Next week they take on the 49ers who have been eighth best against the running game and they get Reuben Foster back.
Conclusion
David Johnson and Kareem Hunt have not lived up to their draft capital. In fact, if you average the three scoring formats, Full Point PPR (Points Per Reception), Half-Point PPR and Non-PPR, Johnson has an average ranking of 23.33, and Hunt has an average ranking of 35. Not what you expected when you drafted them and with the direction the offenses are currently going it doesn't seem like it will change. Can you really bench them with their upside, but can you really trust them with their current floor? If you can get a great deal for them, I would consider moving on, but that's only if you can get a great deal.
Questions and comments?
thescorecrowsports@gmail.com
Follow Us on Twitter @thescorecrow
Follow Us on Reddit at u/TheScorecrow
Follow Matt Woolsey on Twitter @AresgodFF
Main Credit Image: Embed from Getty Images