Travis Finkel | September 20th, 2018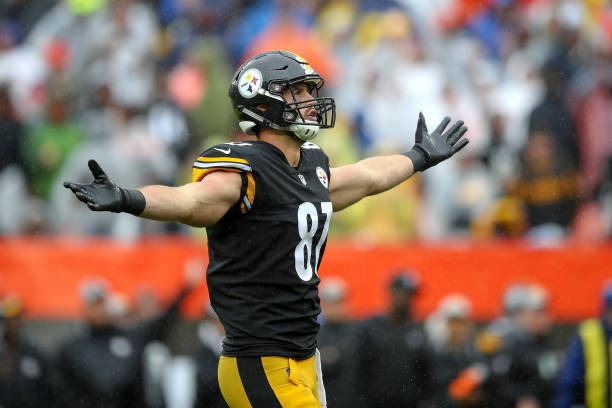 Week 3 is upon us. The football season has been crazy so far. Ryan Fitzpatrick leads the league in fantasy points, Matt Breida leads the league in rush yards and DeSean Jackson is the receiving king through two weeks of play. If you play the strategy of streaming a quarterback, it has paid off well thus far as there have been plenty of quarterbacks outside of the top 12 weekly rankings that have performed very highly. Performances like Blake Bortles' explosion for 30+ fantasy points against the Patriots last week secure confidence in streaming week in and week out.

Week 2 Recap (0.5 PPR):
My last week's suggestions
Case Keenum: 14.5 points, 222 pass yards, 1 INT, 16 rush yards, 1 rush TD. No Pass TDs.
Jared Goff: 18.4 points, 354 pass yards, 1 TD, 1 INT. Gurley is a TD hog, he had 3 TDs.
O.J. Howard: 17.1 points, 3 receptions, 96 yards, 1 TD. Boom! See ya later Cameron Brate.
Ben Watson: 3.4 points, 3 receptions, 19 yards. Drew Brees missed him on an open touchdown.
NYJ D/ST: 10 points, 2 FR, 4 sacks. Good showing from the Jets defense. The offense didn't help.
PIT D/ST: -1 points, 1 FR, 1 sack. Knew it would be a shootout, but hoped for Mahomes INTs and more sacks.
Now let's get right to Week 3 options, 'cause we all know your opponents aren't waiting for you to read this to make their moves.
Quarterback

:
Ryan Fitzpatrick (TB):
Fitzpatrick is the obvious option here. He is ranked ninth this week but is owned in only 31% of leagues. As everyone predicted, he is the number one fantasy player through two weeks with 72.3 points. He's done that against two defenses that were regarded as top defenses leading into 2018 (NO, PHI). This week, the Buccaneers face the Steelers at home. This is his best on paper match up to date so hopefully, Fitzpatrick can continue his dominant performance. The Steelers a week ago surrendered SIX passing touchdowns to Patrick Mahomes. Pittsburgh's secondary is weak, and Tampa Bay's receivers are not. This is a great matchup for Fitzpatrick. I am playing him over Andrew Luck in my league. Winston is set to return from suspension next week so this is Fitzmagic's last chance to prove his worth as a starter. He is a very comfortable start this week.
Alex Smith (WAS):
There is a chance he is already owned in your league, but he went undrafted in most leagues, so I'll put him out there. Up against the Packers in Week 3, Smith and the Redskins are likely to be playing from behind quickly. That should limit Adrian Peterson's role in the game and force head coach Jay Gruden to rely heavily on Smith. The Packers can be attacked through the air though. Last week Kirk Cousins threw for 425 yards and four touchdowns. Cousins has much better weapons at his disposal, but Smith demonstrated he can put up numbers anyway (19.6 points Week 1). Smith has not connected with Crowder well yet this season so Smith has room to grow with his offense. In a game where he should attempt at least 35-40 passes, he has a chance to surpass the 300-yard mark plus at least 3-5 rushing attempts. Smith is going to need to have a good fantasy day if the Redskins have any chance of competing.
Tight End:
Jesse James (PIT):
Jesse James, who is only 3.3% owned in ESPN leagues has capitalized on the woes of Vance McDonald. James exploded for 5 catches, 138 yards and a touchdown (22.3 points) last week against the Chiefs. James also had 7.5 points in Week 1 and is the TE1 through two weeks of the season. The TE1 deserves a stream consideration no matter what in this tight end market, but James's situation is still appealing. Last week was Vance McDonald's return from injury, who is the starter on the depth chart, but James still outperformed McDonald. I am not worried about McDonald yet until I see a significant shift in opportunity. This isn't the game that it will happen because both will likely be involved. James could have a nice role until Bell returns, actually. This week against the Buccaneers is shaping up to be another shootout for the Steelers, as many of them will because their defense is terrible. Chasing shootouts when streaming is usually a good strategy so I am playing James this week. No bias because I'm a Penn Stater either.
Eric Ebron (IND):
Two touchdowns through two games for the former Detroit Lion. Ebron seems to have developed at least a red zone connection with Andrew Luck in Indianapolis and that is appealing when looking for a streaming option. The Colts are in Philadelphia this week to face one of the league's best run defenses. This week figures to be a very unproductive one for the Colts on the ground leading to increased opportunities for the Colts pass catchers. The Eagles allowed my last week's streamer pick O.J. Howard to go for 96 yards and a touchdown. I don't expect Ebron to have quite the same yardage output but I do think he has the best chance of scoring a touchdown among any of the streamer candidates. Thanks to his new connection with Luck, likely high pass volume from Luck and his superior size in the red zone, Ebron is a high-risk/high reward option. The tight end market is tough so far this year. Ebron is a wise choice for this week.
D/ST

:
Cleveland Browns:
The Cleveland Browns face the New York Jets on Thursday night in Cleveland. Browns fans know this is one their best chances at winning a game in almost two years so the stadium is going to be rocking. Rookie QB Sam Darnold could struggle in his first hostile environment leading to bad decisions and interceptions. The offensive line, while improved, is still below average for the Jets. The defensive line for the Browns is one of the best, young lines in the league and Myles Garrett is going to have his way with Kelvin Beachum, the Jets left tackle. Sacks and turnovers are likely in what figures to be a low scoring game. Being that it is a Thursday night game, chances are it could be an ugly one, which is usually a good thing for defense streaming.
Miami Dolphins:
The 2-0, first place in the AFC East, Miami Dolphins take on the Oakland Raiders in Miami at 1 pm EST. The West Coast teams playing poorly on the East Coast myth is intriguing in this matchup. The Raiders are coming in at 0-2 and have averaged 16.0 points per game so far. The Dolphins, coincidentally are allowing only 16.0 ppg and have double-digit fantasy performances both weeks this season. The team has six turnovers, one touchdown and three sacks. The Dolphins boast a strong D-line with Cameron Wake and Robert Quinn as well as a strong, young secondary led by Xavien Howard and Minkah Fitzpatrick. The Raiders protect the quarterback well, but the quarterback is painfully average. A good defense at home that has produced fantasy points this season versus an average offense playing on the opposite coast is a safe play. The Dolphins defense represents a solid floor with high upside if things unravel for the Raiders offense.
Kicker

:
Brandon McManus (DEN):
My kicker add of the week is the big foot out of Denver. This week his team will take on the Baltimore Ravens whose defense was torched by the Cincinnati Bengals. The Broncos offense has been able to move the ball well this year and it can continue against the Ravens who look to return to form. A good offense versus a good defense is a good recipe for field goal opportunities. The Ravens may be able to stop the Broncos from scoring touchdowns on most drives, but the Broncos should be able to get McManus within 55 yards often. This game could even end up being a kicking battle between Tucker and McManus.
Deep "Boom" Flex:
Theo Riddick (RB,DET):
Theo Riddick is fifth in the league in running back targets and sixth in receptions this season through two games. His targets outpace the likes of Alvin Kamara, James White, and other pass catching backs. The problem with Riddick is he hasn't been able to produce yards off of these targets. He has only 62 receiving yards, which is by far the worst of that top group. Riddick will have a chance to rack up the catches again this week as the Lions take on the New England Patriots. Without diving too much into the matchup, we can expect a duel between Tom Brady and Matt Stafford, likely leaving the Lions playing catch up. Corey Grant racked up six catches for 56 yards in a fill-in role for the Jaguars last weekend against the Pats. Looks like Riddick is primed for a big role this week and given his opportunity so far, the production shouldn't be too far behind. Anytime a player receives that many looks he becomes a nice PPR option.
Cole Beasley (WR,DAL):
Cole Beasley started off the year with seven catches on eight targets for 73 yards but was quiet last week against the Giants. He is the leading receiver in every category for the Cowboys, and though that's not saying much, it counts for something. The Cowboys will try to play a possession game in Seattle to keep the ball out of Russell Wilson's hands since it is a must-win game for Seattle. They will look to do this by relying heavily on Ezekiel Elliott in the run game. Given Beasley is the possession receiver for Dak Prescott, he should be looked to often as well. In two weeks so far, Emmanuel Sanders, Demaryius Thomas and Allen Robinson have succeeded in volume heavy roles against Seattle. Beasley could be one of the higher targeted players this week, which could lead to PPR success against the Seahawks.
Good luck this week everyone. Don't forget to follow me on Twitter (@TravisFinkel) and check out the rest of the articles from our fantasy football crew at The Scorecrow (@TheScorecrow). See you next week.
Questions and comments?
thescorecrowsports@gmail.com
Follow Us on Twitter @thescorecrow
Follow Us on Reddit at u/TheScorecrow
Follow Travis Finkel on Twitter @TravisFinkel
Main Credit Image: Embed from Getty Images