Bruce Cagle Jr. | September 17th, 2018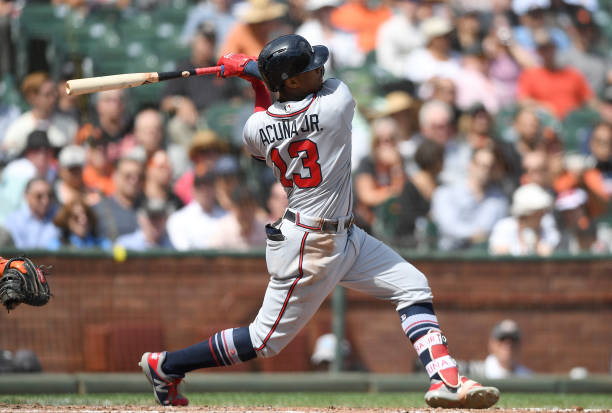 The final push is upon us! Whether it is bat licking craziness or nostalgic pitching performances, this playoff race will be one to remember. There wasn't much movement in my rankings this week, that doesn't mean there wasn't plenty of action.
1. Chicago Cubs (even 87-62) For the first time in a while the Cubs started to feel some pressure from an opponent in the Central. In a week where you saw both Anthony Rizzo (.095 AVG) and Daniel Murphy (.053 AVG) struggle mightily at the plate, they still managed to come out ahead 4-3 overall in the win column. Starting out very rough, previewed in last week's Matchup Of the Week, losing two of three to the Brewers, they ended up bouncing back nicely, going two and one versus the Reds. Things are looking hopeful for the Cubs to maintain their 2.5 game lead on the division as they are looking to mow down the Diamondbacks and take the White Sox to the cleaners in the upcoming week.
2. Milwaukee Brewers (even 85-65) With a promising start to the week by beating their rivals in the Windy City, the Brew Crew came up a little short over the weekend against ever lurking Pirates. Being led by their major offseason acquisitions, Christian Yelich, and Lorenzo Cain, the Brewers take one of the deepest offenses in the entire National League into the final weeks. Mike Moustakas was making his veteran presence felt this past week, with a solid week of .316/.350/.526 1 HR 3 RBI, he amazingly was the third best hitter in terms of wRC+(134) on the team. The aforementioned Cain (157) and MVP candidate Yelich (185) kept a surging team 3.5 games ahead in the Wildcard standings. If Jesus Aguilar can get back to his first-half ways, .298/.373/.621, 24 HR 159 wRC+, this Brewers team would be one of the most dangerous going into the playoffs.
3. Atlanta Braves (+1 83-66) Sitting in cruise control until the finish line, the Braves will use this time over the next two weeks to patch up any holes and fix any wounds going into what will be a very tough National League playoff series. They get Ardoys Vizcaino back after a lengthy stay on the shelf with a shoulder inflammation problem from all the way back in June. He will be a welcome sight, over the last 91 innings he has a 2.37 ERA and a very healthy 17.5% K-BB%. We are seeing the promise of the young phenom Ronald Acuna Jr, over the last two weeks as he has been hotter than Death Valley. With an impressive triple slash, .333/.460/.706, yes, that's also including a 19% BB. He will battle another superstar in the making in Juan Soto for Rookie of the Year Awards down the stretch. The Braves have a nice 6.5 game cushion and should breeze to the finish as the NL East Champs.
4. St Louis Cardinals (-1 82-68) Looking to end a brutal losing streak, one that included giving up 5 HR in a span of 19 hours to Yasiel Puig, and a masterful (or dreadful depending on your fandom) eight inning nine strikeout piece of work from Walker Buehler, the Cardinals got a vintage performance from Adam Wainwright on Sunday. He spun a wonderful 6 IP 9 K outing, then handed it over to the bullpen, who finished the shutout. With that much-needed win, they climbed back into a share of the second Wildcard spot. This is not the ideal time for your MVP caliber player in Matt Carpenter to slump. Over the last two weeks, he's batted an abysmal .200/.339/.244 with very little power shown by his .044 ISO. They need him to pick it up if they want a shot at October.
5. Colorado Rockies (+1 82-67) After an exhilarating roller coaster of a week that started out stopping the Diamondbacks right in their tracks and taking the NL West lead, to being held scoreless for 20 straight innings, including back-to-back shutout losses versus the Giants, the Rockies find themselves still King of The Mountian in the west, for now, heading into a crucial three-game road set in Dodger Stadium starting Monday. With a minute half-game lead in the west, MVP hopeful Trevor Story (7 HR 13 RBI over the last 13 games) can't afford to cool off as they face Arizona to finish off the week. Nolan Areando looks to break out of a mini-slump versus some left-handed pitching (.373/.454/.771 vs LHP) this week as he faces three lefties, the problem is two of them are pretty elite in Clayton Kershaw (2.51 ERA) and Partick Corbin (3.05 ERA).
6. LA Dodgers (-1 82-68) Finding the most momentum during the week out of all the playoff teams, the Dodgers did exactly what was needed on this long road trip. Oddly enough where the Dodgers struggled most on this exhaustive trip was in Cincinnati. They dropped two of three before they went into Busch Stadium and stomped on the Cardinals. Yasiel Puig put up monster numbers during the 17-run barrage on Saturday afternoon. He couldn't contain his love after his 3 HR and 7 RBI outburst. Over what I thought would be the toughest challenge they faced during the month of September, the Dodgers went 6-4 in tough environments. They will recharge their batteries at home, six straight, three against the previously stated Rockies, and then three against the Padres. I expect them to win four out the six and regain the NL West Lead.
7. Arizona Diamondbacks (even 78-72) Having one of the worst weeks out of all playoff-hopeful teams, the Diamondbacks find themselves falling out of the playoff race fast. If they don't find some traction they will soon find themselves too far back. They will hope the friendly confines of Chase Field will help them over the next nine games. The scheduling gods were not very kind to them, as those nine games will be against the Cubs, Rockies, and Dodgers. They are only projected for a 4.6% shot at making the playoffs, but I like to look at it from the optimistic side. This is their chance to make a massive push. Paul Goldschmidt can potentially grab his first MVP if he continues to post these monster second half numbers, .332/.427/.598, 12 HR, 166 wRC+.
8. Philadelphia Phillies (even 76-72) The Phillies have all but eliminated themselves from playoff contention with another lackluster week in the most important month. Going 2-4 over the last six contests created a gap in the NL East, but one that could be made up if they catch fire. It also doesn't help that only six of the last 13 games will be played at home where they are 15 games over .500 there this season. Aaron Nola will finish high in the Cy Young voting with an impressive 2.42 ERA 16-win season. Rhys Hoskins had a fine year, 31 HR and 151 wRC+, but it will not be enough, as the Phillies will look to land one of the big fish this offseason to improve this very talented core. Manny Machado maybe?
9. Washington Nationals (+1 76-74) Don't look now, the Nationals are 7-3 in their last 10 and still have power bats, and a power duo atop their staff. Like the Bucs, the Nationals face a virtually impossible task, making the playoffs with a .6% chance. Bryce Harper (33 HR) will try to improve his offseason value with late-season heroics, along with Max Scherzer (2.53 ERA) trying to add more hardware to an already filled cabinet as they push this team towards the finish line. Barely legal Juan Soto looks to pry the ROY award from Acuna but has shown he has an elite skill set (16.8% BB, 80.7% Con, 7.9% SwStr) for the majors before he can even buy his own beer. Major changes are in the future for this clubhouse, as a disappointing chapter will likely be closed at the end of 2018.
10. Pittsburgh Pirates (-1 74-74) The Bucs found themselves with a very nice 10-game stretch in the books. Running a 7-3 record during that time, they were able to gain a little ground in the wildcard race. They will have to get extremely hot and extremely fortunate in the last two weeks as they are projected with a 0% chance to make the playoffs. Obviously, not mathematically out of it, but being seven games back for the second seed in the wildcard this will be difficult. Trevor Williams has been a very bright spot in the second half, lowering his era down to 1.17 over 60.2 innings. Next year the Bucs will prove to be another difficult opponent as Williams, Chris Archer, and Joe Musgrove look to find their groove in a full season together.
Matchup of the week
I'm heading back to the West as the Rockies look to fend off the travel weary Dodgers. It has a set of tantalizing pitching matchups and potential for explosive offensive displays ahead.
9/18 Hyun-Jin-Ryu vs Jon Gray
9/19 Clayton Kershaw vs Kyle Freeland
9/20 Walker Buehler vs Tim Anderson
Questions and comments?
thescorecrowsports@gmail.com
Follow Us on Twitter @thescorecrow
Follow Us on Reddit at u/TheScorecrow
Follow Bruce Cagle Jr. on Twitter @BruceCagleJr2
Main Credit Image: "Embed from Getty Images