Frank Dyevoich | September 15th, 2018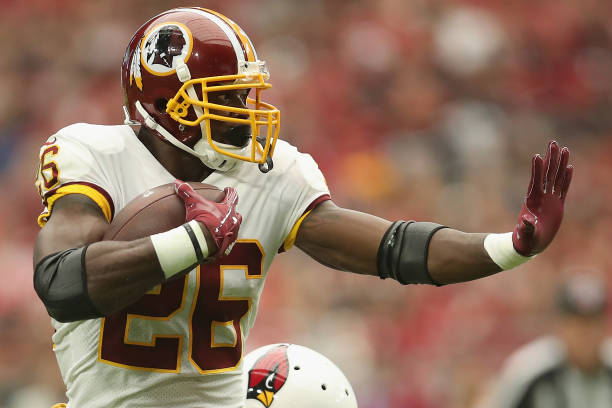 Another week has gone by and we have learned plenty. Target players facing the Buffalo Bills. Start the running backs facing the Miami Dolphins. Start the wide receivers facing the Tampa Bay Buccaneers and the Kansas City Chiefs. Likewise, unless it is a superstar, you should probably sit the wide receivers facing the Jacksonville Jaguars, Minnesota Vikings, and the Denver Broncos. Heading into Week 2, there are a ton of glaring matchups that need to be exploited. These are the players I think that you should start or sit depending on the matchup.
Start Em'
Quarterbacks:
Ben Roethlisberger vs. KC – Roethlisberger is historically much better at home than he is when he plays on the road. Last week we had to suffer through Road Ben, but this week he returns to his promised land. Not only is he itching to redeem himself from the abysmal performance in Week 1, but he is facing one of the worst pass defenses in the league in the Kansas City Chiefs. I expect an epic shootout on Sunday. Projection: 377 yards, 3 TDs, and 1 INT.
Philip Rivers vs. BUF – The Bills are among the worst teams in the NFL and the Chargers will have their way with them. Start all of your Chargers players, especially Philip Rivers. He is coming off a game where he put up over 400 yards and three TDs and lost. If his receivers did not drop two perfectly thrown balls, Rivers would have had 500+ yards and five TDs. He is one the league's fiercest competitors and he is going to be looking to make a statement in this game. Projection: 350 yards, 3 TDs.
Eli Manning vs. DAL – The Giants almost pulled out the win against the league's best defense last week. Eli and Odell Beckham were inches off on two TD passes and they are going to be looking to right the ship this week. Not to mention the fact that historically, Eli Manning balls out when he goes to Jerry's World. Projection: 345 yards, 3TDs, and 1 INT.
Jimmy Garoppolo vs. DET – Jimmy looked great last week against arguably the second best defense in the league. He has poise in the pocket and he makes good decisions with the football. The Lions are heavily banged up and just got torched by the Jets on Monday Night Football. I expect Garoppolo to find his groove and kick them while they are down. Projection: 310 yards, 2 TDs, 1 Rush TD and 1 INT.
Case Keenum vs. OAK – Keenum has tremendous receiving weapons in Denver and they get to take on the lowly Oakland Raiders at home. Emmanuel Sanders and Demaryius Thomas should run circles around the Raiders cornerbacks and Keenum should capitalize with another top 12 finish. Projection: 322 yards, 3 TDs, and 1 INT.
Running Backs:
Adrian Peterson vs. IND – The Colts' defense is atrocious on all levels. They do not get pressure on the QB, they are not good in coverage, and they cannot stop the run. All that adds up to a lot of work and excellent production for AP and his counterpart Chris Thompson. Projection: 115 yards and 1 TD.
Chris Thompson vs. IND – See Adrian Peterson. This kid looks explosive. Projection: 65 rushing yards, 6 receptions for 82 yards and 1 TD.
Royce Freeman vs. OAK – Freeman split work with Philip Lindsay last week, but since it was his first NFL game, I expect his workload and his role to grow moving forward. The Raiders were lit up last week by Todd Gurley and I expect Freeman to have similar success. Roll him out there with confidence. Projection: 95 rushing yards, 1 TD, 3 receptions for 31 yards.
Lamar Miller vs. TEN – Miller is the workhorse for this team. Last week he saw 20 carries, but he was vultured at the goal line by Alfred Blue. While losing the touchdown stung, it was great to see him get so much usage. The Titans are banged up on all levels and they just got shredded by Ryan Tannehill. Miller will see over 20 carries this week and he will get in the end zone. The twist? I think his TD come through the air. Projection: 112 yards, 5 receptions for 42 yards and 1 TD.
Tevin Coleman vs. CAR – Devonta Freeman is out. Coleman is a workhorse running back this week and he is a must-start even in shallow leagues. Only rookie Ito Smith is behind him so he should see a minimum of 85% of the RB snaps. This is also a contract year for Coleman, and it is his first opportunity of 2018 to show other teams that he can be a feature back. Absent an injury, Coleman is going to explode. Projection: 115 yards, 1 TD, 6 receptions for 71 yards and 1 TD.
James White vs. JAX – With Rex Burkhead dealing with a concussion and Sony Michel not quite ready to hit the field, White could very well be the only option at running back for the Patriots on Sunday. Couple this with the fact that the game script will lead to quick throws and slant routes in the passing game, White could be the most targeted player on the team this week. Projection: 41 yards, 8 receptions for 87 yards and 1 TD.
Isaiah Crowell vs. MIA – Crowell had a tremendous Week 1 on Monday Night Football and he will continue his trend in Week 2. The bottom line is you start the running backs playing the Dolphins. Feel free to fire up Bilal Powell for this reason as well. Crowell will score again this week, and then you should probably trade him. Projection: 92 yards and 1 TD.
Wide Receivers:
Nelson Agholar vs. TB – Agholar is the apple of Nick Foles' eye. Last week he had eight receptions and he could surpass that total this week. Tampa Bay's secondary is in shambles and Agholar should have a field day. With Alshon Jeffrey still sidelined, Agholar is in line for 12+ targets, and against this secondary, he should get in the end zone. Projection: 9 receptions for 122 yards and 1 TD.
Cooper Kupp vs. AZ – Kupp is Jared Goff's favorite player on the field. They are always in sync and Kupp is one of Goff's first reads. This week, Patrick Peterson figures to be on Brandin Cooks most of the game so Kupp should have his way against the linebackers and safeties. The only concern is that this game could get out of hand early and lead to a run-heavy second half, but Kupp should still see plenty of work in the slot and the red zone (RZ). Projection: 7 receptions for 74 yards and 1 TD.
JuJu Smith-Schuster vs. KC – I am not going to tell you to start Antonio Brown, because, come on. However, the Chiefs' secondary is so bad that I am going to tell you to fire up JuJu as a WR1 this week. Brown is going to demand all of the double coverage and that will leave JuJu going up against nickel corners. Though it is only his second season, we can already tell that JuJu is a special talent. He scores this week, maybe even twice. Projection: 7 receptions for 128 yards and 1 TD.
Kenny Golladay vs. SF – Golladay is an up and coming star in this league. He has the size and strength to be a proto-typical WR1 in this league, and his breakout season kicked off last week with a bang, where he out targeted and outscored Marvin Jones. Going up against a mediocre 49ers defense, this game should be a shootout, and Golladay will face the worst corners on the team. He will dominate them from the first whistle to the last clock tick and you better hope you have him in your line up. Projection: 6 receptions, 124 yards, and 1 TD.
Dante Pettis vs. DET – This is a simple plug and play due to the absence of Marquise Goodwin. Pettis steps right into the starting role and Jimmy Garoppolo showed last week that he has confidence in his new rookie. He has excellent deep ball skills and his touchdown catch last week was a thing of beauty. He is not a player you are going to rely on from week to week, but this juicy matchup coupled with his starting role this week makes Pettis a reliable WR3 with upside. Projection: 5 receptions for 73 yards and 1 TD.
Tight Ends:
Jared Cook vs. DEN – I'm reminded of the season when Cook scored 3 TDs in Week 1 and then was irrelevant for the next 15 weeks, so I'm a little hesitant on making him an every week starter, but this matchup is too good to ignore. The reason Cook blew up last week was that the Rams' elite cornerback play funneled all of the open windows to the middle of the field. The same game script should play out this week, leaving Cook as Derek Carr's only reliable target on Sunday. Projection: 7 receptions for 112 yards.
George Kittle vs. DET – Kittle had a stellar performance last game finishing 5 receptions on 9 targets for 90 yards. However, if you watched the game, you saw Jimmy Garoppolo just miss him on what would have been an 80 yard TD reception. This week Kittle could erupt in the absence of Marquise Goodwin. Projection: 7 receptions for 110 yards and 1 TD.
David Njoku vs. NO – Josh Gordon has been ruled out for tomorrow's game against. The Browns should also be trailing pretty early in this game which will lead to a heavy passing attack. With all of the defensive coverage shifting to Jarvis Landry, Njoku should feast on the Saints' linebackers. He is an athletic freak and the number two option in the passing game this week. Start him with confidence. Projection: 8 receptions for 76 yards and 1 TD.
Defense/Special Teams:
New York Jets vs. MIA – The Jets defense is young and hungry and they showed last week that they are not messing around. They have a stout D-line anchored by Leonard "Big Cat" Williams, a stingy cornerback tandem anchored by Trumaine Johnson and an elite safety combination between Jamal Adams and soon to return to the field Marcus Maye. No matter who you are, it is going to be difficult to move the ball on this team. This week they get Ryan Tannehill.
Los Angeles Chargers vs. BUF – No matter what team is playing against Josh Allen and the Bills, you start that team's defense in fantasy football.
Sit Em'
Quarterbacks:
Tom Brady vs. JAX – The Jaguars are without a doubt the best defense in the NFL, and they are still furious from losing the AFC Championship game in which they had a 10 point lead in the fourth quarter. The Jags are going to look to make a statement in this game, and when Brady is pressured a lot and takes a couple sacks, he gets rattled. He is one of the all-time greats, but if you look back at his worst games in the past 10 years, they are all games in which the defense was in his face from the kickoff. This is going to be a long afternoon for Brady. Projection: 270 yards, 2 TDs, 2 INTs
Dak Prescott vs. NYG – Last week, the Cowboys' passing offense looked atrocious. Dak was off on his throws and his wide receivers could not get any separation. The Giants secondary is far superior to the Panthers' so this week should be even tougher for Dak. However, the Giants have zero pass rush so Dak will have plenty of time to find his receivers on Sunday night. In another battle of this epic rivalry, this is the time for Dak to show what he can do, but when your best receivers are the likes of Allen Hurns, Cole Beasley, and an unproven rookie, it is probably not going to be much. Projection: 172 yards, 1 TD, 26 rush yards.
Marcus Mariota vs. HOU – Mariota is going to play, but his receiving corp is decimated. Rishard Matthews is still not at full health, Corey Davis is dealing with another hamstring injury, though he is going to play, and Delanie Walker is done for the year. Add in the fact that the Texans have an elite defensive line and it spells disaster for Mariota. Not to mention that head coach Mike Vrabel said in a press conference that we might see both Mariota and Blaine Gabbert on Sunday. Look elsewhere for your starting signal caller this week. Projection: 198 yards, 1 TD, 32 rush yards.
Running Backs:
Marshawn Lynch vs. DEN – Without the touchdown on the opening drive last week, Lynch had a terrible game, topping out at 11 carries for 41 yards. He faced a stout run defense in a game that the Raiders were trailing and this week should be no different. They will be in catch-up mode in the second half and that means less work for Lynch and more for Jalen Richard. Hopefully, you have better options this week. Projection: 56 yards, 2 receptions for 21 yards.
Jamaal Williams vs. MIN – Williams was underwhelming to say the least last week against the Bears. This week, he faces the second-best defense in the league and Aaron Rodgers might not play, which will inevitably lead to stacked boxes for Williams. Even if Rodgers does play, he will primarily be in shotgun formation in order to compensate for his injured knee which will lead to more of a pass blocking role for Williams. No matter how it shakes out, it is going to be a miserable game for Williams. Projection: 42 yards, 2 receptions for 12 yards.
Derrick Henry vs. HOU – With a banged up offensive line and a game script that favors the passing game, Henry will have another disappointing afternoon. The Texans have an elite defensive line and Henry does not have great initial burst, so his ceiling is capped in this matchup. Hopefully, he can fall into the end zone for fantasy owners, but I wouldn't count on it. Projection: 64 yards, 1 reception for 6 yards.
Chris Carson vs. CHI – This one is easy. The Seahawks have a terrible offensive line and the Bears have one of the best defensive lines out there. Carson will not find many holes to run through on Monday Night Football. This is going to be a Russell Wilson game.
Wide Receivers:
Amari Cooper vs. DEN – Cooper's struggles from last season continued in Week 1 and they are going to continue in week 2. He faces Chris Harris, Jr., arguably the best cornerback in the game, and Derek Carr did not look very competent in Week 1. Fade Amari Cooper once more, and then consider trading for him because his matchups are very tasty moving forward. Projection: 4 receptions for 41 yards.
Chris Hogan vs. JAX – Similar to Amari Cooper, Hogan is in for another disaster performance in Week 2. He will be covered by either Jalen Ramsey or A.J. Bouye, and he looked incredibly rusty in week 1. Phillip Dorsett might be Tom Brady's go-to receiver until Julian Edelman returns, so until we see an uptick in production from Hogan, he needs to be on your bench. Projection: 3 receptions 38 yards.
Brandin Cooks vs. AZ – Cooks has the toughest schedule this year when it comes to cornerback matchups and it starts this week with Patrick Peterson. The Rams also have enough weapons on offense that they do not need Cooks to be a huge part of the game plan this week. The Cardinals were gashed by Adrian Peterson last week, so I expect Todd Gurley to go ballistic. In a game that the Rams should be winning early, Cooks role should be minimal. Projection: 3 receptions for 52 yards.
Robby Anderson vs. MIA – Last week, we saw that Sam Darnold's favorite target is Quincy Enunwa. This does not bode well for Anderson as he only had 1 reception last week, granted, it was a touchdown. However, we can't rely on Anderson to score a touchdown every time he catches the ball, and when he is not being heavily targeted, he has limited upside. Anderson is a stud when he has a quarterback who can sling him the rock downfield, but that is not Sam Darnold's game, at least it isn't yet. He should also see a heavy dose of Xavien Howard this week so keep him on your bench. Projection: 2 receptions 38 yards.
All Green Bay Packers Wide Receivers if Aaron Rodgers does not play vs. MIN – Never ever start any wide receiver that has DeShone Kizer throwing them the ball.
Tight Ends:
Jimmy Graham vs. MIN – Aaron Rodgers does not rely on his tight end. He relies on chemistry and timed throws, and Jimmy Graham relies on jump balls. Graham can no longer get separation from his defenders and he will likely be locked down by Harrison Smith on whatever targets he does get. Projection: 2 receptions for 14 yards.
Trey Burton vs. SEA – The Seahawks do not have a very good defense, but their diamond in the rough is Earl Thomas. Burton will see a heavy dose of Thomas, and I expect Allen Robinson to become a larger part of the game plan in the passing game. I also do not trust Mitch Trubisky to get Burton the ball very often. He was wide open in the end zone with no one around him last week and Trubisky never even looked his way. Projection: 3 receptions for 31 yards.
Kyle Rudolph vs. GB – Rudolph the Red Zone Reindeer saved his fantasy owners last week with a touchdown on his only catch of the game. What was more alarming was he was only targeted twice. Kirk Cousins has confidence in his receivers and Dalvin Cook is a huge part of the passing game as well. When you add in the fact that the Packers are very stingy against tight ends, it is going to be another poor performance for Rudolph on Sunday. Projection: 2 receptions for 19 yards.
Defense/Special Teams:
Carolina Panthers vs. ATL – The Falcons usually play some of their best football against the Panthers. Luke Keuchly is not 100% and their secondary is mediocre at best. Matt Ryan and Julio Jones should light this team up on Sunday.
Dallas Cowboys vs. NYG – The Cowboys were a disgrace last week, the only bright spot was their defense. However, this week they get their arch rivals and have to contend with Odell Beckham, Jr., Sterling Shepard, Evan Engram, and Saquon Barkley. Add in the fact that Eli Manning always takes it to the Cowboys in Jerry's World and you get a recipe for disaster if you are starting this defense.
Questions and comments?
thescorecrowsports@gmail.com
Follow Us on Twitter @thescorecrow
Follow Us on Reddit at u/TheScorecrow
Follow Frank Dyevoich on Twitter @Fantasy_Giant
Main Credit Image: Embed from Getty Images