Pranav Ramasubramanian | September 15th, 2018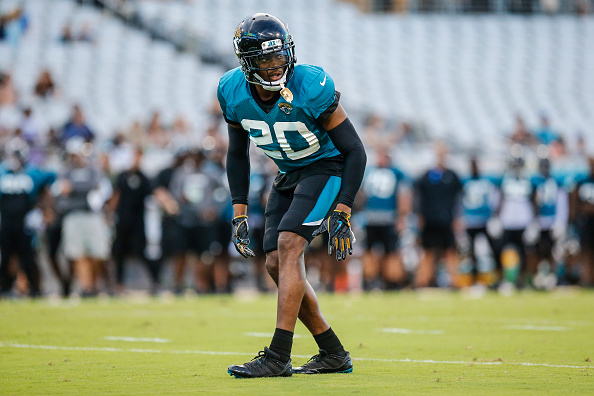 Eight months ago the New England Patriots narrowly beat the Jacksonville Jaguars 24-20 to advance to yet another Super Bowl. It was a hard-fought game on both sides. There may have been a few questionable calls, but that's an argument for another time. Let's focus on the game this Sunday, and see how these two AFC heavyweights stack up the second time around.
The New England Patriots don't have Danny Amendola anymore because he decided to go to the Miami Dolphins. He was a big key in last year's matchup with two touchdowns and the big punt return to help New England get the last minute win. Along with Julian Edelman's four-game suspension, they might feel this loss. Dion Lewis and Malcolm Butler left for the Tennessee Titans. They lost some running back prowess that they need since they lost Jeremy Hill to an ACL injury for the rest of the season. Rex Burkhead and Sony Michel are questionable for this week's showdown vs the Jacksonville Jaguars. Tom Brady had a banged up finger, but now he seems 100% and that means to never count Brady out. Jacksonville has the physical advantage, but the Patriots have the mental advantage. Here are some of the key matchups, and what might happen in this game.
Jalen Ramsey vs Rob Gronkowski
Jalen Ramsey talked a lot of trash on Odell Beckham Jr. and lost his duel covering him despite only allowing Beckham Jr. 53 yards for 3 catches. It was because Eli didn't throw the ball more precisely. Odell Beckham Jr. missed out on the game-winning touchdown and more yards as Jalen Ramsey was clearly beat on some play designs. Now Jalen Ramsey has to recover and refocus his attention to the NFL's best tight end, Rob Gronkowski for Week 2. Rob Gronkowski has been shut down by the opponent's best cornerbacks in the past two seasons only catching 1 touchdown with 192 yards against them while scoring 9 touchdowns for 1,338 yards and 79 receptions for the season. He plays better when matched up against safeties and linebackers, but then again Jalen Ramsey has only covered a tight end three times in his career.
With all this talk about a potential Gronk vs. Jalen Ramsey matchup, it's interesting to note that Ramsey has been targeted in man coverage vs. a TE just three times in his career. Covering Gronk for all or most of Sunday would be a new experience for him. pic.twitter.com/uO8WseGnMM

— Zack Cox (@ZackCoxNESN) September 14, 2018
Jalen Ramsey has shown his prowess in these three matchups, but Rob Gronkowski has a good five inches on Ramsey and you better believe that Gronkowski will be looking for revenge after being knocked out of the AFC Championship by Barry Church in the first half. Ramsey has trash-talked Gronkowski all week to set up this one-on-one showdown. Ramsey is one of the best corners in the league so he may limit Rob Gronkowski for a little bit. However, Tom Brady will figure out how to get his favorite target the ball. People seem to be riding high on the Jacksonville defense, but Gronkowski is a freak of nature and stopping him will be too much for Jalen Ramsey without really having that much experience covering tight ends.
Tom Brady's Intellect vs Jacksonville's Talented Defense
I mean Tom Brady is one of the smartest quarterbacks in the NFL and he knows exactly how to set things up with his pre-snap action. He was only sacked three times in the last meeting against the vaunted pass rush of the Jacksonville Jaguars, reading the receivers quickly and then getting the ball out very fast. Then, of course, there is this gem of a stat that shows how efficient Brady is when playing top pass defenses as well.
https://twitter.com/ftbeard_17/status/1040227656443125767
Tom Brady also comes through in the clutch as the Jaguars had a ten-point lead 20-10 with 10 minutes to go, but he led two touchdown drives late with both of them being caught by Amendola to rally the New England Patriots into the Super Bowl. Brady can smell blood even if it's late in a game and once he does it's over for the opposing team so the Jacksonville Jaguars have to close this one out early just to have a chance. Brady can make even the ordinary receiver look very good with how much he practices and studies with them so expect receivers like Chris Hogan, Cordarrelle Patterson, and Phillip Dorsett to be ready. These receivers may be ordinary, but Tom Brady should find yet another way to make them look great in the rematch against the Jags.
Bill Belichick's Defensive Schemes vs Jacksonville's Offense
Come on now is this even any kind of debate on who's better in the department? After stopping Deshaun Watson in Week 1 and Leonard Fournette's status up in the air I think it's fair to say that the Patriots will have a clear advantage here even though they lost some big names in Malcolm Butler and defensive coordinator, Matt Patricia. They always seem to figure out a way to stay gritty no matter the personnel on the field. Bill Belichick keeps it that way by mixing it up between a 3-4 and 4-3 perfectly. Belichick knows that with his schemes it's important to make sure the defensive player executes his defensive responsibility well so he designs plays that are in their style to put them in the best position to succeed. The Patriots should revert to man coverage as the Jacksonville Jaguars receivers really aren't that good. It should work like a charm because Blake Bortles doesn't throw the ball well anyway. He also uses the big nickel expecting the defense to work together and figure out their issues, but the real issue with the defense of Bill Belichick is good personnel leaving or being traded. However, the New England Patriots should get the Jacksonville Jaguars off the field enough to help them have a chance to win this game.
Final Thoughts and Prediction
The New England Patriots are more mentally and schematically sound than the Jacksonville Jaguars despite the fact that the Jaguars have the physical and personnel advantage. Rob Gronkowski will have a big game after last year's rare blip on the road due to his injury as Jalen Ramsey won't be able to handle him and Tom Brady should be smart enough to pick apart this Jacksonville defense well enough to win late in this game. Bill Belichick will keep the defense ready, who will get that one stop that will seal the game. The game will be in Jacksonville so you know the crowd will already be going crazy. This should be a really good rematch to tune into.
Jaguars CB Jalen Ramsey on facing Patriots TE Rob Gronkowski. Ramsey previously said he didn't think Gronk "is as great as people think he is." pic.twitter.com/23erBn80vM

— Mark Long (@APMarkLong) September 13, 2018
Final score prediction:
New England Patriots 27
Jacksonville Jaguars 24
Questions and comments?
thescorecrowsports@gmail.com
Follow Us on Twitter @thescorecrow
Follow Us on Reddit at u/TheScorecrow
Follow Pranav on Twitter @PranavRama1
Main Credit Image: Embed from Getty Images