Richard Benites | September 13th, 2018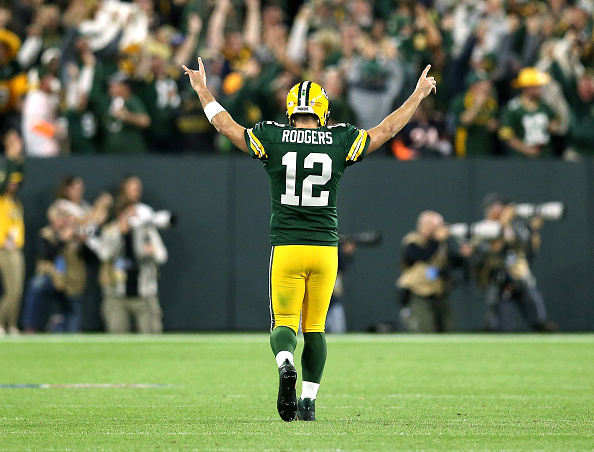 Phew, football is back and will be here to stay for every weekend until February. Week 1 of the new NFL season has now concluded and we've already experienced a fair share of memorable moments. From shocking upsets to incredible comebacks, there's plenty to be excited for from here on out. In case you missed out on any bit of the action, here are our picks for the NFL Week 1: Award Winners.
1) The Moving the Chains, But Not the Scoreboard Award: Steve Sarkisian
Thursday's opening night game, between the Falcons and Eagles, proved to be quite a peculiar matchup. On one end, you had the defending Super Bowl champs, on the other, you had one of the favorites to make it all the way next year. However, neither side ever really broke away with a lead and the game was met with a flurry of penalties and mistakes.
At the end of the day, the match-deciding catalyst was the Falcons' inefficiency in the red-zone; specifically, Atlanta's offensive coordinator Steve Sarkisian bears the bulk of the blame here. The play calling, in the final third of the field, confused fans on both sides and at times seemed to upset quarterback Matt Ryan. Star wideout Julio Jones had another exceptional performance, tallying 169 total receiving yards, yet for some reason, he was subbed out several times once his team reached the red-zone; alright, fair, maybe he was tired. Yet when Julio was out there he wasn't targeted on the main route nearly as much as he should've been; not cool Sarkisian, not cool.
2) The 2nd Annual Baltimore Blowout Award: Buffalo Bills
Last year, the Ravens destroyed the Dolphins by a score of 40-0. This year, they hosted the Bills instead…and thrashed them 47-3. We're here for such colossal defeats, Bills fans not so much.
The good news, however, Buffalo shouldn't look too deep into this loss. The Ravens boast an elite-tier defense and are an overall dark-horse playoff team. Not to mention, rookie quarterback Josh Allen was the key proprietor of the Bills' only scoring drive once he stepped on the field; spoiler: he's much better than Nathan Peterman and as a result, will be starting in Week 2. Expect a much closer affair but against an opponent that is equally as challenging.
3) The YOU SHALL NOT PASS…Week 1 of Your Survivor League Award: Ryan FitzMAGIC
As many of you already know, last week's major upset went to none other than the Buccaneers and Saints game. The Saints were the host in this one and many fans and pundits alike had this one chalked up as an easy one for the win column.
Enter Ryan Fitzpatrick, veteran quarterback and backup to Tampa Bay's Jameis Winston. Fitzpatrick threw for 417 yards and 4 touchdowns in New Orleans last Sunday; leaving everyone who chose the Buccaneers as a clear-cut loser in their Survivor League very, very sad.
4) The Murphy's Law Award: Browns v Steelers
Big Ben slimmed down in hopes of leading the Steelers to another Super Bowl run, HBO's Hard Knocks showed us that this year's Browns team is a whole new beast, all signals pointed to a great Week 1 matchup in Cleveland, Ohio. What could possibly go wrong?
Per Murphy's Law, everything went wrong. It was a wet and windy day, Roethlisberger kept turning over the ball, and Browns' head coach Hue Jackson had some poor decision-making moments. This game ultimately ended in an overtime tie after both kickers just couldn't get the ball through the uprights. Possessions were fumbled and opportunities to take over the game were wasted, a deserved tie through and through; fun fact: this was the Browns' best start to a season (0-0-1) since 2004.
5) The 'That's a Cute 20-0 Lead You Got There' Award: Aaron Rodgers
The title to this award is what Green Bay quarterback Aaron Rodgers probably said after returning to the field at halftime…probably.
Aaron Rodgers and the word 'comeback' are almost synonymous at this point. A very slow Sunday Night Football start for the Packers was capitalized upon by a terrifying Bears pass-rush, led by defensive end Khalil Mack. To make matters worse, Rodgers left the field early in the game due to injury and at first, it appeared to be a very serious one at that. Nevertheless, he somehow managed to step back out and lead his team to a late victory, while we all couldn't manage to keep our cool as we watched it all go down. Bears fans, we're sorry. Rodgers, take a bow.
6) Honorable Mention: Every 1st-Year Head Coach
So you think you can handle the big league as the head coach of your own team, huh?
Frank Reich, Pat Shurmur, Steven Wilks, Mike Vrabel, Matt Nagy, Matt Patricia, and Jon Gruden; these are all the names of every 1st-year head coach to make and lose on their coaching debut this season. Wow. Consider this as your welcome (back for Gruden) to the NFL (as a head coach) moment, you're all in good company.
Questions and comments?
thescorecrowsports@gmail.com
Follow Us on Twitter @thescorecrow
Follow Us on Reddit at u/TheScorecrow
Follow Richard Benites on Twitter @RichardIBenites
Main Credit Image: Embed from Getty Images