Scott Burke | September 12th, 2018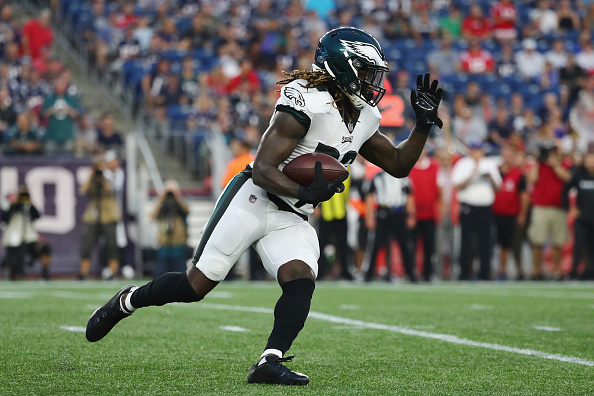 Week one is officially in the books and to the surprise of no one, there were fireworks everywhere. As is normally the case, week one brought about upsets, disappointments, and shocking performances. With that said it's time to see who were the biggest movers in the Week two addition of The Scorecrow NFL Power 16.
The Scorecrow NFL Power 16
1. Philadelphia Eagles (1-0)
Last Week Ranking: 1
Week 2: @ Tampa Bay Buccaneers
The Eagles used their defense to win the season opener on Thursday night, swarming Matt Ryan and sacking him four times and picking him off once. The Eagles held on a red zone stand to end the game. Nick Foles will need to be better in the absence of Carson Wentz.
2. Los Angeles Rams (1-0)
Last Week Ranking: 5
Week 2: vs Arizona Cardinals
It took the Rams a full half of football to really get going on Monday night, but boy did they turn it on. Todd Gurley ran for 108 yards and a touchdown. The defense forced three interceptions of Derek Carr, including one returned for a touchdown.
3. New England Patriots (1-0)
Last Week Ranking: 2
Week 2: @ Jacksonville Jaguars
Tom Brady threw three touchdown passes to three different receivers. Rob Gronkowski caught seven passes for 123 yards and a touchdown. The defense kept DeAndre Hopkins under 100 receiving yards and Deshaun Watson under 200 yards passing.
4. Minnesota Vikings (1-0)
Last Week Ranking: 3
Week 2: @ Green Bay Packers
Kirk Cousins was smooth in his Vikings debut throwing for 244 yards and two touchdowns. Stefon Diggs and Kyle Rudolph caught touchdown passes, Dalvin Cook looked healthy. The defense forced four turnovers and three sacks.
5. Jacksonville Jaguars (1-0)
Last Week Ranking: 4
Week 2: vs New England Patriots
The Jaguars defense kept the Giants in check for most of the game. Blake Bortles minimized his mistakes. T.J. Yeldon played well in replace of Leonard Fournette who left the game with a hamstring injury. Fournette is listed as day to day.
6. Green Bay Packers (1-0)
Last Week Ranking: 7
Week 2: vs Minnesota Vikings
In a story we have seen so many times before, Aaron Rodgers led his team to a comeback victory. Rodgers suffered a leg injury in the first half and it is worth watching going forward. Randall Cobb capped off the 21-point 4th quarter with a 75-yard touchdown reception.
7. Baltimore Ravens (1-0)
Last Week Ranking: N/A
Week 2: @ Cincinnati Bengals
The Ravens produced the biggest blowout of the week, beating the Buffalo Bills 47-3. They jump into the seventh spot after not being ranked last week. Joe Flacco threw for 236 yards and three touchdowns. The defense held Nathan Peterman to 24 yards passing, forced two interceptions and had six sacks.
8. Kansas City Chiefs (1-0)
Last Week Ranking: 13
Week 2: @ Pittsburgh Steelers
The Patrick Mahomes era got off to a smashing start. Mahomes threw for 256 yards and four touchdowns. Tyreek Hill caught two touchdowns and also had a punt return for a touchdown. If the defense improves, the Chiefs could be dangerous in the AFC West.
9. Pittsburgh Steelers (0-0-1)
Last Week Ranking: 8
Week 2: vs Kansas City Chiefs
The Steelers turned the ball over six times in the slop against the Cleveland Browns. They blew a 14-point 4th quarter lead and completed the first week one tie in nearly 50 years. James Conner had 192 total yards and two touchdowns replacing Le'Veon Bell.
10. New Orleans Saints (0-1)
Last Week Ranking: 6
Week 2: vs Cleveland Browns
The good news is the Saints scored 40 points. The bad news they gave up 48. The defense had no answer for Ryan Fitzpatrick and the Tampa Bay Buccaneers. They will look to right the ship against the Browns at home. Alvin Kamara scored three touchdowns and Michael Thomas caught 16 passes.
11. Carolina Panthers (1-0)
Last Week Ranking: 12
Week 2: @ Atlanta Falcons
The Panthers defense chased Dallas Cowboys quarterback Dak Prescott all over the field, sacking him six times. They held Ezekiel Elliot to under 70 yards rushing and Christian McCaffrey touched the ball 16 times for 95 yards.
12. Los Angeles Chargers (0-1)
Last Week Ranking: 9
Week 2: @ Buffalo Bills
Philip Rivers threw for 424 yards and three touchdowns and the Chargers had two players eclipse 100 yards receiving (Keenan Allen and Melvin Gordon). The defense, that was so good last year, got picked apart by the Chiefs offense. They will look to right the ship against a Bills team that lost by 44 points in week one.
13. Washington Redskins (1-0)
Last Week Ranking: N/A
Week 2: vs Indianapolis Colts
One of the most complete team wins in week one belonged to the Redskins. A road victory that saw Alex Smith throw for 255 yards and two scores and Adrian Peterson rush for 96 yards and touchdown. The defense forced Arizona Cardinals fans to start calling for Josh Rosen to replace Sam Bradford.
14. Denver Broncos (1-0)
Last Week Ranking: N/A
Week 2: vs Oakland Raiders
Von Miller wreaked havoc against the Seattle Seahawks offensive line. Miller and the Broncos defense sacked Russell Wilson six times and forced three turnovers in the 27-24 victory. Case Keenum threw for 329 yards and three touchdowns in his Broncos debut.
15. Cincinnati Bengals (1-0)
Last Week Ranking: N/A
Week 2: vs Baltimore Ravens
Andy Dalton rallied the Bengals to victory over Andrew Luck and the Indianapolis Colts week one. Dalton hooked up with A.J. Green for a touchdown and Joe Mixon ran for 95 yards and a touchdown.
16. New York Jets (1-0)
Last Week Ranking: N/A
Week 2: vs Miami Dolphins
Outside of the Bucs upset of the Saints, the Jets 31-point victory over the Lions Monday night was the biggest surprise of the week. Sam Darnold was pick-sixed on his first pass attempt but recovered to throw for 198 yards and two touchdowns in his debut. The Jets scored a rushing, passing, defensive and special teams TD in their 31-point 3rd quarter.
Questions and comments?
thescorecrowsports@gmail.com
Follow Us on Twitter @thescorecrow
Follow Us on Reddit at u/TheScorecrow
Follow Scott Burke on Twitter @Scot557
Main Credit Image: Embed from Getty Images