Frank Dyevoich | September 8th, 2018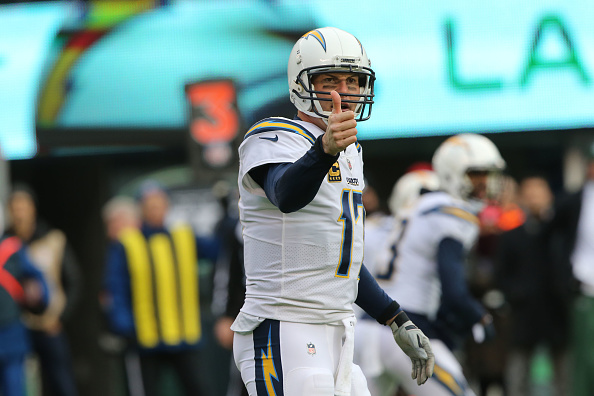 Fantasy Football is all about playing the matchups. Week 1 is the most unpredictable week of the fantasy season, but we know enough about the teams to make some pretty safe matchup decisions. The following are players in each position that I think you should start or sit based on their week 1 opponents. But don't get cute. Only sit these players if you have better options, not simply different options. You should never be sitting Marshawn Lynch for Giovani Bernard.
Start Em'
Quarterbacks:
Phillip Rivers vs. Kansas City Chiefs
The Chargers should have one of the most explosive offenses in the NFL this year, and it starts in Week 1. Kansas City has an atrocious pass defense, safe for Eric Berry, and Rivers should have a field day in what should be a high scoring affair. Projection: 345 yards 3 TDs.
Andy Dalton vs. Indianapolis Colts
Similar to the Chiefs, the Colts have no one in their secondary that pose any kind of threat to the Bengals' passing game. Dalton should be able to hang back and pick apart that defense with an improved offensive line. Projection: 325 Yards, 3 TDs.
Running Backs:
Royce Freeman vs. Seattle Seahawks
Freeman won the RB1 job for the Broncos easily. He should get off to a fast start against a depleted Seattle defense and reward the owners that took him. Projection: 115 yards, 1 TD, 3 receptions for 35 yards.
James White vs. Houston Texans
This game should be a shootout, and White should command the receiving work for the Patriots. With no Julian Edelman, and a hampered Rex Burkhead and Sony Michel, White could be in for a monster day. Projection: 42 yards, 7 receptions for 92 yards and 1 TD.
Jordan Wilkins vs. Cincinnati Bengals
With Marlon Mack expected to miss several weeks, Wilkins is the RB1 for this team. He should get off to a fast start against a mediocre Bengals run defense and be involved in the passing game as well. Projection: 86 yards, 1 TD, 3 receptions for 28 yards.
Carlos Hyde vs. Pittsburgh Steelers
Hyde should get plenty of carries in this game as the Browns attempt to establish the run early on. He is the clear-cut bell-cow for this team and should have a minimum of 20 touches against a mediocre Pittsburgh defense. He is likely RB depth on your roster, but he should be started on Sunday. Projection: 95 Yards, 1 TD, 4 catches for 36 yards.
James Connor vs. Cleveland Browns
Le'Veon Bell is holding out. James Conner is the RB1 for the Steelers. He is a must-play every week until Bell returns. No analysis necessary. Projection: 115 yards, 1 TD, 4 receptions for 32 yards.
Wide Receivers:
Brandin Cooks vs. Oakland Raiders
I am not the biggest fan of Cooks on the season, but the Raiders are the perfect cupcake matchup for the Rams to showcase their shiny new toy in front of their home Crowd. It will be one of his best games of the season. Projection: 6 receptions for 116 yards and 1 TD
Emmanuel Sanders vs. Seattle Seahawks
Demaryius Thomas looks like a zombie moving around out there. Sanders has been nothing short of explosive this preseason and Case Keenum showed last year that he loves the slot receiver. If I was a betting man, I would bet that Sanders out produces Thomas this year, and it all starts in week 1. Projection: 8 catches for 109 yards and 1 TD.
Sterling Shepard vs. Jacksonville Jaguars
Odell Beckham, Jr., should be shadowed by Jalen Ramsey the entire game and the Giants should be trailing. This adds up to 35+ pass attempts for Eli Manning and Shepard should see plenty of work in the slot. Matched up against linebackers, a receiver of Shepherd's caliber should have no problem finding holes in the Jaguars' defense. Projection: 7 receptions for 74 yards.
Devin Funchess vs. Dallas Cowboys 
Funchess should have no trouble producing against Dallas' dreadful secondary. Rookie D.J. Moore figures to command a much larger target share as the season goes on, but in Week 1 there will be bunches of Funchess to go around. Projection: 6 receptions for 87 yards and 1 TD.
Tight Ends:
Austin Seferian-Jenkins vs. New York Giants
Last year, the Giants were historically bad against the tight end position, and through four games of the preseason, it looks like they are going to struggle again. ASJ is a safe bet to score a TD this week. Projection: 3 receptions for 37 yards and 1 TD.
Jordan Reed vs. Arizona Cardinals
When Reed is healthy he is a top-five tight end in fantasy football. He practiced all week and is full-go for Sunday. With a tight end happy QB in Alex Smith, you must play Reed every week until he goes down. Projection: 7 receptions 79 yards and 1 TD.
Defense:
Carolina Panthers vs. Dallas Cowboys
The Panthers' have a stacked front seven on defense and Dak Prescott should be uncomfortable all day. Ezekiel Elliot will see plenty of touches, but Luke Keuchly will be in his face all game. It is going to be tough to move the ball against the Panthers this Sunday.
Detroit Lions vs. New York Jets
The Lions get a dream matchup on Monday night when they face Sam Darnold and the New York Jets. The Lions are at home, Darnold is the youngest starting QB ever, and their offensive weapons don't exactly have opposing defenses shaking in their cleats.
Sit Em'
Quarterbacks:
Jimmy Garoppolo vs. Minnesota Vikings
The Vikings were the best team defense in 2017 versus opposing quarterbacks. This year they added George Iloka to their secondary and Sheldon Richardson to their defensive line. It is going to be a long and painful night for the 49ers. Projection: 272 yards, 1 TD and 1 INT
Russell Wilson vs. Denver Broncos
Seattle has one of the worst offensive lines in the league. Denver has one of the best defensive fronts in the league. They also drafted another dominant pass rusher in Bradley Chubb in this year's NFL Draft. With Chris Harris Jr. locking down his best receiver, Wilson will not produce the numbers you drafted him for in week 1. Projection: 260 yards, 2 TDs, 1 INT, 1 fumble, 36 rush yards
Running Backs:
Marshawn Lynch vs. Los Angeles Rams
The Rams should take the lead in this game early which will lead to decreased work for Lynch. Not to mention that the work he does get will be against Aaron Donald and Ndamukong Suh. Projection: 68 yards and 4 receptions for 41 yards.
LeSean McCoy vs. Baltimore Ravens
The Bills offensive line is reeling from the losses of Eric Wood, Richie Incognito and Cordy Glenn. There is also no supporting cast to take pressure off of McCoy so the Ravens' defensive front should live in Buffalo's backfield. Projection: 52 yards and 7 receptions for 48 yards.
Kerryon Johnson vs. New York Jets
The Lions have said that they want to let Johnson develop early in the season. This is his first game as a pro and it is against a stout run defense. With LeGarrette Blount slated as the goal-line back and Theo Riddick as the receiving back, it is unclear what role Johnson will have early on. Projection: 41 yards and 2 receptions for 22 yards.
Wide Receivers:
Marquise Goodwin vs. Minnesota Vikings
The 49ers are in for a rude awakening on Monday Night. The Vikings' defense is among the best in the league, and it stacked with superstar talent at all levels. Goodwin will draw Xavier Rhodes in week 1. No thank you. Projection: 4 receptions for 42 yards.
Doug Baldwin vs. Denver Broncos
He admitted himself that he will probably be playing at 85% this season after suffering a leg injury in the pre-season. Going against Chris Harris, Jr. week 1, I'm not relying on Baldwin to contribute this week. Russell Wilson should be running for his life all day and I expect a rough afternoon for the entire offense. Look elsewhere if you drafted good depth. Projection: 4 receptions for 36 yards.
Robby Anderson vs. Detroit Lions
Robby Anderson is the unquestioned number one wide receiver for the New York Jets but he has a lot of things stacked against him. He has ongoing legal issues, he has a rookie quarterback, and he is going to be shadowed by one of the best cornerbacks in the league. He's a deep ball specialist and we have yet to see Sam Darnold throw the deep ball. I am leaving him on my bench until I can see the chemistry with him and Darnold. Projection: 3 receptions for 41 yards.
Tight End:
Evan Engram vs Jacksonville Jaguars
Facing the league's toughest defense after your first concussion is not a recipe for success. Myles Jack is shaping up to be an elite linebacker and he could prove to be a very difficult matchup for Engram. Projection: 4 receptions for 35 yards.
David Njoku vs. Pittsburgh Steelers
The Steelers are very stingy against the tight end position. The Browns should be trailing early in this game and Jarvis Landry and Josh Gordon should be heavily used against Pittsburgh's weak cornerbacks. Njoku is not likely to see enough targets to be a worthy start in Week 1. Projection: 3 receptions for 22 yards.
Defense:
Chicago Bears vs. Green Bay Packers
Aaron Rodgers at Lambeau Field on Sunday night for their season opener. The Bears are going to get lit up.
Houston Texans v. New England Patriots
The Texans should be a reliable fantasy defense this year, but Week 1 figures to be a shootout, and high scoring games are kryptonite for fantasy defenses.
Questions and comments?
thescorecrowsports@gmail.com
Follow Us on Twitter @thescorecrow
Follow Us on Reddit at u/TheScorecrow
Follow Frank Dyevoich on Twitter @Fantasy_Giant
Main Credit Image: Embed from Getty Images