Pranav Ramasubramanian | September 4th, 2018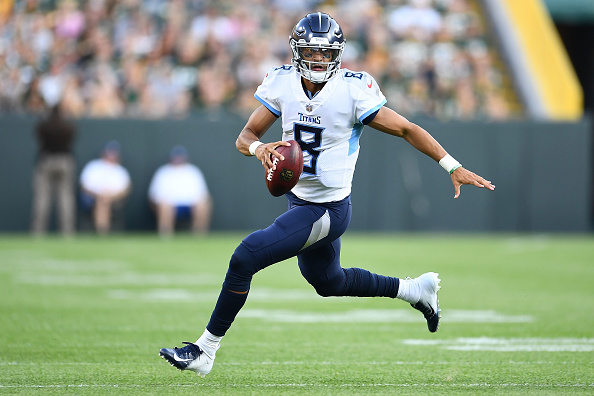 Marcus Mariota led the Tennessee Titans to the divisional round in the playoffs last year. The Titans showed some potential. Can they build on it or will they falter under the pressure of high expectations?
Tennessee Titans Season Preview
Recap of Last Season
After a surprising campaign in the 2016-2017 season going 9-7 with some really solid games, the expectation meter was that Marcus Mariota would be able to carry the Tennessee Titans to the playoffs the next season as they had developed a solid two-headed monster in the backfield with DeMarco Murray and Derrick Henry and a good mix of youth and experienced players on defense. Mike Mularkey, the tight ends coach, was hired to add innovation to the offense and since he was already around the Titans organization the adjustment period was fast. Disaster struck as Marcus Mariota suffered a hamstring injury in Week 4 vs the Houston Texans. The hamstring issue did limit Marcus Mariota's play-calling, and his ankle injury from the previous season also bothered Mariota. The Tennessee Titans stumbled into the playoffs at 9-7 because of a tumultuous finish that featured 3 of the last 4 games being narrow losses to the Arizona Cardinals, San Francisco 49ers, and Los Angeles Rams. The Titans were down big to the Kansas City Chiefs, 21-3. They would ultimately come back and win 22-21 advancing to the divisional game where the New England Patriots disposed of them 35-14 to end their rather peculiar season.
Strengths This Year
The running game is what anchors the Tennessee Titans as they have Derrick Henry and Dion Lewis in the backfield with Derrick Henry being a big size bruising old-style back while Dion Lewis can maneuver through tight spots and tiny holes for big gains. Another key offensive strength is Marcus Mariota, who is a dual-threat quarterback and can run and throw with high efficiency when 100% healthy. The Titans have a great pass disrupter and run-stopper in free safety Kevin Byard, who was flying all over the field with 87 combined tackles(62 solo), 16 deflections, and Kevin Byard's eight interceptions led the league. Many of their core players are players are young like Marcus Mariota, Dion Lewis, Derrick Henry, Kevin Byard, Adoree' Jackson, Corey Davis, and Rashaan Evans meaning that they will have fresh legs and energy late in games. Marcus Mariota has always had a big time consistent tight end target to throw it to for crucial downs and tight situations in Delanie Walker, who boosts the Tennessee Titans passing game with 74 receptions for 807 yards, three catching touchdowns, and one rushing touchdown. He reached the Pro Bowl once again in 2017.
Weaknesses This Year
The biggest issue with the Tennessee Titans is their consistency, which is expected with their core consisting of young players. One game they look like a serious AFC playoff threat and the next game they look out of sync. Health is also a major concern for Marcus Mariota, who has suffered through an injury-riddled career thus far missing four games to a knee sprain as a rookie, the regular season finale to a broken fibula in 2016, and a hamstring injury along with a knee sprain in 2017. Mariota will finally be 100% healthy and it's key that he stays this way, but given Mariota's injury history, we can't count on it. The Tennessee Titans always seem to be changing their head coaches as they fired Ken Whisenhunt for Mike Mularkey, who only got the opportunity to coach for one and a half seasons before getting fired as well. Tennessee will have to be sharp this year. They have to play mistake-free football as last year they gave up 17 fumbles and 8 interceptions costing them points and wins.
Additions/Improvements
The biggest addition for the Tennessee Titans is Dion Lewis because they needed a running back to split carries for Derrick Henry after DeMarco Murray's retirement. Dion Lewis, in his first season with 8 starts and 16 games played, tallied 896 yards on just 180 attempts (4.98 YPC) showing that he can produce in a reduced role. The Tennessee Titans added two more offensive players in free agency with one offensive lineman and one quarterback in Blaine Gabbert, the quarterback from the Arizona Cardinals, who was signed to a be insurance for Marcus Mariota as the backup. Kevin Pamphile, an offensive guard from the Tampa Bay Buccaneers, was signed because of his experience in a zone-blocking scheme in Tampa Bay that will help Tennessee get more yards running the ball. The Titans also signed one defensive player in free agency with the signing of Malcolm Butler, cornerback from the New England Patriots, who was frustrated at being demoted to the No.2 cornerback when he was still playing like a lockdown corner with 60 tackles, 12 passes defended, two interceptions, and three forced fumbles in 2017. The Tennessee Titans also managed to find a new coach after firing Mike Mularkey in Mike Vrabel, defensive coordinator from the Houston Texans to shore up the defense. The Titans didn't draft many players in the 2018 NFL Draft as they only drafted four with three players being on the defense: Rashaan Evans, inside linebacker out of Alabama, who is very fast for his size at 6'2″, Harold Landry, outside linebacker out of Boston College, who has great ability to get to the quarterback being very instinctive in movements with his 16.5 sacks in 2016, and Dane Cruikshank, safety out of Arizona, who was a willing run stopper with 75 tackles last season.
Subtractions/Regressions
The biggest subtraction for the Tennessee Titans is wide receiver Eric Decker. He was their only reliable receiver last year with 54 receptions for 563 yards helping the Tennessee Titans come up clutch in big moments like scoring the go-ahead touchdown against the Kansas City Chiefs in the Wild Card. DeMarco Murray decided to retire last year after a grade three MCL tear that knocked him out of the last three games. The Titans will see an easy schedule evaporate as Andrew Luck and Deshaun Watson return to 100% health. Having to play some good playoff teams like the Philadelphia Eagles and the New England Patriots along with teams pushing for the playoffs like the Los Angeles Chargers, Dallas Cowboys, and New York Giants could prove difficult. Xavier Su'a-filo fell prey to the final 53-man roster cuts as he was cut on Saturday night as the Tennessee Titans lose some offensive tackle depth and experience. Injuries in practice are the worst and that's what happened to safety Johnathan Cyprien, who tore his ACL in an early August practice and is now out for the rest of the season. Cyprien had 57 tackles(38 solo) last year. Another player who didn't survive the final cuts on the 53-man roster was Luke Falk, quarterback out of Washington State, who lit up the Washington State offense with 30 touchdowns, 13 interceptions and 3593 yards with a tight quick release along with arm strength to throw with velocity on deep routes.
Prediction
The Tennessee Titans youth core has to pull together and play like a cohesive unit for the Titans to even think about the playoffs. This means Marcus Mariota must stay 100% healthy all season long because Tennessee's success hinges on him. They will have to navigate through a very tough schedule and will not be a playoff team this season, finishing 6-10 and losing to elite teams like the Philadelphia Eagles and New England Patriots. The Titans will also have a tough time adjusting to Mike Vrabel's new schemes early on, which will cost them. The Tennessee Titans need too many things to go right and for a young team some years are just tough and this will be that year. The Tennessee Titans will be an interesting watch with all of their free agency splashes but expect them to regress a little bit because of a very tough schedule.
Questions and comments?
thescorecrowsports@gmail.com
Follow Us on Twitter @thescorecrow
Follow Us on Reddit at u/TheScorecrow
Follow Pranav on Twitter @PranavRama1
Main Credit Image: Embed from Getty Images