Bruce Cagle Jr. | September 3rd, 2018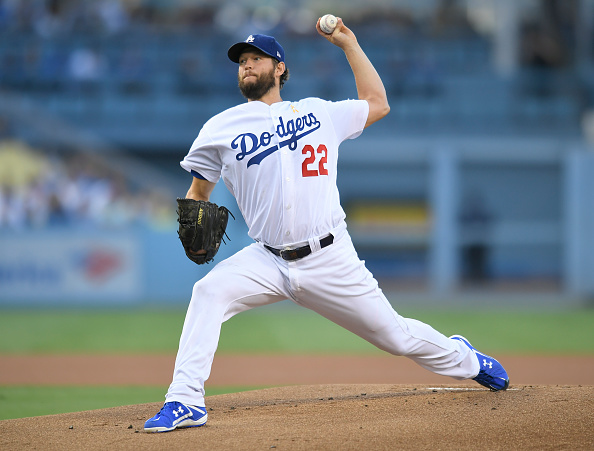 Here we find ourselves already in September. The final month of the season and the playoff race has yet to separate. The NL West is as competitive if not more than last year. The NL East will have some new faces representing them. Not to mention the NL Central is occupying three of the five playoff spots right now.
1. Chicago Cubs (even 81-55) Sitting atop the NL Central by over 5 games, the Cubs will continue to ride the MVP-caliber season from Javier Baez. Today with another multi-hit performance including his 30th home run, Baez joins only Mike Trout and Jose Ramirez as the only players this year with 30+ home runs and 20+ stolen bases. Setting career highs in virtually every category,  Baez will need to continue to his improvement on driving the ball (37.2 HardCon%, 22.9 LD%) in 2018 for the Cubs to reach their goal. Another bat the Cubs look to continue to ride is Anthony Rizzo. After slumping in the first half, Rizzo is making up for it lately. Since the All-Star break he his hitting an impressive .340 with 10 home runs. Kris Bryant also returned on the 1st, getting healthy and winning is a great combination for September and October.
2. LA Dodgers (+4 75-62) Seems to be more of the same for the Dodgers: Kenley Jansen struggles, then looks amazing, and Justin Turner keeps hitting clutch home runs. It's not just Turner hitting clutch home runs but Matt Kemp and Enrique Hernandez as well. Kemp's might have been the biggest for the club. Down 0-2 in the 8th running out of time, Kemp connected on a hanger from Archie Bradley on Saturday night and sent it out for a 3-run shot. Kiki made his presence felt in back to back games, on Friday night he hit a game-tying solo bomb in the 8th, then flashed the leather with an amazing sliding play into the shallow right side to grab the first out in the 9th inning after the previously stated home run from Kemp. The push has begun up the power rankings and up the NL West standings.
3. St Louis Cardinals (+1 76-61) The streak of 10 straight series victories ended with the Cardinals' loss to the Cincinnati Reds, which surprisingly was the last team to win a series versus them. Making solid moves during this time of year is a must, and the Cardinals are no exception. They went and claimed Matt Adams off waivers earlier in the month. It doesn't blow us away as a blockbuster, but Adams can hit righties quite well. On the year, he has 17 home runs versus right-handed pitching (RHP) with a very serviceable .255/.333/.506 triple slash. Also sporting wRC+ of 124 shows he is an above average bat versus RHP. It won't blow people away but it is a solid pick up for depth.
4. Arizona Diamondbacks (-2 74-63) Highlighted in the Matchup of the Week last week, we already knew this would be an interesting weekend. Boy did it live up to the hype, all four games within one run of each other. Overall, the Diamondbacks came out on the wrong end more than they would have liked. Dropping two out of three against San Fransico Giants didn't help their cause and being shut out both of those losses was concerning. Then they went on to drop three out of four against the rival Dodgers. They couldn't have lost them in a worse fashion. Two 8th inning leads lost and one 9th inning lead lost. Pretty soon Matt Kemp won't be allowed back into Arizona. He had a strong series against the D'backs,.400 AVG 1 HR 5 RBI and two game-winning hits will leave Arizona with a sour taste in their mouth.
5. Atlanta Braves (-2 76-60) Not the ideal week for the Braves. First, splitting a series with the Rays, losing the makeup game to the Cubs, then struggling versus the Pirates. Let's give credit where it is due, the Rays are a very solid team this year, the Cubs have been on top all year and the Pirates have been in the wild card hunt the whole season. While those are tough opponents, they will not get easier in the next week either. Three games hosting the Red Sox then followed by four on the road against the Diamondbacks. Rookie phenom Ronald Acuna will continue to improve his quest for the Rookie of The Year award (.291/.357/.563 22 HR 11 SB) and power the Braves to the NL East title for the first time since 2013.
6. Milwaukee Brewers (+1 77-61) One of the most active teams this year at the trade deadline in July, the August trade deadline proved to be no different for the Brew Crew. They made moves to go acquire pitchers Gio Gonzalez (145.2 ING 4.57 ERA) and Xavier Cedeno (34 G 2.73 ERA). Along with those two acquisitions, they traded for a switch-hitting power bat in Curtis Granderson (11 HR 302 AB). Now as I don't think this is anything but a depth move, it doesn't hurt. Gonzalez may not be the ace they needed but is definitely serviceable for that rotation. Although, Counsell has been quoted as saying, "If there's a spot to use him in relief, I would consider that as I would for all these guys." The Brewers are all in this year, doing whatever they can to make the postseason with Christian Yelich (.317/.379/.556 27 HR 16 SB) being their driving force.
7. Colorado Rockies (-2 74-62) This is my major problem with this team; inconsistency. They split both series they played versus sub .500 teams. This is after they went 30-16 during the longest stretch in history playing against teams with winning percentage over .500.  The bullpen has been a disaster, even after they brought in Wade Davis, Bryan Shaw, and agreed to a new contract with Jake McGee. The offense isn't what you have come to expect from the Rockies lately, taking multiple steps back this year. In 2018 the Rockies are 10th in R, 12th in HR, 10th in RBI, and 9th in BA. Looking to be a solid borderline top 10 unit, but the steps back are massive dropping from a Top 5 unit in R, RBI, AVG from the previous two years. After all that, they are only a half game back from the division lead.
8. Philadelphia Phillies (even 72-64) The Cubs just sent this team down the rankings for the second straight week. Going 2-4 during a week where you need every win just isn't going to get it done. I thought the pitching staff, led by Cy Young candidate Aaron Nola, would be able to handle the daunting task of winning the division, but it looks as if they are running out of steam when they need it most. Nola got knocked around a bit on Sunday (5.2 IP 4 ER 3 HR) to cap off a week where only one starter was able to go past the 6th inning and Jake Arrieta didn't make it past the third (3 IP 4 ER 2 HR) earlier in the week. This next week could be just what the doctor ordered for the Phillies. They play six games on the road but those six games are against the Marlins and Mets.
9. Washington Nationals (even 68-69) More faces continue to leave the Nationals organization. The latest is Ryan Madson. The Nationals shipped him to LA and received Andrew Istler in return. The Nats should be happy to get something back for Madson, as he just hasn't been that good this year. Rocking an earned run average well over five. There are a few other underlying numbers that have me concerned. When you peel back a layer and look, you'll see his K-BB% plummeted to 13.3% from a little over 26% in 2017. A horrid 66.6% left on base percentage suggests he'll find more success with Manny Machado patrolling short. Since they declared the season over they have added Istler, Andruw Monasterio, Gilbert Lara, KJ Harrison and will also be receiving a player to be named after the Arizona Fall League.
10. San Fransico Giants (N/A 68-70) Getting Madison Bumgarner healthy must be an organizational win regardless of how the Giants finish 2018. They will need to also hope to get a healthy Buster Posey after it was announced he will be missing the rest of the season to undergo hip surgery. They ran into a buzz saw in Noah Syndergaard yesterday, (9 IP 11 K's 1 ER) but had been playing tough baseball of late. Early in the week, they took two of three from the Diamondbacks. What was interesting was the fact they held the D'backs offense to a total of three runs in the whole series. When you look at the Giants week as a whole, they went 3-3, all three of their wins were shutouts.
Matchup of the week 
This week we are going to continue to watch one team, the Arizona Diamondbacks. This is a huge week for them, as I noted above. A big four-game series over the weekend will be something to keep an eye on.
9/6 Zack Greinke vs Anibal Sanchez
9/7 Patrick Corbin vs Kevin Gausman
9/8 Clay Bucholz vs Julio Teheran
9/9 Zack Godley vs Sean Newcomb
September is already starting off strong. Check back next Monday for an update on this crazy race!
Questions and comments?
thescorecrowsports@gmail.com
Follow Us on Twitter @thescorecrow
Follow Us on Reddit at u/TheScorecrow
Follow Bruce Cagle Jr. on Twitter @BruceCagleJr2
Main Credit Image: Embed from Getty Images