Kit Shepard | September 2nd, 2018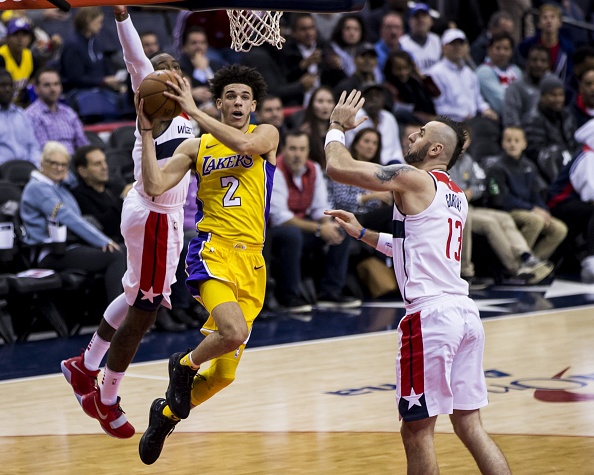 The Lonzo Ball story is already unlike any other in NBA history. From the moment he was drafted by the Los Angeles Lakers a little over a year ago, the point guard was destined to endure the most scrutinized rookie season in recent memory. The pressure he was under is typically reserved for the league's superstars, not teenagers who have yet to play a single professional game.
Many of the towering expectations came from his father, Lavar Ball, who made several outlandish claims that hindered his eldest son significantly prior to his first NBA game. From boasting that he could beat Micheal Jordan in a one-on-one game to arguing that Lonzo was already better than then-reigning MVP Stephen Curry, Lavar's comments painted a colossal target on the rookie's back.
As the season progressed, the pressure on Lonzo only increased. From the opening tip, opposing point guards hounded him aggressively, the media analyzed each mistake in great detail, and Lavar continued to draw negative attention thanks to public spats with Laker coaches. Ultimately a knee injury limited Lonzo to just 52 games and he failed to make the all-rookie first team. Whether the expectations were fair or exaggerated, he failed to live up to them.
However, there were glimpses that Lavar's unwavering belief in his son could eventually be justified. Amid the question marks over his peculiar shooting form, atrocious free-throw percentage and passive nature on the court (which is the antithesis of Lavar) Lonzo's performances were sufficient to give rise to the question of whether his unique talent can make him a franchise leader.
First and foremost, Lonzo's ability as a playmaker demonstrates how he is a part of a rare breed. His supreme court vision allows him to start fast breaks with long outlet passes which allow the Lakers to score regularly in transition, while his pass-first mentality is a breath of fresh air in the current NBA climate of point guards whose primary role is to score. His averaging of 7.2 assists a night was second only to Ben Simmons amongst rookies last season, but Lonzo's assist-to-turnover ratio (2.76) was far superior to the 76ers star. Clearly, Lonzo Ball can run an offense.
The young Laker can score, too. Even if the criticism over his shot mechanics is justified, it does not need solving urgently. Sure, his shooting of 36% from the field and 30% from behind the three-point line is a cause for concern, but those figures will almost certainly rise in the coming seasons. Lonzo can shoot, and he has proven this before. He made over 50% of his shots for UCLA and over 40% of his threes. Although his numbers plummeted as he made the jump from college, performances such as a 6-for-10 return from behind the line in San Antonio – including two key triples in the fourth quarter, show that he can deliver from NBA range. Lonzo has the potential to be a solid scorer, provided he can find more consistency, which should come with time.
At 6'6″, Lonzo has the length to dominate opposing guards physically. With the mean height of a point guard around 6'2″, he has a major edge over many in this position on both ends of the floor, and he averaged of nearly seven rebounds per game last year, second only to Julius Randle amongst Lakers. As he becomes older and his body develops, Lonzo will be able to bully shorter defenders in the post and get some easy buckets, or even his special playmaking gift to set up his team-mates.
There is one teammate, of course, who could be ideal for the 20-year-old moving forward. LeBron James will serve as a mentor to Lonzo, as a player who shares both his unselfish attitude and playmaking prowess. And with LeBron's reputation and star power, there will be a new attraction in LA next season. At times, Lonzo appeared crippled by the pressure that his father had forced upon him but, with perhaps the most recognizable athlete in the world now a Laker, Lonzo will seldom be the center of attention. That may not be music to Lavar Ball's ears, but it could allow his son to quietly thrive.
Lonzo Ball is far from the finished product as an NBA player. Nevertheless, significant improvements are far closer than many perceive. His skills as a passer make him a constant threat with the ball in hand, and if he can find consistency with his jumper and learn to use his height to his advantage, he has the capacity to be a star in the league. Now, with LeBron in town and Lonzo out of the spotlight, he has the perfect opportunity to turn that limitless potential into reality.
Questions and comments?
thescorecrowsports@gmail.com
Follow Us on Twitter @thescorecrow
Follow Us on Reddit at u/TheScorecrow
Follow Kit Shepard on Twitter @KitShepard
Main Credit Image: Embed from Getty Images