Givanni Damico | September 1st, 2018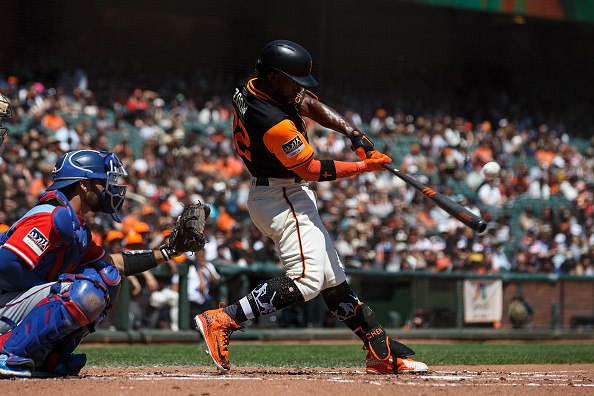 The right field position has been very weak for the Yankees since Aaron Judge went down with a broken wrist in late July, thanks to Jakob Junis. They've been rotating Shane Robinson, Neil Walker, and occasionally Giancarlo Stanton in right field when he isn't playing the role of designated hitter.
As a Yankee fan, I don't even see the point of calling Shane Robinson up. He was hitting in the .260s in Triple-A and he doesn't show off any source of power. Plus he's in his mid-thirties so there is really no promise there. I figured, why not call up a guy who's buried in the system and give him what could be his first and only chance to succeed with the big league club.
Robinson has hit .143 since his call-up with one home run and a pair of RBI. I don't understand why Aaron Boone keeps throwing him out there. It's like that one kid in little league who couldn't hit if his life depended on it, and he always came up in the big situations so everyone was on their knees praying for a walk. Then, of course, he struck out. Shane Robinson is that kid that no one likes. What a perfect opportunity this would be for Clint Frazier. He could really capitalize on Judge being hurt and earn his way onto the team, permanently. But he's been dealing with a concussion and headaches (for a very long time, it seems) and apparently this has held him out. It's too bad because this was his chance.
I think Brian Cashman finally realized that Robinson isn't a capable major league player so he decided a trade needed to happen. Cashman went out and got one of the biggest names on the market in Andrew McCutchen. Cutch is batting .255 with 15 home runs this year. What people don't realize though, is that he plays in one of the most pitcher-friendly stadiums in the league. Pitchers give up fewer home runs in AT&T Park than in any other park.
Important stats to remember considering @TheCUTCH22 and his trade to the Yankees (per @fangraphs):

NYY HR Park Factor as R: 112 (3rd)
SF HR Park Factor as R: 88 (last)

McCutchen Hard% 44.1% (24th)

Good chance you're gonna see a lot more balls leaving the yard for Cutch.

— Kody, Fringe Average Nerd (@kodyclawson) August 31, 2018
This drives down his home run totals and also his batting average. I think this was a very good move for the Yankees because Cutch is now headed to the third most batter-friendly in baseball. His power numbers should shoot up with the short porch in left and right at Yankee Stadium. This had to happen because there's not a Yankees fan on this planet or in outer space that likes Shane Robinson. Cashman had to give up infielder Abiatal Avelino, who is completely buried in this infielder-heavy system, as well as pitcher Juan De Paula who was in the same situation. Don't worry Yankee fans, I don't think this means that Judge will be out for longer than anticipated, but I do think it means that once Judge comes back, Gardner might need to plant himself on the bench. The Yankees have been making very good decisions lately like saying "bye bye" to Birdie and benching him while starting Luke Voit. The Yankees are trending in the right direction.
Questions and comments?
thescorecrowsports@gmail.com
Follow Us on Twitter @thescorecrow
Follow Us on Reddit at u/TheScorecrow
Follow Givanni Damico on Twitter @giodamico15
Main Credit Image: Embed from Getty Images