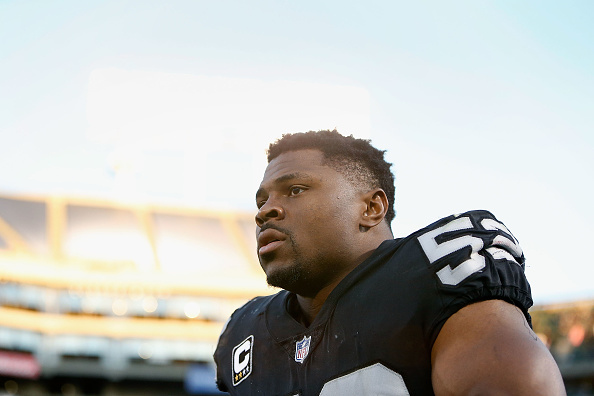 At the time of this writing, you might have heard that Khalil Mack was traded to the Chicago Bears unless you're still waking up on the west coast. The news came out fast and furious this morning being reported from different outlets but none more trusted than Adam Schefter and Ian Rapoport.
Sources to ESPN: Raiders and Bears have an agreement in place to trade Khalil Mack to Chicago. Still working through it, but Raiders now planning to send Mack to Chicago.

— Adam Schefter (@AdamSchefter) September 1, 2018
It's actually 2 first-rounders plus for Mack. https://t.co/gOutZd2tOD

— Ian Rapoport (@RapSheet) September 1, 2018
Naturally, the Twittersphere began to lose it's mind over arguably the second-best defensive player in football being traded to the Chicago Bears.
Jon Gruden is doing essentially the same thing Chip Kelly did: Manufacturing a team that literally only he will love.

— Ryan Disdier (@ryandisdier) September 1, 2018
Raiders fans today.

Dear Jon Gruden,
I hate your stinking guts. You make me vomit. You're scum between my toes!

Love, #RaiderNation ☠️ pic.twitter.com/TnyNoR6wqx

— Mitchell Renz (@MitchellRenz365) September 1, 2018
The first best defensive player in the league Aaron Donald recently got paid handsomely by the Los Angeles Rams in the sum of 6-year, $135 million which included $87 million guaranteed. However, Raider fans, I believe there is a silver lining to be found in the trade made today. Although Twitter seemingly in unison thinks this was a terrible move for the Raiders, I disagree.
The Raiders did receive AT LEAST two first round picks in this deal which is very difficult for any team to pass on. The Giants were reportedly seeking two first-round picks in exchange for Odell Beckham Jr. and did not find a suitor. The most that have been traded for a defensive player was when the Minnesota Vikings gave the Kansas City Chiefs a first-round selection, two thirds and swapped fifth-round picks for Jared Allen. The Raiders didn't exactly trade away a 27-year-old defensive player who was going to command $20M+ in his contract extension for nothing.
Now let's take a look at Khalil Mack's seasons with the Oakland Raiders.
Games
Def Interceptions
Fumbles
Sacks & Tackles
Year
Age
Tm
Pos
No.
G
GS
Int
Yds
TD
Lng
PD
FF
Fmb
FR
Yds
TD
Sk
Tkl
Ast
Sfty
AV
2014
23
OAK
LB
52
16
16
0
0
0
0
3
1
0
0
0
0
4
59
16
7
2015*+
24
OAK
DE/lb
52
16
16
0
0
0
0
2
2
0
0
0
0
15
57
20
14
2016*+
25
OAK
DE
52
16
16
1
6
1
6
3
5
0
3
1
0
11
54
19
16
2017*
26
OAK
DE
52
16
16
0
0
0
0
3
1
0
1
0
0
10.5
61
17
11
Career
64
64
1
6
1
6
11
9
0
4
1
0
40.5
231
72
48
Taking Mack's 2014 season his rookie year out of the equation, Mack still never finished 1st in the NFL in sacks in any of his four seasons. Actually, the closest Mack got was second place in 2015 when he finished with 15 sacks next to J.J. Watt who finished the season with 17.5 sacks. Kahlil Mack earned his first Pro Bowl appearance and his first All-Pro nomination as well. Khalil Mack's numbers declined in his two subsequent seasons. Mack finished his 2016 campaign with only 11 sacks, five forced fumbles, three fumble recoveries and one interception. He earned another Pro Bowl appearance, another All-Pro nomination and won the 2016 Defensive Player of the Year award and with all of the accolades won, he finished 8th in the NFL in total sacks. In 2017 his numbers declined for a second consecutive season. Mack finished the season with 10.5 sacks, tied for 15th best in the NFL and led the Oakland Raiders to only six wins that season. Oakland as a team defense never finished better than 20th overall and that was with Mack on the roster. They had a 32nd place finish in 2014, 22nd in 2015 and 20th in 2016 and 2017. Furthermore, the Raiders only had one winning season with Mack and that was in 2016 when Derek Carr and Amari Cooper posted the best numbers of their career.  However, Khalil Mack is an absolute beast and a freak of nature, possibly the closest player I have seen compared to Lawrence Taylor.
However, with all of that said I believe that the Raiders made the right moved in trading him. His production has declined over the last three seasons despite accumulating numerous accolades in the process. A defensive player's production can be replaced on the field with a good cohesive unit, utilizing draft picks wisely, and a good defensive scheme. No need to look any further than the Seattle Seahawks for reference. The Seahawks Legion of Boom is or was one of the best-known defenses in all of football. That defensive unit contained only one first-round draft pick in Earl Thomas unless you want to include Bruce Irvin as well (ironically now with the Raiders). The stars on that Legion of Boom team weren't assembled, they were created.
No one player has that great of an influence over a game unless they are one of three offensive positions, quarterback, running back, or wide receiver. The fact that Khalil Mack was seeking $20M+ didn't help the situation either. According to Sportrac.com, next years salary cap is expected to be around the $187M mark. If the Raiders were to sign Mack to a deal of around $20M, he alone would account for 10.7% of the Raiders salary cap.
However, here are what the top five earners would look like next year for the Raiders.
| | | | |
| --- | --- | --- | --- |
| PLAYER | POS | CAP HIT | CAP % |
| Derek Carr | QB | $22,500,000 | 12.03% |
| Khalil Mack | DE | $20,000,000 | 10.70% |
| Amari Cooper | WR | $13,924,000 | 7.45% |
| Kelechi Osemele | G | $10,200,000 | 5.45% |
| Rodney Hudson | C | $10,017,000 | 5.36% |
The top five players on the Raiders roster next year including Khalil Mack would have accounted for a whopping 40.98% of the team's salary cap. This is a roster that isn't perfect and in need of improvements would have been limited in its ability to sign any valuable free agents and does not include having to sign their own Amari Cooper who will be an unrestricted free agent following the 2019 season.
Overall, this wasn't the worst thing that could have happened to the Raiders. In fact, it was probably the best move they could have made. Khalil Mack's production has declined over the last three seasons albeit not drastically and the demand of a $20M+ contract against receiving at least two first-round selections in return made this a no-brainer for Jon Gruden and the Oakland Raiders. Time will tell who the real winner was in the trade but as of right now, I am calling it a tie.
Questions and comments?
thescorecrowsports@gmail.com
Follow Us on Twitter @thescorecrow
Follow Us on Reddit at u/TheScorecrow
Follow The Maj on Twitter @TheMaj_Fantasy
Main Credit Image: Embed from Getty Images