Richard Benites | August 31st, 2018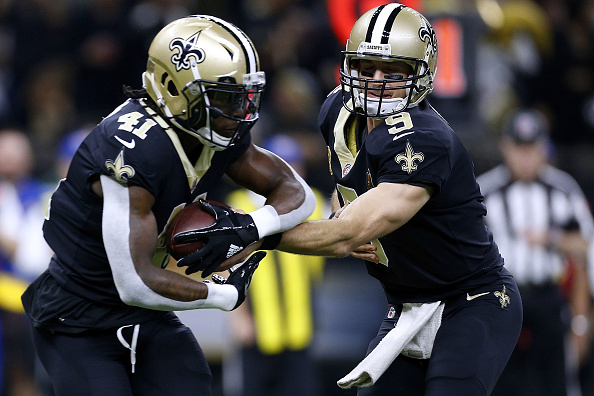 With Week 1 of the NFL Preseason underway, the time for league drafting in Fantasy Football has already begun. Last season, we saw a lot of surprise performances with teams turning their programs completely around and some underdogs going as far as winning the Super Bowl.
However, in terms of Fantasy production potential, not all teams are created equal. So get some more research in before you decide on who exactly you're drafting, and read up on how we're ranking all 32 NFL teams based off fantasy potential.
32. Miami Dolphins
The Dolphins come in at the bottom of the list here because of so many questions tied to almost every position. Primarily, their receiving corps has just been inconsistent; this is partially due to the fact that the quarterback situation in Miami has been difficult as of late.
Running back Kenyan Drake has proven his fantasy relevance following a solid year and seems to be one of the few bright spots on the offensive side of the ball. Their defense has also slowly improved over the years, but still far from any fantasy importance.
31. New York Jets
Hope is renewed once more in New York as fans are cheering on the presence of their new franchise quarterback, rookie Sam Darnold. The offense should slowly find its rhythm as the year rolls along, but the defense, which previously came in second-to-last in fantasy, must improve their playmaking ability.
Wide receiver Robby Anderson broke out as a reliable deep threat last year and should continue to keep racking up those long-yardage fantasy points. At running back, Isaiah Crowell will seemingly be the No. 1 in New York; after Elijah McGuire's foot surgery will keep him sidelined for some time.
30. Indianapolis Colts
One of the biggest, if not the biggest, comeback narratives this year is that of Indianapolis quarterback Andrew Luck. Fans around the NFL are buzzing as he is set to finally return after not throwing a football for over a year; Luck, playing at his prime, is arguably top-5 in the league for his position.
No other player will benefit more, from such a return, than wide receiver T.Y. Hilton. It's still a bit of a long shot, but if everything goes smoothly, this dynamic duo should light up those fantasy scoreboards.
29. Baltimore Ravens
Last week's Hall of Fame game, between the Bears and Ravens, proved that there will be an exciting quarterback battle going on in Baltimore. Joe Flacco is expected to get the start, but if he's not careful then Robert Griffin III might finally make a comeback, or Lamar Jackson will uphold his status as a rookie first-round pick.
Neither the halfback or receiving situation, in Baltimore, screams fantasy value. However, the D/ST should once again be kept under consideration, as they are constantly able to pop off and kicker Justin Tucker will definitely put some major points up.
28. San Francisco 49ers
It's the John Lynch show up in San Francisco, as the general manager has made a number of successful additions to the 49ers organization. Specifically, by bringing in head coach Kyle Shanahan and an already promising quarterback in Jimmy Garoppolo; the pair will continue to grow and function better together, as the wins start to slowly pile for the 49ers.
Under the Shanahan offensive system, running back Jerick McKinnon will surely flourish. It would be wise to keep him under your fantasy radar, come draft time.
27. Cleveland Browns
Jarvis Landry, Carlos Hyde, and Tyrod Taylor; these are only a few of the several exciting additions that Cleveland made during the offseason. Not to mention, No. 1 overall draft pick Baker Mayfield will try to outplay his way to the starting role. Nevertheless, the Browns still remain as the team with the most unpredictable, boom or bust, potential.
Almost every offensive weapon on the Browns is fair game for some fantasy relevance, but your safest bet will most likely be a top-20 wide receiver in Josh Gordon. Due to his pass-catching abilities, which separates him from his backfield peers, running back, Duke Johnson is a solid late-round pickup in deeper fantasy leagues.
26. Oakland Raiders
Oakland fans are excited to see where head coach Jon Gruden can lead the Raiders after he was signed to a 10-year deal worth $100M. The team still has a little ways to go, but reports out of training camp have been very optimistic thus far.
Gruden loves his flashy plays, so expect less check down passes and more deep throws to wide receiver Amari Cooper. Cooper is coming off a lackluster previous year but can make the case as a top-15 WR when playing his best football.
25. Dallas Cowboys
With Jason Witten and Dez Bryant gone, Dak Prescott will have to be locked in week-to-week if the Cowboys wish to compete in the ever competitive NFC East. The Dallas coaches have stated that the shift in scheme will be more Dak-friendly, but the new look receiving corps will have to step up big time.
It's a no-brainer that you'd want to draft star running back Ezekiel Elliott in the first round, but this specific mention of him should have you considering him as potentially the first overall fantasy pick. Keeping in mind of all the context in the aforementioned paragraph, Elliott will get an absurd amount of touches because: one, he has most definitely shown that he can handle it, and two, he'll be putting up plenty of points for the Cowboys and fantasy owners alike.
24. Chicago Bears
Sophomore year has arrived for Mitch Trubisky, as the young franchise quarterback looks to build upon his decent rookie season; he'll have a couple of new weapons in wide receiver Allen Robinson and tight end Trey Burton.
Although Robinson and Burton will be key to the Bears' offense, the team's most fantasy-reliable player is none other than Jordan Howard. His ADP is a little lower than it should be since a running back by committee might occur, but rest assured that Howard will be the go-to guy in Chicago.
23. Buffalo Bills
Another quarterback competition is underway here in Buffalo as Nathan Peterman was, to some Bills fans' surprise, listed as the No. 1. Still, one can only imagine that rookie Josh Allen will eventually take over; don't count out, former Bengal, AJ McCarron either.
Beware of a lack of production from big names like wide receiver Kelvin Benjamin or tight end Charles Clay, mainly because of how shaky the quarterback situation remains; LeSean McCoy is the only fantasy start-able player on this offense.
22. Tampa Bay Buccaneers
Last year, in all honesty, was a bit of a let down for the Buccaneers. Especially on offense where quarterback Jameis Winston finished with only 19 touchdowns to his name. He starts this year off with a three-game suspension due to a breach in the NFL personal conduct policy.
Here's a sleeper for you: running back Ronald Jones II. Reports have been nothing short of great for the former USC star. He'll see a big workload this season and is talented enough to assume the primary position in the backfield.
21. Seattle Seahawks
Seattle's backfield will once again be a mystery come the regular season. After drafting running back Rashaad Penny, the Seahawks have faith that he'll be able to produce. However, Chris Carson will most likely lead the way and force a split in carries between the pair.
Russell Wilson, who needs no introduction, finished as the overall highest fantasy scorer last year. He'll rely on Doug Baldwin to help get him there once again.
20. Kansas City Chiefs
Rookie running back Kareem Hunt exploded onto the NFL scene last year as he came close to winning OROTY award. Second-year quarterback Patrick Mahomes will want a similar introduction to the league, now that he is at the helm of Kansas City.
Mahomes is definitely starter material, but he is far from the same caliber as his former predecessor Alex Smith. As a result, receiver fantasy production might decline somewhat but consider the Chiefs' star tight end Travis Kelce as a trustworthy safety blanket.
19. Denver Broncos
There's a new quarterback in town, as Case Keenum has signed for the Denver Broncos. Ever since Peyton Manning's retirement, the Broncos have gone through quarterback after quarterback in hopes of finding an appropriate replacement; hopes are high and the receiving corps stock is on the rise.
Wide receiver Demaryius Thomas can gain a lot from this switch as he is now projected to finish top-15 for his position. The Denver pass-rush has also improved through the NFL Draft, so keep them in mind when selecting your fantasy team's D/ST.
18. Washington Redskins
Troubling news for the Redskins as their, highly touted, rookie running back Derrius Guice has torn his ACL and will be sidelined for the rest of the 2018-19 season. The new arrival of quarterback Alex Smith should still be able to breathe life into the squad and make Washington an actual competitor in the NFC East.
Smith loves his check downs to reliable tight ends. Keep Jordan Reed in mind for a comeback season, so long as he can stay healthy and on the field.
17. Tennessee Titans
The Titans organization made a huge leap last year, finishing with a 9-7 overall and then upsetting the on-fire Kansas City Chiefs in the Wild Card playoff match. Don't be too surprised when they might just overthrow the Jaguars as division leaders.
Derrick Henry had a breakout season last year and has an even higher ceiling to improve this year. In addition, DeMarco Murray retired this offseason and that only means a bigger workload is on the horizon for Henry. Many pundits are also, reasonably, very high on Tennessee's defense, so have them high on your board.
16. Carolina Panthers
New ownership has arrived in Carolina and the fan base only wants a chance at that coveted Super Bowl appearance. This Panthers side is young at plenty of positions, but will look to shock a lot of skeptics once more.
Quarterback Cam Newton will make the case for a top-3 QB finish. One should also try to add his young teammate, halfback Christian McCaffrey, onto their fantasy lineups. McCaffrey is very versatile whether it comes to the run or passing out the backfield; a big increase in touches should come his way.
15. Jacksonville Jaguars
Jacksonville arguably made the biggest turnaround, of any team in the league, as they made it all the way to the AFC Championship last year. Although quarterback Blake Bortles lost two long-time weapons in Allen Robinson and Allen Hurns, there still remains a few interesting fantasy targets on this offense.
Jacksonville (or Sacksonville, whatever you prefer) is projected to finish as the No. 1 overall defense once more, and rightfully so. Running back Leonard Fournette will also further dominate in his second year and should be going as high as the second round in most fantasy drafts.
14. Arizona Cardinals
After Carson Palmer retired last offseason, a couple of major additions have been made in Arizona. Specifically, quarterback Sam Bradford and rookie Josh Rosen are both now competing for that starting role; the offense should only improve thanks to these two.
Larry Fitzgerald stock will definitely be up, as the seemingly ageless receiver will lead the receiving corps once more. Star running back David Johnson will also be returning to form, considering that his season-ending injury last year was only to his wrist.
13. Detroit Lions
The NFC North is one of the more difficult divisions in the entire NFL, but don't count out the Detroit Lions who just barely missed out on the playoffs last season.
Golden Tate and Marvin Jones both make up one of the best wide receiving duos in the league. The pair will both be really nice late round picks if they manage to fall to you in fantasy drafts.
12. Green Bay Packers
Aaron Rodgers is finally back from injury and Green Bay couldn't have missed him more. The stellar quarterback brings plenty of playmaking capability to the team, and his presence will ignite this high scoring offense once more.
Aaron Rodgers is projected as fantasy football's QB1; if you can't snag him, then definitely pick up his favorite target in wide receiver Davante Adams.
11. Philadelphia Eagles
The Super Bowl champion Eagles have several playmaking threats, as they showed all last season. In terms of fantasy, however, the only downside is that they rotate sets a lot.
The most consistency you'll find, outside of quarterback, would be at the tight end position with Zach Ertz. The deepest sleeper on this list is also highly compared to Ertz, as rookie tight end Dallas Goedert; his hype has been confirmed after a strong preseason showing and will surely play a major role in Philadelphia's offense, read more about him in our Rookie TE Fantasy Projections.
10. New York Giants
The Giants are very similar to the Eagles, in the sense that they have several playmaking threats. These, however, hold more of a fantasy relevance due to their particular scheme and usage.
Many people have high expectations for wide receiver Odell Beckham Jr. this year, mainly because he's more than capable and he'll want to live up to that big contract agreement. Rookie running back Saquon Barkley will also play a huge role in New York's offense.
9. Cincinnati Bengals
A bit of a surprise here at No. 9, but the Bengals can offer a lot of fantasy potential if their players can manage to stay on the field. More importantly, if the offensive line can keep quarterback Andy Dalton upright.
Dalton's favorite target, A.J. Green, is both a deep threat and end zone monster; with the potential to be a top-5 wide receiver. Running back Joe Mixon will also see the bulk of carries in Cincinnati and will hope to make a big leap in year two.
8. New England Patriots
With Tom Brady as your quarterback and Bill Belichick at head coach, you're always considered a playoff team. The Patriots also heavily rotate their squad, but every season they end up offering several fantasy relevant players.
A healthy Rob Gronkowski is arguably the best tight end in the league and should be the first for his position to go in drafts. Rookie Sony Michel is also an interesting prospect, if not in the late rounds, definitely stash him on your bench through free agency.
7. Los Angeles Chargers
Last year, the Chargers were another team that just barely missed out on the playoffs. The bar will be set very high this year and Los Angeles definitely has the star power to achieve anything, so long as they minimize their biggest enemy: injuries.
Veteran quarterback Philip Rivers is very underrated in fantasy, considering how well he plays for his team and what he brings to the table. Another lock here would be his favorite receiving target in Keenan Allen.
6. Los Angeles Rams
After all the big name acquisitions during the offseason, the Rams are seemingly all in this year for a deep playoff run. Both sides of the ball have improved drastically over the past two seasons, and it'll be very fun to see just how far head coach of the year Sean McVay can take them.
Todd Gurley is projected as the top running back this year in fantasy, last year he finished second overall across all positions. The Rams D/ST will also force plenty of turnovers this year after further reinforcing their pass rush and secondary.
5. Minnesota Vikings
Coming in at No. 5, Minnesota Vikings players will greatly complement your team on its way to a championship run. Their new quarterback, Kirk Cousins, will raise the production ceiling for all receivers.
Minnesota's D/ST is a fantasy force to be reckoned with. Second year running back Dalvin Cook will also look to return to his promising form, after suffering a season-ending injury last year.
4. Atlanta Falcons
The difference in production between Atlanta's offense and defense is almost night and day. Thankfully for fantasy owners, the Matt Ryan to Julio Jones connection is another duo you'll want to have high on your draft boards.
Speaking of talented duos, another one is present on the same team with running backs Devonta Freeman and Tevin Coleman. Coleman is more of a handcuff, but Freeman should be one of the top RBs taken in the first few rounds.
3. Pittsburgh Steelers
The Steelers experienced an upset after falling to the Jaguars in last year's Divisional playoff round. Ben Roethlisberger and company will want to redeem themselves with yet another postseason run, entering the season as AFC North favorites.
As the best WR/RB duo in the league, Antonio Brown and Le'Veon Bell will both be going in the first round of your drafts. Be sure to pick either of them up if they fall to you, as they are both capable of finishing first overall at each of their positions.
2. Houston Texans
A lot of the Texans' success this year will depend on how well quarterback Deshaun Watson returns from his ACL injury. Not to mention, banged up stars like J.J. Watt will also be returning to this stacked defense.
Wide receivers DeAndre Hopkins and Will Fuller will light up the scoreboards once more, so long as the Watson comeback goes as planned.
1. New Orleans Saints
At the No. 1 spot, New Orleans will have the most fantasy potential next year with Drew Brees at the helm. The future Hall of Fame quarterback is perfect for such a scheme and will continue to bring out the best of his teammates on offense.
Almost every starting receiver and running back on this squad will produce some fantasy football relevance; however,  your go-to guys here are undoubtedly wide receiver Michael Thomas and sophomore Alvin Kamara. Analysts project Thomas to finish as a top-5 WR, and Kamara as a top-5 RB; the latter will have a hotter start and greater workload, due to running back Mark Ingram's 4-game PED suspension.
Questions and comments?
thescorecrowsports@gmail.com
Follow Us on Twitter @thescorecrow
Follow Us on Reddit at u/TheScorecrow
Follow Richard Benites on Twitter @RichardIBenites
Main Credit Image: Embed from Getty Images