Nickolas Loza| August 27th, 2018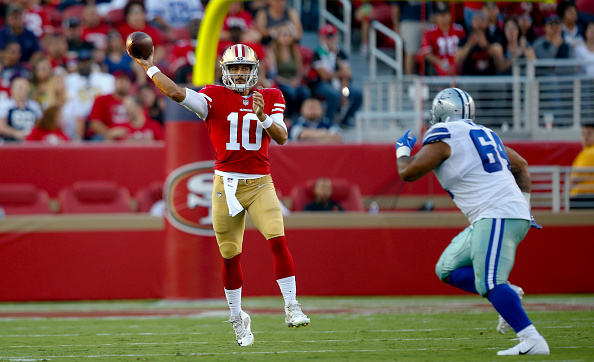 The San Francisco 49ers are feeling good going into the season with NFL darling and Tom Brady protege Jimmy Garoppolo. Can the rest of their squad be enough to get them to the playoffs and restore 49er glory?
San Francisco 49ers Season Preview
Recap of Last Season
Last year the 49ers season was shaping out to be the worst in franchise history. They were 1-10, but when Jimmy Garoppolo took control of the QB job, the team finished 6-10 and last in the division. They had a bad defense, which was ranked seventh worst, and an offense that gives a you a deceiving ranking of 12th last. The offense in the last five games after Jimmy G took over scored 144 points, which in that span is ranked second. The future is bright for the 49ers.
Strengths This Year
There are quite a few strengths this year. One of which is the fact that they have a dynamic young QB in Jimmy Garoppolo. The league doesn't know too much about him because he hasn't played in very many games in his career so he brings an unpredictability factor into the mix. They also have a new RB via free agency, Jerick McKinnon who's a RB who can catch passes out of the backfield and run the ball extremely well. Another strength of theirs will be the CB position after Richard Sherman came over in free agency from the Seahawks. A minor strength this year will be the offensive line, which according to Pro Football Focus, is expected to rank 16th. The offensive line consists of LT Joe Staley, LG Laken Tomlinson, C Weston Richburg, RG Joshua Garnett, and RT Mike McGlinchey.
Weaknesses This Year
Some weaknesses for this year will be the defensive line as they don't have any excelling members returning. They don't necessarily have a great defense which will be a big problem especially with the high powered offenses they face this year in the Vikings, Rams, and Packers. The defense will have to improve if they want to go to the playoffs this year. Another big problem for this team will be the fact that they have four primetime games. That's cause for concern as usually in primetime games you have more pressure on you because you have a national TV audience watching you. This is a young team and young teams don't usually do well under pressure. QB Jimmy Garoppolo will have to preform very well this year and if he doesn't I don't see this team having a lot of success.
Additions/Improvements
Some offseason additions this year that will be important: CB Richard Sherman, G/C Weston Richburg, RB Jerrick McKinnon, DE Jeremiah Attaochu, OG Jonathon Cooper, LB Korey Toomer, and Punter Jeff Locke. These moves will give the secondary an anchor in Richard Sherman and give the offensive line a quick and versatile offensive lineman in Weston Richburg. The backfield will have a versatile RB in Jerrick McKinnon, Jonathon Cooper will provide depth, Korey Toomer will provide depth and Jeff Locke might be the starting punter. The also kept their QB Jimmy Garoppolo and they kept a good receiver in Marquise Goodwin. All of these moves should help to restore the 49ers winning legacy.
Subtractions/Regressions
There were a couple of offseason subtractions that may or may not be impactful. RB Carlos Hyde left to go to Cleveland, C Daniel Kilgore got traded, G Brandon Fusco left to go to Atlanta, and they have no intentions to sign free agent CB Eric Reid. These were a few possibly impactful departures which is great for the future of the team considering when your rebuilding you usually do a roster dump, much like Seattle did. This will be key for the future of the team because they added so much and after they lost a few of players they substituted their departures with better players.
Prediction
The 49ers this year are tied for the 15th most difficult schedule, which bodes well for a young team. In the first four weeks they have 3 away games, and only one home game, in this stretch they will go 2-2. The next four weeks is not much easier, and they will go 2-2 in this stretch also. That brings them to 4-4 through eight weeks. In the next 4 weeks they have three easy games and their bye week, which will bring them to a record of 7-4. The last 4 weeks will bring some challenges, but they will go 3-1 in this stretch. That gives them a final record of 10-6. That will be good enough for a Wild Card spot. They'll be eliminated there. The future looks extremely bright, especially after making the playoffs. Jimmy Garoppolo will have a good year also.
Questions and comments?
thescorecrowsports@gmail.com
Follow Us on Twitter @thescorecrow
Follow Us on Reddit at u/TheScorecrow
Follow Nickolas Loza on Twitter @sp0rtstAlkNick
Main Credit Image: Embed from Getty Images