Bruce Cagle Jr. | August 27th, 2018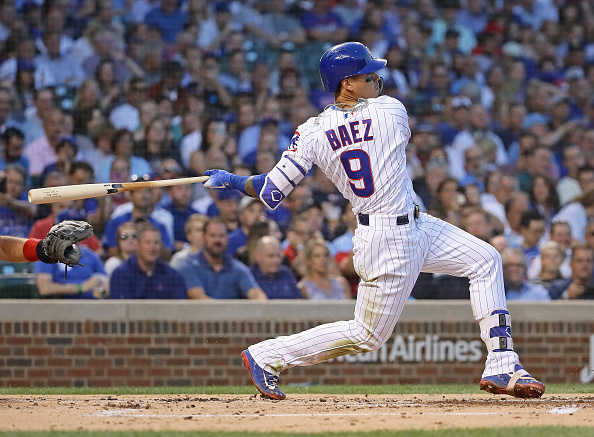 One week down and five left to go. As you can tell there is already a decent shakeup to the middle of this list. If you want a more detailed look at last week, this list will give you just that. Let's dive right into it.
1. Chicago Cubs (even 76-53) One of my fears was realized last week when it was announced that Yu Darvish will miss the rest of the 2018 season. Brandon Morrow doesn't seem any closer either. Great thing they received the 2011 version of Cole Hamels to help patch this staff. Since he has come to the Windy City, his numbers are mind-boggling, 34 innings pitched and a 0.79 ERA. Most impressive to me is that he has only given up one extra base hit during that stretch. Since 8/1 (debut with the team) Hamels boasts the 14th best ground ball rate (54.2%). That is his highest rate since the '11 season when he cruised through over 200 innings with a sub 3.00 ERA. Another addition was Daniel Murphy and he is already making his presence felt with a .368 average with two home runs, four runs scored and five more batted in. Going 5-1 last week easily keeps Cub nation happy.
2. Arizona Diamondbacks (even 72-58) Still sitting atop the NL West, the Diamondbacks finished a decent homestand versus the opposing league. As they should be well rested since they had played only five games last week, the upcoming week on the road will test them. Whenever you face both Clayton Kershaw and Madison Bumgarner on the road, you will circle the calendar. Not just two tough lefties, but four above-average left-handed pitchers will stand in their way next week. Also, Rich Hill and Hyun-Jin-Ryu. Diamondback fans will be pleased to know their offense is top 10 vs left-handed pitching (LHP) in home runs (6th), runs (4th), run batted in (4th), batting average (10th), slugging (5th), ops (6th) and wRC+ (7th). So this might be very telling going forward.
3. Atlanta Braves (+2 73-57) After getting called out last week for dropping four to the Rockies, the Braves bounced back with a wonderful week. Going 5-2 they swept the Pirates and then split with Miami. Kevin Gausman must have heard my complaints about their pitching staff because he has been a man on a mission. Since showing up in Atlanta, he sports a 4-1 record and a 1.69 ERA. He has allowed only one home run since he arrived. That would be a very welcoming skill if it can hold seeing his last four years have been 1.3 HR/9 or higher. I'm still not fully sold on this pitching staff long term but with the rest of their division not taking control, they could find themselves with some hardware.
4. St. Louis Cardinals (+3 73-59) Easily in the driver seat for "hottest team in the NL" right now. A full week on the road would easily slow down most teams momentum, but the Cardinals took the challenge and crushed it. First sweeping the Dodgers, then taking two of three from the Rockies. Miles Mikolas has been the emerging star of that rotation this year. Setting career highs in virtually every category, Mikolas has definitely made his presence felt since returning from Japan. Sitting sixth in the NL in ERA, 2.94 (min 110 innings pitched), he joins teammate Jack Flaherty (2.97) as only the fourth combination of teammates to post an ERA under 3.00 in 2018. And impressive company they join; Trevor Bauer and Corey Kluber, Clayton Kershaw and Ross Stripling, with Justin Verlander and Gerrit Cole. A very inexperienced pitching staff holding their own with some elite company.
5. Colorado Rockies (-1 71-59) After winning three of the last four, with the help of a monster eight-run 8th inning on Saturday, the Rockies dropped Sunday's finale to the Cardinals in embarrassing fashion (12-3). Nolan Arenado continued his MVP push with a healthy homestand (.375/.500/.688), German Marquez looked his best on Saturday, and former hero Matt Holiday homered in a very familiar place. The next week will see the Rockies on the road for six games, which at least three of them they should win. These next four weeks will be against almost all NL West teams besides the upcoming two-game set versus the Angels. On the outside of the playoff picture looking in, the Rockies must take advantage of their homestand coming up in September if they want a consecutive playoff berth.
6. LA Dodgers (-3 70-61) Starting the week out getting swept by the Cardinals is not what you want to see if you are a Dodgers fan. Kenley Jansen returned earlier than expected from an irregular heartbeat, but did not return to elite closer form. Three total innings, five earned runs, and most concerning, four home runs. The Dodgers as a whole rebounded and swept the Padres over the weekend, but find themselves 2.5 games back from the wildcard. Justin Turner has continued his scorching hot August with a huge finish on Sunday (3/5 and five rbi). Bringing his total for August to an impressive .392/.478/.709 five home runs, 18 runs scored and 14 runs batted in. All the talent is there on this team, they just need to click at the right time to climb this hill.
7. Milwaukee Brewers (+1 73-59) Quietly winning both series last week, the Brew Crew powered their way into the second wildcard spot. Even though they went 5-2 last week, the run differential was only +1 for the Brewers. Christian Yelich is having a lowkey monster year following his trade from Miami. Posting a career high in home runs (23)  despite only playing 115 games so far this season. A career high in HR/FB at an absurd 30%, however impressive that is, is something you must remember being his previous career high was two years prior and was 23%. For one of the most notorious groundball hitters in seasons past, that skill set remains true today. With only a difference of .06% from last years 55.4%, he still continues to mash the ball into the ground. 7th in the MLB in HardCon% at 47.7% (35.2% in '17), the Brewers will need to ride his bat into the postseason.
8. Philadelphia Phillies (-2 70-60) The previous 2 weeks have not been very kind to the slightly inexperienced Phillies. Going 5-9 during that span hasn't helped my prediction of them taking the NL East crown. Nick Pivetta has been as up and down as the Phillies have as a whole. Over the last two starts, Pivetta has been awful. Posting a disgusting 11 earned runs in only 10.1 innings, Pivetta and the Phillies cannot afford this down the stretch. One thing the Phillies could use is more Aaron Nola, as he continues to post impressive numbers on the season as he has passed Scherzer and Jacob deGrom for the NL Cy Young award in my opinion. Nola is the only pitcher in the MLB to have a 50% GB rate or higher and possess 9.00 K/9 or higher strikeout rate, improving on a fantastic 2017 campaign.
9. Washington Nationals (+1 65-66) This is not how you envisioned the Nationals season entering the final month of the season. They have thrown in the towel for the 2018 season once they put Bryce Harper, Daniel Murphy and others on revocable waivers. It was rumored that the Dodgers were the ones to claim Harper, but no deal was worked out. Matt Adams was also on the move being claimed by the Cardinals. Stephen Strasburg returned to the mound after missing almost one full month. His return was a similar line to that as when he left, four innings and five earned runs. This time he added a few homers allowed. They still have talent on the roster, led by Cy Young candidate, Max Scherzer, but the window has all but slammed shut on what was promising 2018 season.
10. Pittsburgh Pirates (-1 64-67)  Chris Archer's problems were rumored to be caused by playing in such a tough division (AL East), but his transition to the Steel city has not been very smooth. Riding a 4.91 ERA going into Sunday, that will surely explode, as he gave up two long balls and six total earned runs in just four innings of work. Not working past the 5th inning since joining (five starts) his new team is another cause for concern going forward. I wouldn't bet on Archer turning his, or the Pirates, season around right now, as some of his underlying numbers suggest rough terrain ahead. Overall, the Pirates had the worst week of the top 10, dropping three against the Braves and losing two of three versus the Brew Crew. If they end up losing both series next week (3 @ STL, 3 @ ATL), this season will be over for the Pirates.
Matchup of the week
This upcoming week will see a fantastic four-game series between the LA Dodgers and the Arizona Diamondbacks. Look at these projected matchups:
8/30 Rich Hill vs. Robbie Ray
8/31 Clayton Kershaw vs Zack Greinke
9/1 Hyun-Jin-Ryu vs Patrick Corbin
9/2 Walker Buehler vs Clay Bucholz
Check back next week as this final week of August is setting up a great finish to the 2018 season.
Questions and comments?
thescorecrowsports@gmail.com
Follow Us on Twitter @thescorecrow
Follow Us on Reddit at u/TheScorecrow
Follow Bruce Cagle Jr. on Twitter @BruceCagleJr2
Main Credit Image: Embed from Getty Images