Kody Clawson | August 27th, 2018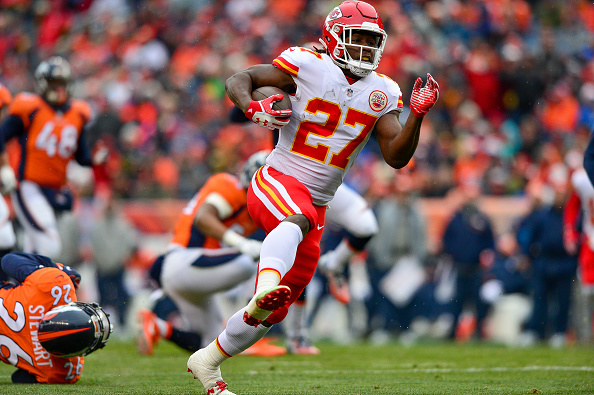 The Kansas City Chiefs were a streaky team last year. Although they finished 10-6, they were bounced out of the playoffs in a tough loss to the Titans. Can they find some stability this season with all the new faces in town?
Kansas City Chiefs Season Preview
Recap of Last Season
The Chiefs had an interesting season last year. They shot out of the gate with a furious rampage, winning five straight while beating both teams that would go on to win the Super Bowl in their first two games. Then the bottom fell out, and their offense, which looked dominant during those first five games, struggled mightily. The Chiefs lost six of their next seven games. Head coach Andy Reid gave play calling duties over to offensive coordinator Matt Nagy. The team then rattled off another four straight wins to give them a 10-6 record and the AFC West title, putting them in the playoffs where they lost to the Tennessee Titans, 22-21, in a game that felt like an encapsulation of their season as a whole.
Andy Reid and the team have decided to move on to bigger and brighter things; namely, their second-year quarterback prospect, Patrick Mahomes, who has drawn comparisons to Brett Favre and Randall Cunningham.
Strengths This Year
The Chiefs' offense is the calling card for the team. Last year, rookie running back Kareem Hunt led the league in rushing with 1,327 yards on 272 carries. He also caught 53 passes for 455 yards. He's going to be the focal point again for an offense that also includes premium weapons in Tyreek Hill and Travis Kelce while also bringing in a potential high-end talent in Sammy Watkins. If it all comes together, this team could be one of the best, if not the best, offenses in the league next year.
Weaknesses This Year
Of course, that's a big if when you have a first-year starter at QB. Sure, Mahomes seems to have all the talent in the world, but playing quarterback in the NFL is a steep learning curve. Even in training camp, Mahomes has been said to be interception happy. But for many fans that had to deal with the "Checkdown King" in Smith, the change to a big play quarterback could be a huge breath of fresh air.
The biggest problem for Kansas City's contention chances comes on the other side of the ball. Their defense was horrid last year, ranking dead last in Weighted DVOA on Football Outsiders by the end of last year. The organization decided to do almost a complete overhaul of the talent on that side of the ball. Go back and look at the departures and additions. The team has decided to make a very deliberate and concerted change to get younger and more athletic on the defensive side of the ball. It's hard to say how much better they got defensively, but Reid obviously believes in (or is at least very loyal to) defensive coordinator Bob Sutton, despite many fans wanting him fired last year.
Additions/Improvements
The Chiefs traded QB Alex Smith for CB Kendall Fuller and a third round pick. Fuller joins a revamped defense that includes free agent signing LB Anthony Hitchens and draft picks DE Breeland Speeks, DT Derrick Nadi, LB Dorian O'Daniel, and S Armani Watts. The Chiefs have made a dedicated effort to get younger and more athletic on their defense. To help with their developing young quarterback, they also added former first round pick WR Sammy Watkins, who already has seemed to develop a rapport with the young Patrick Mahomes.
Subtractions/Regressions
The Chiefs made a bunch of changes this offseason, most notably trading away breakout quarterback Alex Smith for a 2018 third round pick and promising young cornerback Kendall Fuller. I say breakout because last season was the first season he threw for over 4,000 years, gaining 4,042 yards through the air. His second best season? 2016, in which he threw for just 3,502 yards. As efficient as Alex Smith has been (only four seasons with ten or more interceptions, the last being in 2010), he's never been much for moving the ball down the field before this season. Of course, losing Alex Smith could be the biggest loss for the team. While the team was ready to move on from his cap hit, they will miss his efficiency and improved deep-ball throwing. There's a chance that Patrick Mahomes' play-making ability could develop quickly to make up for that loss in efficiency, but that's counting on a lot. There's a lot of out with the old and in with the new, but that especially is seen on the defensive side of the ball, losing CB Marcus Peters, DT Bennie Logan, and DE/LB Tamba Hali. Once again, the Chiefs seem to be leaning on youth and hope to take them further this year.
Prediction
This is a team that's tough to predict. As much stability as they have on the offensive side of the ball, the question marks at quarterback and for the whole defense leave a lot up in the air. This is a team that could as easily win 12 games as they could lose 12 games. I feel like they end up going 9-7, struggling out of the gate, but finding their footing as the season goes on. It will probably be too little, too late with teams like the Chargers and the Broncos to contend with. Only time will tell.
Questions and comments?
thescorecrowsports@gmail.com
Follow Us on Twitter @thescorecrow
Follow Us on Reddit at u/TheScorecrow
Follow Kody Clawson on Twitter @KodyClawson
Main Credit Image: Embed from Getty Images