Robby Messer | August 26th, 2018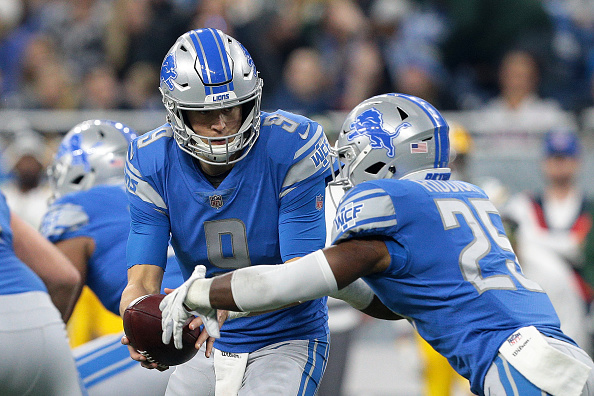 With the preseason well underway and the opening kickoff not far away, we continue to take a look at teams in the NFC, which is always competitive. But after a bizarre 2017 (see Case Keenum leading the Vikings almost to the Super Bowl), teams may return to playing more according to their mean, which might not be good news for the team in today's column, the Detroit Lions.
Detroit Lions Season Preview
Recap of Last Season
Last season, the Lions wrapped up a 9-7 campaign with a lopsided victory against the Green Bay Packers. They actually beat the Packers AND the Bears twice last season, but don't expect that to be the case again. For one reason, Aaron Rodgers doesn't forget and is too good to let a losing streak linger. Second, a young quarterback in Chicago doesn't know he's supposed to lose.
Strengths This Year
As is the case with nearly every team, not just in the NFC North, but across the NFL, the Lions' success hinges on the health and arm of Matthew Stafford. Last season, Stafford had another fantastic year with 4,446 yards passing, 29 touchdowns and a 65.7% completion percentage. He was at his best against teams in his own division, which will help down the stretch as the Lions push toward the playoffs. Last season, against the NFC North, Stafford completed more than 68% of his passes for a rating of 112.  By comparison, against other NFC teams, that rating fell to 100. It fell again to 91 against AFC teams.
Helping Stafford will be a trio of good receivers in Marvin Jones, Golden Tate, and Kenny Golladay. These three should give the Lions' QB all the firepower he needs whether it's deep down the field or over the middle.
Weaknesses This Year
But the Lions don't need these additions on defense to simply play to the value of their contracts, they need them to exceed them. Last year, the Lions averaged 25.62 points per game, and gave up an average of 23.5. That does not leave a lot of margin for error and winning the close ones could be the difference between making the playoffs and starting their vacations in early January.
Depth at both running back and in the secondary could go from being a weakness to more of a strength for the Lions. The defense was not very good as they ranked 27th in total yards per game and 21st in points against. A healthy Ezekiel Ansah makes the defense that much better. Not only that, a great preseason so far for Ameer Abdullah should only add optimism and depth to the running corps for the Lions. The Lions need all the optimism they can get when it comes to the running game. They have not had a running back reach 100 yards in a game since 2013, and ranked dead last in the running game in 2017, averaging 76 yards per game.
Additions/Improvements
The most interesting addition for the team this year may very well be the hiring of Matt Patricia as head coach. He served as a loyal lieutenant in the Bill Belichick administration so it will be interesting to see how he handles taking the reins.
Patricia isn't the only new face to the Lions, who needed help in the running game (to put it gently) to protect Matthew Stafford, and on defense. To help the running game, the Lions signed LeGarrette Blount who provides a big body in short yardage situations.  Drafting Kerryon Johnson brings in a guy who can bust out for big yards, if given the chance.
If the additions at running back improve that area of their game, Stafford could be even more dangerous. Last season Ameer Abdullah was the team's leading rusher with only 552 yards. Blount and Johnson should add to that and open up more downfield throws for Stafford.
To help the defense, the Lions brought in linebackers Devon Kennard and Christian Jones. Tavon Wilson and Deshawn Snead will be a big help at safety.
All of the Lions' additions should indicate more wins this season, but it's not that easy.
Subtractions/Regressions
The Lions' linebacking crew took a hit losing Tahir Whitehead and Paul Worrilow. While they are being replaced by Kennard and C. Jones, it is a slight downgrade. Another hit that the defense took is losing Haloti Ngata to free agency. While he only played 5 games last season, his veteran presence will be missed.
A big loss for the Lions is Eric Ebron. While he may not have been in the top 10 TE conversation by any means, his replacement, Luke Willson had only 15 catches last season and has never had more than 22. Ebron had 53 last year. While Willson was not targeted in Seattle as much as he will be in Detroit, he still has not proven he can be a consistent receiving threat.
Prediction
The Packers will beat them at least once.
The Bears will beat them at least once.
In addition, the Lions also play the Patriots (Belichick may want to send a message to his former assistant coach and welcome him to the world of head coaching). They also play Dallas and an improved San Francisco team with Jimmy G (former Patriot) under center.  All of that adds up to a tough schedule that won't allow the Lions to rise above mediocrity.
They go 9-7 again and miss the playoffs in a tough division.
Questions and comments?
thescorecrowsports@gmail.com
Follow Us on Twitter @thescorecrow
Follow Us on Reddit at u/TheScorecrow
Follow Robby Messer on Twitter @talkoutofturn
Main Credit Image: Embed from Getty Images