Givanni Damico | August 26th, 2018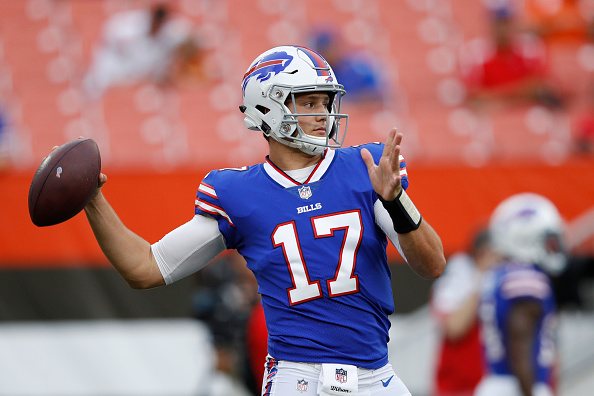 The Bills finally broke the 17-year playoff drought but can they return there with a new quarterback? Will the defense be as good? Can Shady McCoy defy Father Time once again?
Buffalo Bills Season Preview
Recap of Last Season
The Bills were an above-average team last year, but there was a lot lacking on the offensive front. Tyrod Taylor was at the head of the abysmal offense which led many Bills fans to hate him. I was not a fan of Taylor at all because he was too safe with the ball. He wasn't willing to through the ball downfield because he was worried about getting picked off, but this strategy of screen-passes and check-downs didn't work for the offense. The most points scored by Buffalo in one game was 34 points, which is solid, but in that game, Taylor only threw for 165 yards and one touchdown. The offense was ultimately carried by LeSean McCoy because Taylor was more of a running back than a quarterback for Buffalo at times. Just to amplify my point more, the most passing yards that the Bills had in one game last year was 261! They had 200 passing yards in only six of 16 games, while never reaching 300. I think if you replace Taylor with a more competent quarterback last season, you win 11 games in the regular season and you win the wildcard. The main struggle on the defensive front seemed to be the run stop. The Bills defense allowed 100+ rushing yards in 10 out of the 17 games they played last season which will definitely give the opposing offense momentum. Nonetheless, the drought was broken and things are looking up in the 716.
Strengths This Year
The Bills are heavily slept on by everyone going into this season because they don't have a proven quarterback. Honestly, anything is an upgrade from the passing offense from 2017. Their offense will be a strength for them this year because they are finally healthy. Kelvin Benjamin seems to be in good shape and determined to play better, and Zay Jones is also back on the playing field. No matter which quarterback starts, the passing offense will be more electrifying than last year.
Another huge strength for the Buffalo Bills is their secondary. The Bills have a top three safety tandem in Jordan Poyer and Micah Hyde who both played very well last year. Poyer had a career high in tackles (95), sacks (2), interceptions (5), and recorded his first NFL touchdown. It was a breakout year for him as he underperformed and didn't play a lot for Cleveland. Hyde also had a career-high in tackles (82) and interceptions (5). TreDavious White had a very nice rookie year and was a defensive rookie of the year candidate. White had 69 tackles and four interceptions last year while also deflecting 18 passes. Buffalo has also added Vontae Davis to play alongside White. Davis was a coveted free agent for many teams and ultimately decided to sign with Buffalo. He has 22 interceptions in his nine years in the league.
Weaknesses This Year
Although the Bills could be an above .500 team this year, there are still a couple spots that worry me. The Bills offensive line hasn't looked so good in preseason and everyone on the line had below average seasons last year with the exception of Dion Dawkins. Frankly, it's the interior linemen that worry me more than Dion Dawkins and Jordan Mills on the outside. Vlad Ducasse is a revolving door who might be better suited as a doorman since he loves letting people in all the time. Plus, Bills fans wonder if John Miller is on vacation or in la-la-land every other week. Ryan Groy has been a very solid lineman for them in the past and he deserves the starting role at center over newly acquired Russell Bodine. The problem with Bodine is that he is all strength and no blocking.
Additions/Improvements
The Bills didn't make a huge splash in free agency in the offseason, but they did try to improve the offensive line by adding Marshall Newhouse from the Raiders and the aforementioned Russell Bodine. These guys are probably more for depth but don't be surprised if Bodine starts. The Bills signed defensive end Terrence Fede which is a very underrated signing. Fede looked great in camp and has been very solid in preseason play. Fede was buried in the defensive end-heavy Miami Dolphins organization and never earned a start. I'll be surprised if he doesn't make the team. The Bills had a huge draft. They finally got the franchise quarterback that Bills fans were begging for after the poor play of Tyrod Taylor. Fans were taken aback with the pick of Josh Allen over Josh Rosen but it seems that most Bills fans have gotten behind him now and are "All-en". They made another huge trade to pick Tremaine Edmunds which filled a hole at the middle linebacker position. Edmunds is only 20 years old and has high potential and hopefully a long future in this league. Harrison Phillips is basically Kyle Williams 2.0 and he is a fantastic addition to the defensive line because they struggled with stopping the run last year and that's what Phillips is good at. They also drafted a possible starting nickel corner in Taron Johnson from Weber State and good safety depth in Siran Neal. Ray-Ray McCloud is almost a lock to make the team after how well he's played. He should return kicks and punts as well as add WR depth. Wyatt Teller was a steal as a young piece for this struggling offensive line. They also added to the defensive line by adding tackle Star Lotulelei and defensive end Trent Murphy. Lotulelei is a very good run stopper. Murphy is a pass rusher who accumulated nine sacks last year. These were underrated moves to beef up the defense. They also managed to sign a veteran wide receiver in Jeremy Kerley to add to their corps, and a veteran running back in Chris Ivory. The Bills hired a new offensive coordinator this offseason in Brian Daboll from Alabama. Rick Dennison was not good for the team. He was too safe, and Daboll has had a lot of success at Alabama. They also hired a new wide receiver's coach in Terry Robiskie. It was a good idea to totally wipe the slate clean on the offense.
Subtractions/Regressions
The Bills lost a few key players this offseason. Headlining the players lost is Preston Brown. Brown was tied for the league lead in tackles, so this was a pretty bad loss, but he was ultimately replaced with Tremaine Edmunds. They also traded Tyrod Taylor to the Browns which was a fantastic trade considering they got a third round pick which made them able to trade up for Edmunds. Eric Wood, their starting center, announced his retirement which hurt since their line was already unstable. They also lost an underrated defensive end in Ryan Davis, who accumulated 29 tackles and three sacks last year. The Bills traded away Cordy Glenn for a first-round pick to the Bengals. Glenn is a good player but injuries have plagued his career during the last two seasons, only allowing him to play 17 games combined.
Prediction
I think that the Bills will win between seven and nine games this season. They have the potential to win more, but there are too many holes and the quarterback situation isn't ideal right now. A bold prediction I have is that Marcus Murphy will end up being the backup running back rather than Chris Ivory because Murphy has BALLED OUT with over 120 yards and a touchdown so far this preseason, but stats don't show the explosiveness that Murphy has shown. The Bills are nowhere near as good as teams like the Saints, Eagles, and Vikings YET! The Bills have really set themselves up well for the future though. They have a great coach and GM and are surrounding themselves with young talent. I also predict the Bills will sweep the Dolphins and Jets this year. I'm very confident they will sweep the Dolphins, but the Jets have really improved so those matchups will be close. The Bills are set up for the future and have the potential to be a playoff team this season. Whether they are or not depends on if they win the winnable games against the bad teams.
Questions and comments?
thescorecrowsports@gmail.com
Follow Us on Twitter @thescorecrow
Follow Us on Reddit at u/TheScorecrow
Follow Givanni Damico on Twitter @giodamico15
Main Credit Image: Embed from Getty Images