Liam Romero | August 25th, 2018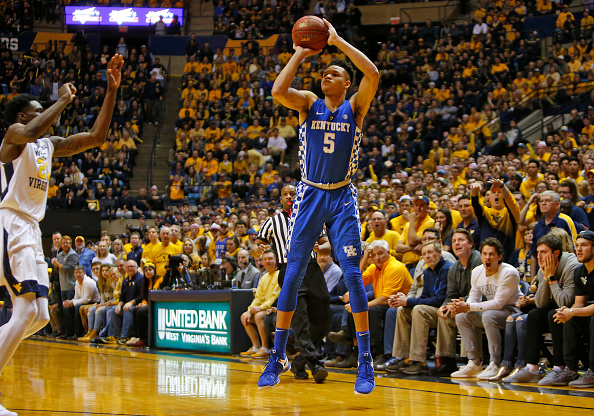 In recent NBA drafts, a select number of players dominated the media before and after draft night.  Whether it was the risky pick of Ben Simmons, or the birthday conspiracy of Thon Maker in 2016, the Lonzo/Lavar Ball tirade of 2017, or the hype surrounding which big man was better, Deandre Ayton or Marvin Bagley, and even the draft stock of Trae Young in 2018's draft. In any of these situations, these specific players dominated the NBA media outlets before and after draft night.
But as we've learned time and time again, some of the biggest talents are chosen later in the draft. Players such as Isaiah Thomas, Jimmy Butler, and most recently Donovan Mitchell were all chosen late in the first or second rounds and would go on to be franchise players. With all the hype surrounding the college phenoms, it could be the underrated players that evolve into superstars. All of these players were passed on and somewhat overlooked in the draft, but with their talent I believe could make ripples in the NBA.
Collin Sexton has received relatively little media coverage considering he was a top ten pick. The Alabama superstar lit up the NCAA in his first and only season, averaging 19.2 ppg and 3.6 apg. Known to be incredibly fast, Sexton is most efficient when catching his defender off guard and charging to the basket. This can work to the Cavaliers favor because, after Cleveland's acquisition of perimeter shooters this offseason, Sexton can be the quick ball handler that can make things happen and set up his teammates. Concerns with his game mainly stem from his inconsistent shooting behind the line, and his small frame that can, at times, render him weak on defense. Despite these downsides though, Sexton possesses the potential to be a lethal, new breed of fast-paced point guard in a league that has come to be designed around speed and agility.
If you've read my article on the one-and-done rule, then you'd know that I'm very excited to see what Donte DiVincenzo can do in the league. Despite not having an elite stat sheet in college, only scoring 13.4 ppg and 4.8 rpg, he had an outrageous performance at the biggest stage in college basketball. Smothering Michigan with his 31 points, it seemed nearly impossible to guard him. Now with the Bucks, he was drafted with the 17th overall pick and provides the crucial perimeter shooter the Bucks lack. Concerns regarding his disappointing play in the summer league have risen, but with a build and playstyle similar to that of Klay Thompson, DiVincenzo could most definitely grow into a feared player and a sniper from beyond the arc. It's just a matter of time to see what he can do.
Kevin Knox was a key player to the Kentucky Wildcats' roster this past season. The 6'9, 215 lbs combo forward averaged 15.6 ppg and 5.4 rpg during the season. Knox shined in the Summer League, being named the to the all-NBA first team and looks to be very a promising player. Chosen with the 9th overall pick by the Knicks, Knox was a decorated freshman in college, but in a draft full of elite big men, he was overlooked by others such as Mo Bamba, Marvin Bagley, and Deandre Ayton. Despite this though, Knox is capable of being a superpower in the paint, especially on a Knicks team that lacks a strong presence down low. Kevin Knox is nothing but potential and New York grabbed a steal in this big man. In any other draft, Knox would have been chosen higher. 
This may come as a surprise to some, but Melvin Frazier sticks out like a sore thumb among his fellow second-round draft picks. Chosen with the 35th overall pick by the Magic, Frazier played three seasons for Tulane and was the Green Wave's best player this past season. An athletic freak, Frazier was known to pull off insane athletic stunts during games and averaged 15.9 ppg and 5.6 rpg. The 6'5, 198 lb Frazier is undersized to play the forward, but with his athleticism and a developed jump shot, he's capable to spread the floor especially with his new teammate, Mo Bamba, down low in the paint. The only downsides to Frazier would be him coming out of a school with little NBA talent as well as his below average summer league performance. Joining notable fellow 35th overall picks, Draymond Green and Deandre Jordan, who's to say Frazier won't develop into a star like them? Only time will tell, but the future is bright for him on a developing young Magic team.
Yes, it's a reach, Michael Porter Jr has possibly the worst injury list in the draft. Still, Porter could be a hit or miss player. If he can stay healthy, the Nuggets may have just grabbed one of the biggest steals in the draft. The 6'10, 215 lb forward was chosen with Denver's 14th overall pick. Despite going to Missouri, Porter barely even played for the Tigers but is most prolific for his play in high school. There's not a lot of recent stats to reference him with, but with his Kevin Durant-like playstyle, it was certain that he'd be taken somewhere in the draft. He was the best high school player in the nation at one point. With his rare skill set and elite size, Michael Porter Jr was a shoe-in for the NBA, but after multiple back injuries and playing little in college, many concerns emerged about his draft stock. Despite said concerns and slanders aimed at him, Porter was still drafted in the mid-first round and is enthusiastic about playing this coming season. If he can stay healthy, he'll definitely be an elite player to be dealt with in the league. 
Whether it be the late first or second round, some picks have the potential to be steals and evolve into superstars. The players most slept on could eventually be the faces of franchises as we've seen in the past. Though the biggest obstacle for these players is time, it also is the only way for fans to find out how powerful these players actually are.
Questions and comments?
thescorecrowsports@gmail.com
Follow Us on Twitter @thescorecrow
Follow Us on Reddit at u/TheScorecrow
Follow Liam Romero on Twitter @LiamRomero9
Main Credit Image: Embed from Getty Images