Brian DeWester | August 24th, 2018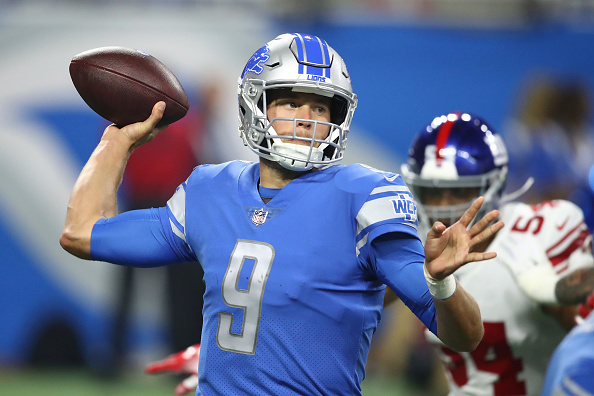 It feels great to finally type this: football season is back. And with the return of the NFL season comes the return of fantasy football drafts (read: one of the best times of year). Now, every year drafters are looking for any kind of edge–values, busts, sleepers, etc.–to help bring in their respective titles. While grabbing the right value at the right time might not guarantee a championship, it certainly doesn't hurt.
Below is a list of players that are valued at their current average draft position (ADP). As of right now, all of these players are available in the eighth round and on in a 12 team, half PPR league.
(All ADP information can be found at FantasyPros)
Quarterbacks
ADP: QB11, pick 98
This isn't exactly fantasy analysis, but Stafford looks like he's constantly recovering from getting his wisdom teeth pulled. The guy is likely made up of only gauze and soup at this point. Well, despite having a jawline that belongs in Bowser's Castle awaiting go-karts, Stafford has a good schedule to start off the year. Here is his first-half schedule with the opposing teams' secondary ranks:
Week 1: Jets (22)
Week 2: at 49ers (11)
Week 3: Patriots (13)
Week 4: at Cowboys (17)
Week 5: Packers (27)
Week 6: Bye
Week 7: at Miami (26)
Week 8: Seahawks (21)
Add in Stafford's supporting cast of Marvin Jones, Golden Tate, and Kenny Golladay and there is enough reason to count on an early chunk of fantasy points from the Lions quarterback. The hope would be that early season momentum would carry over to the second half.
ADP: QB12, pick 102
Yes, Roethlisberger is hardly a guarantee to play a full season. And yes, his historic home-road splits are concerning. However, he does lead an offense that includes Antonio Brown, Le'Veon Bell, and Juju Smith-Schuster. An offense that was sixth in the league in yards per drive, eighth in the league in points per game, and starts the year off facing the Browns, Chiefs, and Buccaneers.
Outside of his health concerns, Roethlisberger does have some tougher away matchups in the second half of this season: Baltimore, Jacksonville, Denver, and New Orleans. According to PFF, all four of those secondaries rank in the top 10. However, if there's anyone who knows how to force his will onto a resistant opponent, it's Roethlisberger.
ADP: QB14, pick 107
Ryan fulfilled his destiny to regress in 2017, and now he's due for a bit of rebound. Last year the Falcons offense was third in average yards per drive, yet ranked only 15th in points per game. Ryan also saw his touchdown percentage fall to nearly a career low (3.8). An offense that contains Julio Jones, Devonta Freeman, Mohamed Sanu, and Calvin Ridley shouldn't have a problem repeating their finish in yards per drive. And if they can do that, they will have plenty of chances to improve on their scoring from last year. Matt Ryan would certainly benefit from those chances.
ADP: QB15, pick 110
If the NFL is a tragedy, the Chargers would be the leading man. First, Keenan Allen took the charge early in his career. Then Mike Williams picked up the slack. Now, Hunter Henry has made sure that this sad tradition continues. The Chargers have evolved into a "This is why we can't have nice things" meme. And yet, despite it all, Rivers has finished continually as a QB1 in 12 team leagues. Even though he may not have Henry this season, he still has a number of weapons–Allen, Melvin Gordon, Tyrell Williams–to support another candidacy for a top 12 finish.
ADP: QB18, 123
You can read more about Mariota here. In short, Mariota is due for some positive touchdown regression, has a new offensive coordinator, and has the running ability to have a decent, weekly floor.
Other
Including Andrew Luck in this list feels like cheating. The only reason Luck isn't featured more prominently is because his ADP will likely continue to rise, which will push him out of the scope of this article. Make no mistake though. A healthy Andrew Luck has league winning upside.
It's good to see that Alex Smith's QB5 finish last year has been rewarded with an ADP of QB20. While there are reasons why Smith won't repeat that QB5 finish, he's still a capable quarterback in an offense with decent weapons. At the very least, Alex Smith should be on your streaming radar.
Eli Manning, first of his name, Leader of Giants, Creator of game time memorabilia, and Lord of Mouthbreathers has an ADP of QB21 right now. There are better values to be had at the quarterback position; however, if you're a believer in Odell Beckham Jr., Saquon Barkley, and Evan Engram, then by extension you're a believer in Manning.
Case Keenum's move wasn't quite a lateral one; however, there is enough talent on this roster to support Keenum beating his ADP of QB27.
Did you know that since 2015 Blake Bortles hasn't finished lower than QB15? That's right. The same guy who confessed he's not a natural thrower of a football. And yet he's a value at QB28.
Running Backs
ADP: RB34, pick 86
Yes, the Patriots invested quite a bit of draft capital in Sony Michel. At this point, however, his injury and the subsequent lack of practice time has his value trending in the wrong direction. The problem with Michel's current downturn is that it's making Burkhead less and less of a value. Yes, Burkhead does stand to benefit from Michel's absence, but he already had a valuable role prior to Michel's injury.
Last season, the Patriots led the league in yards per drive, and in the 10 games that Burkhead played, he finished as an RB1 three times and an RB2 three times. If Burkhead can secure the goal line work and stay healthy, he'll be one of the best value picks at running back.
ADP: RB41, pick 89
Hot take alert: someone will lead this Green Bay backfield. And Williams's potential in the Packer offense for this season, which was written about here, makes him an intriguing option. However, there are roadblocks to Williams hitting that potential. Namely, Williams came down with an ankle sprain in the second game of the preseason. At this point, the severity of the injury is unknown, so his upside is uncertain as well. The other issues for Williams this season are his competition. Ty Montgomery should have the pass-catching role locked down, and he could also take over as the two-minute drill back. Aaron Jones, who had better efficiency numbers than Williams last season, also presents a threat. But if everything hits for Williams, he should be a top 24 running back at a much lower cost.
ADP: RB56, pick 150
While Breida's shoulder injury certainly doesn't help, he still has the potential to be a steal in the later rounds of fantasy drafts. Yes, backup backs like Joe Williams could use this opportunity to carve out a role. That is certainly the risk that Breida's injury created. Although, prior to that injury, Breida was working ahead of the likes of Williams, which showed that Breida had earned the trust of the coaching staff. Tack on the fact that recent reports have doubted a "bell cow" role for Jerick McKinnon, and you have yourself a worthwhile flier.
Other
Anytime you entertain the idea of drafting C.J. Prosise, you are treading into some dangerous waters. The Seattle running back has yet to have a healthy season, but if he can somehow stay on the field, he could have quite the valuable role as the pass-catching back on a team that should see more negative game scripts this season. Jeremy Hill has a chance at filling the LeGarrette Blount role in the Patriot offense. Nyheim Hines is set to be the pass-catching back for an offense that should see a fair amount of neutral and negative game scripts. He could be a less expensive version of Chris Thompson, provided the Colts speedster corrects his fumbling issue.
Wide Receivers
ADP: WR38, pick 93
Last season Kupp had the most red zone targets on his team (18), and the most targets inside the 10-yard line (7). He also occupies the slot wide receiver role on a team that runs three wide receivers sets north of 75% of the time, and he finished 19th in target separation. In other words, Kupp occupies a valuable role on his team and he has shown the ability to get consistently open. The only problem is that his team should face more positive game scripts this year with an improved defense.
ADP: WR40, pick 90
It seems like ages ago, but in 2014 both Jordy Nelson and Cobb were able to finish as top 10 wide receivers. Since then Cobb's career has endured an uncharacteristic season from Aaron Rodgers and plenty of injuries. While injuries remain a potential issue, there's no denying the upside of being the second wide receiver in an offense led by Rodgers. While Cobb may not have the touchdown upside of Davante Adams or Jimmy Graham, Nelson's departure does help to create a stable amount of targets.
ADP: WR41, pick 100
Apparently, it was Anderson's goal this offseason to get the EGOT of traffic violations. In one incident he managed to rack up nine (yes, nine) charges. That's the most impressive Jet record ever since Antonio Cromartie's attempts to build a small army. Anderson's legal troubles do create a bad news, good news situation though. The bad news is that the NFL has yet to state if there will be a punishment; although, they are still looking into the incident. The good news is that you can grab a wide receiver, who tallied 63 catches for 941 yards and seven touchdowns, around the 8th round. And even though he's due for some regression, he's a value at that price.
ADP: WR52, pick 125
DeVante Parker has the been the center of attention the past few off-seasons in Miami, but Stills has been the better bargain. Last season, Stills had more receiving yards, greater yards per target, and he had more air yards than Parker. In fact, Stills had the ninth most air yards last season. Combine the fact that Jarvis Landry is gone, which opens up more potential targets, with Parker and his broken finger, and you have an intriguing value near the tenth round in drafts.
Other
The offseason positive drum beat had a consistent rhythm for Jamison Crowder this offseason. Josh Doctson received some love from Matt Harmon's reception perception this year, which speaks well to his route running ability. Cameron Meredith, assuming he's healthy, will man the slot wide receiver role in New Orleans; the same role that Willie Snead saw fantasy relevance in two years ago. The same passing offense that should experience a positive regression towards the mean. Tyler Lockett will benefit from the number of targets that have left the Seahawks offense. An offense that should face more negative game scripts this season with the many departures on defense.
Tight Ends
ADP: TE10, pick 94
On one hand, drafting Reed could net you a tight end with top-five ability. On the other hand, you're essentially drafting Samuel L Jackson in Unbreakable. Over the course of his career, Reed has yet to play a full season. Yet, despite this Reed has two top 10 finishes under his belt in his five-year career. He's the classic boom/bust pick that will likely require you to draft another tight end as insurance.
ADP: TE11, pick 112
There are a few reasons to like Kittle this year. First, he's a receiving option on an emerging passing offense; an offense that doesn't have a clear primary passing option. Second, this offense is primed for some positive touchdown progression. Jimmy Garoppolo's touchdown percentage last season was only 3.8%, which puts him below Blake Bortles and slightly above Trevor Siemian. And finally, Kittle not only had 515 receiving yards last season, which was the 10th best for a rookie tight end since 2000, but he also has an incredible athletic profile. There is intriguing upside here.
ADP: TE15, pick 138
Speaking of young tight ends with appealing athletic profiles. Njoku has seen his stock rise recently due to his preseason performance and the uncertainty of the Josh Gordon situation. While Gordon's return or Dez Bryant signing could hurt Njoku's available targets, he still has the height, vertical, and catch radius to be a red zone threat in an improved offense.
Other
Ricky Seals-Jones makes for an intriguing flier while Jermaine Gresham is out. Gresham was third on the team in red zone targets and tied for first in targets within the five-yard line. In other words, Seals-Jones, who had two top 5 weekly finishes last year, could be an early streaming candidate. Vance McDonald potential in the Steeler offense was on display this past postseason. The main issue with him right now is health, which makes him a risky early season streamer until his situation clears up.
Questions and comments?
thescorecrowsports@gmail.com
Follow Us on Twitter @thescorecrow
Follow Us on Reddit at u/TheScorecrow
Follow Brian DeWester on Twitter @BrIreland
Main Credit Image: Embed from Getty Images